volcano
"Katla", a likely unheard of volcano for most of you, just showed signs of a potential major awakening at the southern tip of Iceland.
Why is this relevant? Because if this VEI-6 volcano should blow its top, there may be major ramifications for Europe and perhaps the rest of us.
Could this become a 'black swan' event that tips over the house of cards?
Here's what I mean:
---
An intense earthquake swarm started several days ago under Bardarbunga volcano, located under the northwestern part of Iceland's largest ice cap (Vatnajokkull). The earthquake swarm is continuing at high intensity at the moment.
Bardarbunga is a large volcano, and had its last major eruption in 1477 when it produced a huge ash and pumice fall-out. If that eruption were to have occurred today, it would have major effects on life in Iceland, neighboring countries in Europe, and would shut down air travel in that part of the world.
Will it happen again? It seems likely…
---
Mauna Loa, the world's largest active volcano, has been rumbling with more seismic activity than at any time since its last eruption.
"The earthquakes we are seeing at Mauna Loa lead us to believe that some of the same things that happened before the 1975 and 1984 eruptions are happening right now," said Wes Thelen, a seismologist for the US Geological Survey's Hawaiian Volcano Observatory.
-Reuters
This sleeping giant which covers half of the island of Hawaii, is stirring to life…
---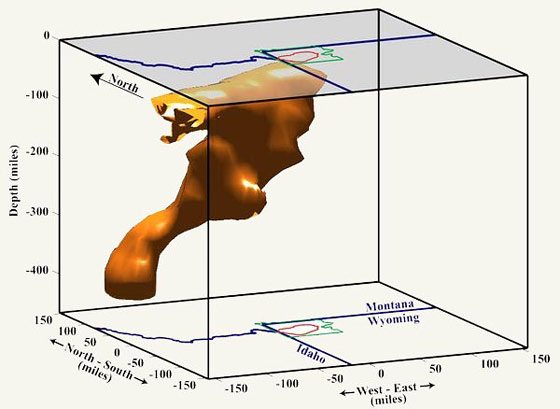 image source: National Geographic
Mount St. Helens was tiny compared to the most dangerous category of volcano – the super volcano. The Yellowstone super volcano is located in the Yellowstone National Park of Wyoming. Try to imagine a volcanic eruption 10,000 times stronger than Mount St. Helens – an eruption that would threaten our very survival.
The image above illustrates the size of the Yellowstone super volcano magma chamber superimposed in 3D beneath the state outlines of Wyoming and Idaho. Notice the relative size compared with the green outline of Yellowstone National Park and the red outline of the caldera itself. It's huge.
---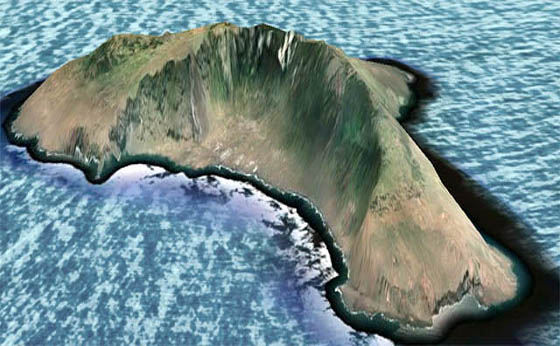 'Hierro', a volcano and island of the Canary Islands of Spain (named 'El Hierro'), summits at 1500 meters (4,900 feet), and has gone through periods of highly active earthquake swarms – which leads some to believe that 'something' is about to happen.
UPDATE: Apparently one of the largest tremors in the region, a magnitude 5.4 earthquake shook all of the Canary Islands as it rocked just offshore of Hierro during DEC-27, 2013.
---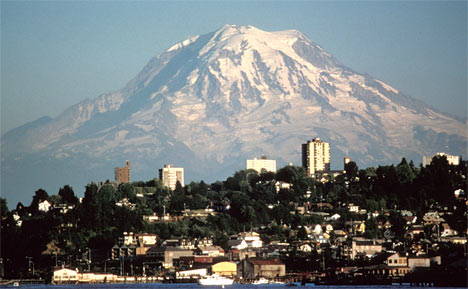 In the years since the cataclysmic eruption of Mount St. Helens, scientific and technological advances in volcanology have enabled new models of volcanic risks and assessment.
One such assessment and monitoring model proposed by the USGS, the 'National Volcano Early Warning System', contains a very interesting list.
It is a categorization and risk assessment of volcanoes in the United States, including these which are classified as the highest threat of them all…
---
Katla, a very dangerous volcano (especially for Europe) located on the south of Iceland, is showing active signs of unrest as increased seismic activity has been detected in the volcano caldera. Dozens of minor earthquakes have been picked up by sensors in groups of swarms.
For the past several weeks, earthquakes have been regularly shaking Katla's caldera. Katla has a history of intermittent quake swarms, but the latest have apparently occurred with ice melt, which is raising concerns for residents.
The quakes could be the result of ice movement (Katla is underneath a glacier) and the official word is "…there is no reason to be concerned about an imminent volcanic eruption or glacial outburst in Katla. The earthquakes were all shallow and originated in seismic activity in the geothermal system."
However others are not so sure… From jonfr.com, "No harmonic tremor did take place during this earthquake swarm. However, harmonic tremor data from IMO suggests a lot of hydro-thermal activity under Mýrdalsjökull glacier;" "It is hard to know for sure what happens next in Katla volcano. But I am sure this activity is currently taking place is going to continue."
During April of 2010, a volcano in Iceland named "Eyjafjallajokull" erupted and shut down air traffic across much of Europe for weeks. Katla, which has historically erupted within 1.5 years of its neighbor "Eyjafjallajokull", has the potential to erupt TEN TIMES the magnitude of what was witnessed during April-2010, and is overdue. The last time Katla erupted 'big' was back in 1918.
Given the dire present economic condition of the Eurozone, a Katla eruption and subsequent economic fallout would be devastating to the region. It could prove to be the Black Swan event that occasionally pops unexpectedly out of nowhere.
Appreciate topics of survival, emergency preparedness – or planning for disaster?
Read our current articles on Modern Survival Blog
twitter: MSurvivalBlog
Facebook
---