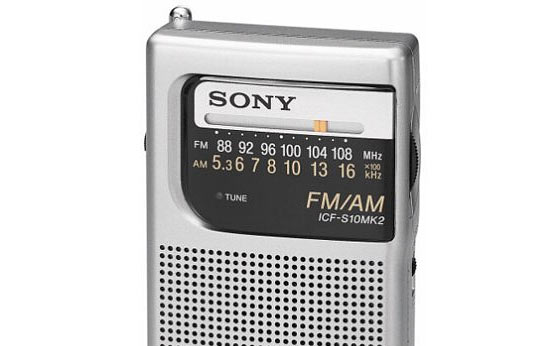 UPDATE: I've had this 'best' 'cheap' portable AM/FM radio for two years, and I've got to tell you that I still believe it's the best little radio (on the cheap – while still confidently reliable) for a survival kit whereby your primary concern is to gather news and information about what's going on during an emergency or disaster.
When it comes to prepping, one very important category (beyond the basics of shelter, water, food, security, etc.) is communications and gathering of intelligence. During disaster or if the SHTF, you will need to know what's going on, to stay a step or two ahead of the rest who will be slow to react – or to simply make better decisions while adapting to what's happening around you.
The Sony ICF-S10MK2 Pocket AM/FM Radio is small enough to easily fit in a pack or a kit while measuring only 2.9 x 1.2 x 4.8 inches. It is remarkably priced, and considering that it is made by Sony (who makes quality electronics), it's almost a no-brainer.
When I first bought it after looking at reviews for the best 'cheap' (inexpensive) small portable AM radio, I was quite surprised with it's ability to pull in stations, and it has a decent sound (for it's size). Now that I've looked at the reviews again – 2 years later – I see that it is even more popular than when I bought it.
Being an analog radio (I'm not aware of any digital components inside), perhaps it's a bit more 'EMP' resistant than otherwise. There are still semiconductors inside the radio, and thus it would theoretically still be susceptible to electro-magnetic-pulse, but it seems less likely (than a digital radio) to fry.
One thing that I've always liked about analog tuners is the speed at which you can scan the dial. Although you cannot fine-tune it like digital radios, for ordinary AM or FM radio reception it's no big deal – and may even be advantageous in some conditions.
If you do not already have a portable AM radio in your home, for your survival kit, for taking with you camping, or for listening to while out in your boat fishing — and if you don't want to spend much money on better features, etc., then you might consider this one.
Information is THE KEY to tactical decision making during a crisis. Think about it… If the power goes out, what's the first thing you're going to want to do? That's right, you're going to want to find out the details – what caused it, how long it might be out, what's happening out in the world as a result of the outage, etc.
Don't be left in the dark.
Or take it to the next level with a Shortwave Radio.