35.0 million real visitors so far... serving you since 2010.
---
What did you do for your preparedness this week? (2016-05-28)

Recent Full Moon

This weekly post is an open-forum (any topic) to voice your thoughts, opinions, or questions for others. Lets hear about what you've been doing this week for preparedness, or perhaps what you have done to convert your Fiat Paper into tangible practical assets 😉
The more who comment, the more that's spread around for the benefit of all…
With Memorial Day weekend upon us, I wish you all a safe and enjoyable weekend…


The POLL results are in regarding 'How Big Is Your Garden?', and of those who participated (366) the following graph indicates the results…
x-axis (garden size, sq.')
y-axis (# votes)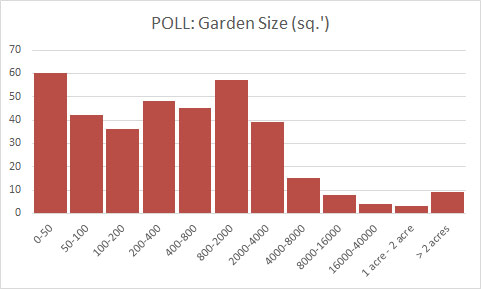 A few things I've been doing this week:
-Garden 'stuff'
-Installed the corral gate
-Outdoor house maintenance
-Endless grass cutting – now that it's growing again
-Procured materials for doors on our free standing shelf units (which hold some food preps)
-Put up my home-made flag pole in time for Memorial Day
-And as usual…more of the 'honey-do' projects.

Your turn… open-forum…