Situational Awareness for Emergency, Disaster and Survival
FOOD STORAGE 101, Date and Rotate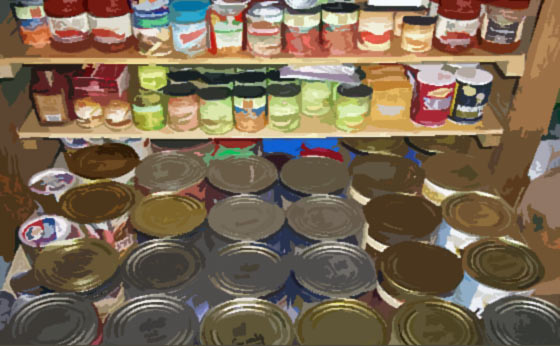 ROTATE YOUR FOOD STORAGE
One of the easiest ways to make your food storage a success is to practice good rotation. Organization and rotation are the key to not losing your storage to spoilage. For us, being organized means we rotate without having to consciously think about doing so. Let me explain what I mean.
A well rounded food storage may include a variety of canned goods, bulk items (like wheat berries, grains, rice, beans, etc.), dehydrated foods, freeze-dried foods, some packaged or processed foods, and whatever else fits with your plans.. Some of these items are somewhat set-and-forget (long term packed foods). You should date these items (year/month) and use the oldest first when it comes time. Other items may not have as long a shelf life and should be treated differently.
Here's the way our storage works. In our 'pantry' the shelves are not very deep so we store items left to right. For example, if I needed a can of beans, I would take the one on the right of other cans. When I restock, I stock from the left, pushing the remaining green beans to the right. This technique always ensures that the can on the right is the oldest can. So, you see, you are 'rotating' without having to think about it as long as you follow the 'take from the right rule' every time.
It's similar to the way a grocery store stocks their shelves. In the store (provided they are stocking correctly), the oldest items are on the front of the shelves where customers will pull from first. The shelves are restocked placing the new items towards the back on the shelves. Another area of our food storage does have deep shelves, so we take from the front and stock from the back of the shelves. Again, this will always ensure proper rotation.
So however you store your food, 'left to right' or 'back to front', if you always follow your same system, you'll always be rotating. It's easy!
DATE YOUR FOOD STORAGE
When we are restocking any of our food, the first thing we do is date the top of the can/box using a black 'Sharpie' marker with the month and year it was purchased. This allows us to know how long the item has been stored.
Some of our food storage supplies are on deep shelves with rollers. When I pull out one of the shelves, I can tell, at a glance, how long the items have been stored. If you notice an item has been stored for a few years, then you may want to check it's shelf life or make sure that you use that item next.
Knowing that some food storage items have a somewhat limited shelf life of a year or two, using (consuming) what you store and rotating what you store should greatly reduce any long term spoilage. Items with longer shelf life expectancy should also be handled similarly. It just makes sense…
Appreciate topics of survival, preparedness, risk awareness – or planning for disaster?
Read our current articles on Modern Survival Blog
FOOD STORAGE 101, Date and Rotate

,