Garden Vegetable Calories List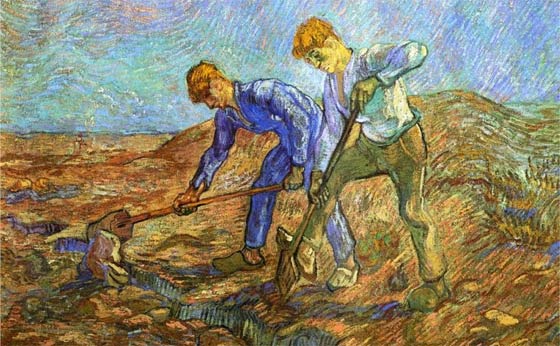 While deciding which vegetables to grow in your 'survival garden', among the many things to consider might be the number of calories that you will get in return for the vegetables that you choose to grow.
During a time when you're literally growing a vegetable garden to seriously help cut the grocery bill and/or 'to survive', it will be especially important to maximize your caloric return for your time and effort.
When it comes to survival & level 4 preparedness (self sufficiency), your gardens will need to produce calories. Lots of vegetables are low in calories, but there are some which carry a fairly good load.
Note: This was originally posted during 2015 however I'm re-posting for your benefit and renewed comment.

All quantities in the vegetables list below have been normalized to 100 grams (3.5 ounces or about 1/4-pound) so as to compare properly.
That said, some of the foods are not typically consumed in these amounts – however the results will let you know where they are with regards to calories.
Note: Nutrition is not accounted for in this list.
The food calorie data for each item was determined based on the common method of consuming the item (some are consumed raw whereas others are typically boiled, etc..).
Number Of Calories In Vegetables (CHART – GRAPH)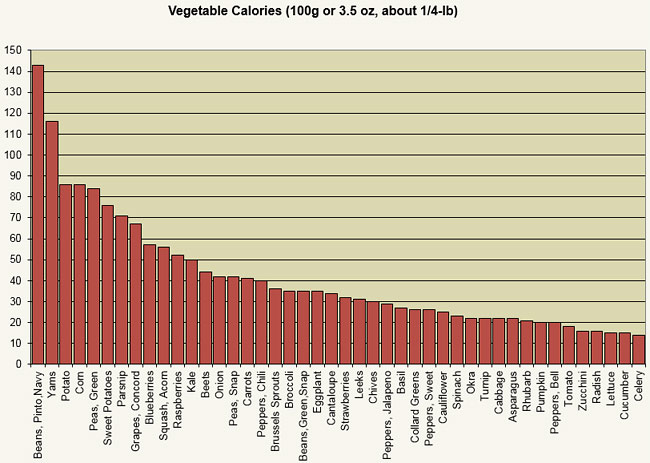 List Of Vegetables And Their Calories
Normalized to 100 grams (3.5 ounces, or about 1/4-pound)
Beans, Pinto, Navy (143 calories)
Yams (116 calories)
Potato (86 calories)
Corn (86 calories)
Peas, Green (84 calories)
Sweet Potato (76 calories)
Parsnip (71 calories)
Grapes, Concord (67 calories)
Blueberries (57 calories)
Squash, Acorn (56 calories)
Raspberries (52 calories)
Kale (50 calories)
Beets (44 calories)
Onion (42 calories)
Peas, Snap (42 calories)
Carrots (41 calories)
Peppers, Chili (40 calories)
Brussels Sprouts (36 calories)
Broccoli (35 calories)
Beans, Green, Snap (35 calories)
Eggplant (35 calories)
Cantaloupe (34 calories)
Strawberries (32 calories)
Leeks (31 calories)
Chives (30 calories)
Peppers, Jalapeno (29 calories)
Basil (27 calories)
Collard Greens (26 calories)
Peppers, Sweet (26 calories)
Cauliflower (25 calories)
Spinach (23 calories)
Okra (22 calories)
Turnip (22 calories)
Cabbage (22 calories)
Asparagus (22 calories)
Rhubarb (21 calories)
Pumpkin (20 calories)
Peppers, Bell (20 calories)
Tomato (18 calories)
Zucchini (16 calories)
Radish (16 calories)
Lettuce (15 calories)
Cucumber (15 calories)
Celery (14 calories)

As most of you know, in general, vegetables are not very calorie dense (with some exceptions – potatoes, etc..).
However when considering a 'survival garden', suddenly we are concerned about calories – to maximize the garden's output based on not only diversification of nutrition and the things that you 'like to eat', but it will become important to consider calories (as in 'survival' mode).
The Vegetable Gardener's Bible, 2nd Edition

What's your opinion? Are you considering the calories that might come out of your garden when you choose what to grow?
Related: Frost Hardiness Planting Zones, And Your Growing Season