34.6 million visitors so far... serving you since 2010. Thank you.
---
10 Essential Items in a Survival Kit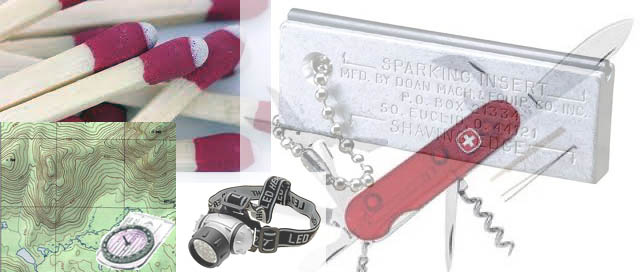 Here is a list of 10 essential items which you might choose as a minimum to start any survival kit. Then build up and tailor the kit from there – depending on a specific purpose (for the kit), your personal preferences, etc..
When deciding what to include in a survival kit, first think about where you're going to use it. Is it for your car? In your backpack on a day hike? A week-long camping trip? A bug-out bag with 72-hour previsions? etc. This will alter what you might choose to include.
Also think about the resources that may already be available in the area where you plan to be. This again will affect the decisions that you make as to what to include in the kit.
The following items are intended to present ideas to spark your own thoughts:
Fire-starter / Matches
Magnesium Fire Starter and/or FireSteel.
Magnesium fire-starters are popular (practice with it after you buy one). 'Strike Anywhere' matches (the kind with the white phosphorus tip), NOT the type that you must strike on the box (if the box striker gets wet, or if you lose the box, you're in trouble). Store the Strike-Anywhere matches in a water-tight case or bag. Include a 'Striker', perhaps an emery board or women's nail file. Keeping a lighter in addition to matches is a good idea too. Consider carrying some tinder for building a fire.
Knife
KA-BAR US Army (for example).
A fixed-blade knife or a cutting tool of some sort. Perhaps a pocket-knife suits your needs well enough. Or a multi-purpose tool with a knife might be useful. I personally like the fixed-blade style knife (and sheath) for it's size and blade options, strength, and multipurpose uses more than that of an ordinary pocket knife. Although I do carry both in some scenarios. There are MANY knife makes, models, and manufacturers to choose from. If you're interested in a (Made in the USA) hand forged, hand hammered high-carbon-steel fixed blade knife, check with James over at Indy Hammered Knives. I reviewed two of his knives, the (Sojourner) and the (Skinner).
Map and Compass
Keep a hard-copy map of the region you're in. A topo map if you're off-road, and a road map otherwise; or both. Know how to read and navigate with maps. The basics are simple. Complimentary with the map, a compass will establish bearings. Don't necessarily rely on a GPS unit alone.
Paracord
U.S. Made Military 550 Paracord (from Tom over at CampingSurvival.com)
Keep a length of 550 Paracord (or other cord of your choosing). A minimum of 10-20 feet seems reasonable for starters and for most ordinary uses (lashing, etc.), but I prefer to keep a bit more in the ordinary kit if space permits. Here's the factory (Gladding) where Tom gets his U.S. Made Military paracord.
Flashlight, extra batteries
LED flashlight and/or headlamp. A LED flashlight, preferably a head-mounted style (for hands-free), is an ideal choice. Keep an extra set of batteries even though LED flashlights consume relatively little power. Here's my review of a headlamp that I currently use, as well as a review of a 'best flashlight' that I currently use (although there's no such thing as 'best' – it's subjective and dependent upon one's personal needs and preferences for any given situation).
Food
Datrex Food Bar (for example)
The quantity, food type, and packaging depends on kit purpose (day-pack, overnight backpacking, vehicle kit, etc.) Power/Energy calorie-dense food bars are convenient for short-duration kits. Here's a review of the Datrex 3600 Calorie Emergency Food Bar Bricks.
MRE's are another option to consider. There are lots of practical choices in this category…
Extra Clothing
Consider the seasonal extremes. Even during summertime, hypothermia can become a risk during a cool rain or at night. Consider whatever is appropriate as extras… a stocking hat, a rain jacket, sweatshirt, a pair of gloves, etc. You can always 'layer' your clothes and better to have too much on hand than not enough.
First Aid Kit
'Compact' First Aid Kit
Keep at least the basic first aid items such as band-aids, sterile gauze and tape, etc. Here's my review of one of the better (Made in USA) general purpose First Aid Kits for around the home or in your vehicle, etc… You can also easily assemble your own custom made First Aid Kit.
Mylar Emergency Blanket
Mylar Thermal Emergency Blankets
These serve multiple uses including warmth (wrap yourself in it to reflect your body heat back to you), and potential shelter similar to a small tarp. These are so small that keeping several will hardly take any room at all in your kit. Uses For A Space Blanket – Emergency Blanket – Thermal Blanket. This particular 'Original' space blanket brand now manufacture a heavy-duty (Made in USA) outdoor all weather blanket.
Stainless Steel Water Container
Klean Kanteen
Get the kind with a screw-on lid, purposely made for hiking. It will carry water and can also be used to boil /purify water for drinking from questionable sources.

This list of ten survival kit items is meant to give you ideas as a starting point for putting together your own kit. These items will easily fit into a backpack. Adjust the contents as you see fit, as any such list is variable.
There are LOTS more items to consider to include in a basic (general purpose) emergency kit. Instead of me listing another ten items (or more!), let's hear from you…