35.0 million real visitors so far... serving you since 2010.
---
Suggested Items For A 72-Hour Car Kit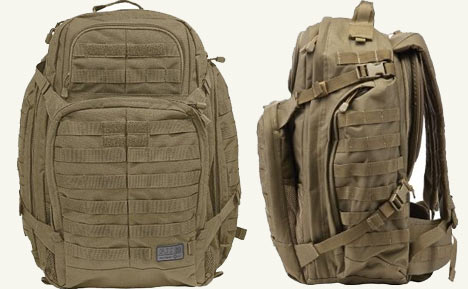 Use the following list as a guide for your 72 hour survival kit. The items in bold should be in every kit, whereas the rest could be shared among a group. These are only suggestions, and personal tailoring is not only recommended, but it get's you thinking… The kit should be assembled to fit and work with a backpack. The kit should be kept in your car.
Purified water (minimum of 4, 16-oz water bottles per person)
Food, (3 day supply requiring no cooking)
Blanket, sleeping bag or emergency metallic space blanket
Large plastic garbage bag, poncho or rain gear
Eating utensils, can opener
2 rolls toilet paper
Compass, mirror, whistle
Small 2-man tent
Small water filter or iodine crystals
Flashlights (LED style, and batteries)
Sharp knife
Matches, light sticks
Small portable AM radio with extra batteries
Paracord rope, fishing line (20 lb test min.), hooks
Leather gloves, dust masks
Chapstick, hairbrush, hand lotion
Feminine supplies,
Toothbrush & toothpaste
Soap, washcloth, small towel, razor
Extra eyeglasses (even if you wear contacts)
Baby wipes, deodorant
Change of clothing, jacket, shoes, socks, underwear, hat
Infant needs, if necessary
Family pictures
Important telephone numbers
Paper, marker, pencil, money
First aid supplies & essential medications
Over counter meds
Insect repellant
Sun screen
Bandages, antibiotic ointment
Needle, tweezers, scissors
Triangular bandages, gauze, elastic bandages
Hot pack, cold pack
Rubber gloves
Appreciate topics of survival, preparedness, risk awareness – or planning for disaster?
Read our current articles on Modern Survival Blog