---
Dehydrated Strawberries Satisfies Sweet Tooth
A perfect addition for your survival preparedness food storage supply is the dehydrated strawberry. You must not forget the sweet elements for your storage food because rice and beans just won't cut it for very long without variety. Sliced and dehydrated strawberries will be a welcome ingredient to your food stores!
Be frugal by taking advantage of stocking up on strawberries when they are on sale. Remember that this whole modern survival thing is a way of life and a way of thinking. When you see great deals on items that you can truly use, go ahead and get them because the price will only continue to rise in the future. With a food dehydrator you can take advantage of bulk food, fruit and vegetable purchases by preserving them for a very long time.
Recently we picked up 5 pounds of strawberries on sale, sliced them, dehydrated them, and stored them in canning jars.
It is so easy to do!


How to Dehydrate Strawberries
Rinse and slice. I end up with about 4 slices per strawberry and 5 slices if it is a big one.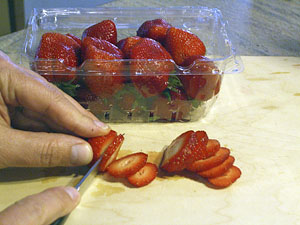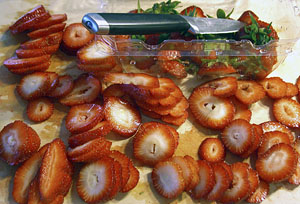 1 pound of sliced strawberries fits perfectly on one tray of the Excalibur dehydrator.
Excalibur 3900 Deluxe Series 9 Tray Food Dehydrator – Black
Excalibur 3500 Deluxe Series 5 Tray Food Dehydrator – Black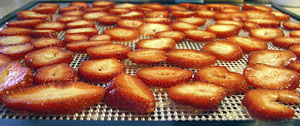 Dehydrate at 120 degrees for about 10 hours. Time will vary depending on the moisture of the strawberries.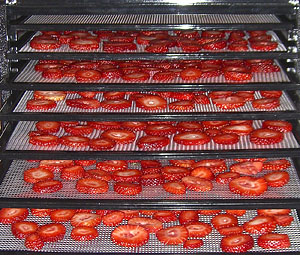 When finished, store them in an air tight container. Canning jars work quite well for this.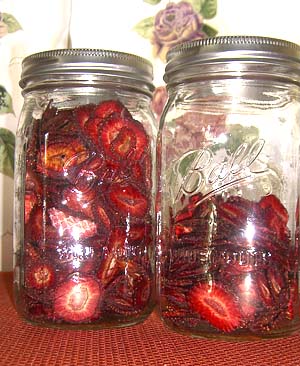 Here is an example of one use for dehydrated strawberries. They can be used in cereal. Add them to a bowl with some milk and let soak for about 15 minutes to soften them up. Then add cereal and enjoy the fresh flavor.
Remember that when you dehydrate foods, all of the nutrition remains 100 percent intact. Only the moisture is drawn out. This is a very healthy way to preserve and store food for your survival preps.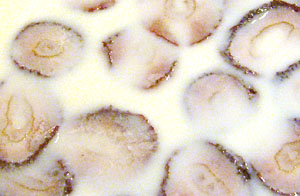 Delicious!
By the way, a side benefit while dehydrating strawberries is the wonderful aroma that fills the house. Mouth watering.