34.8 million real visitors so far... serving you since 2010.
---
Survivor Traits And Ability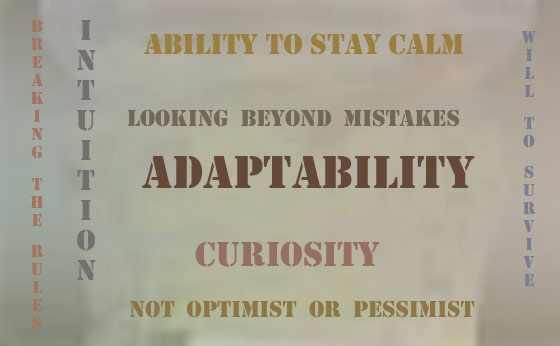 The survivor is not your average 'Joe' (sorry Joe). There are many survivor traits which work together to embody the overall package. Some traits are learned while others come natural.
The following list of traits comprise the personality of a survivor:
ADAPTABILITY
The ability to adapt to a situation is the number-one survivor trait to success.
CURIOSITY
A natural curiosity of how things work or why things are, facilitates more adaptability.
NOT AN OPTIMIST OR A PESSIMIST
A good blend of both optimism and pessimism lends the ability to see the negative (faults) without the debilitating side-effects of negativity.
ABILITY TO STAY CALM
Staying or regaining calm, enables critical and clear thinking whereas high emotions cloud judgement and good decision-making.
LOOKING BEYOND MISTAKES
The ability to move on after a mistake or loss, while not wasting time or getting bogged down.
INTUITION
The power of intuition – 'knowing' without knowing why – is a powerful survivor trait.
BREAKING THE RULES
Thinking outside the box while questioning, bending, or breaking the rules (which are not a limiting factor for the survivor).
WILL TO SURVIVE
It takes a strong will to survive when the going gets extremely tough or severe.

Bushcraft 101: A Field Guide to the Art of Wilderness Survival
When All Hell Breaks Loose: Stuff You Need To Survive….