Posts Tagged 'economic-collapse'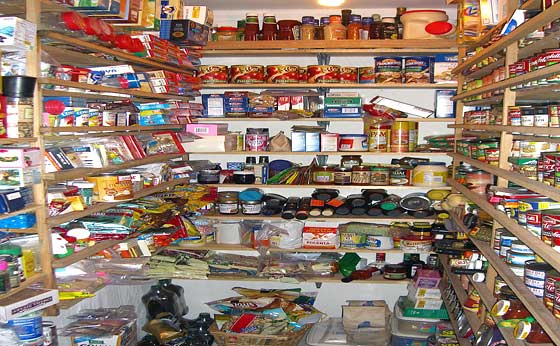 Disruption to the food supply chain
A basic essential to survivalism is having enough food to eat and water to drink. In today's modern world, we take it for granted that there will always be food on grocery store shelves, and there are many built-in assumptions with that thought process. Here are a few examples of what could disrupt the supply chain of having food readily available at grocery stores (most grocery stores have less than a 1-week supply on hand… even those with more than that will run out quickly during a panic ).
trucking or transportation system breakdown (there are many scenarios)
major regional disaster (hurricane, earthquake, war, terrorism, etc…)
panic from pandemic
economic collapse and resulting social chaos
major power outage (local, regional, or worse)
food shortages caused by large scale crop failures, drought
[fill in the blank - for your disaster scenario...]


The systems that are in place, from large scale mass producing farms, through the distribution chain to the grocery stores, are maximized and optimized to produce the quantity of food to feed the hundreds of millions of us and others.
It was not long ago when much of the food we ate was produced locally or even in our own backyard gardens. Today, tens of millions of us live in city centers and the suburbs while we rely on the food manufacture & distribution pipeline to run smoothly in the background to bring us our food.
Wherever and whenever there is a system in place that is SO essential to modern day living (we are dependent on it), we must recognize it and realize the risk of it, and then…  prepare for its disruption. Having enough stored food is the most responsible thing you can do as a first step to becoming self sufficient in your life.
Get started with your food preps
The way for most people to get started is to start small, so as not to overwhelm or make bad decisions early on. The way that Lauren and I started years ago was to simply buy a few more of the items that we normally purchase during a grocery store run. If we normally picked up 4 cans of green beans, we would get 6 instead. Rather than 1 bottle of honey, we would get 2. Doing it this way makes it easy on the pocket book too.
One important thing to remember is to concentrate on buying the foods that you will normally eat. Don't go out and buy all of the stereotypical food storage products (many of which are perfectly fine, and have their place in your overall food preparedness plan), I'm saying that for a normal short to mid term storage inventory, you should stock up on the foods that you are used to eating.
When you are storing your extra food, develop a system that allows you to rotate your stock. Use the oldest first, etc… There are many ways to go about this, but one simple method that we use with some of our supplies is that we always pull inventory from the right, or the front (depending on if your stock is front-back or left-right oriented). New stock goes to the back of the row or to the left side of the row. For longer term storage items, it makes sense to use a black sharpie pen and date the product (month / year).
How much food to store?
The quantity of food storage is a personal decision that only you can make. In my opinion, at a minimum, you should have 30 days of food for each member of the family living in the house. This quantity will get you through the majority of the most likely disruptions that could occur.
Preparing beyond 30 days begins to account for the possibility of larger scale disruption scenarios. The odds or likelihood of occurrence goes down as the magnitude or scale of the disruption scenario goes up. Having said that, you should realize that IF a less likely (but major) disaster occurs, you could be caught VERY short with your food supplies at just one month. It's all about your risk tolerance level and what you are willing to prepare for.
Remember this…
The veneer of civility is thin, and after 3 days without food, there WILL be chaos.
Appreciate topics of survival, emergency preparedness – or planning for disaster?
Read our current articles on Modern Survival Blog
twitter: MSurvivalBlog
Facebook
---
During a recent interview between Peter Schiff (CEO of Euro Pacific Precious Metals) and Greg Hunter (USAWatchdog.com), Schiff says the latest round of 'QE3′ by the Fed has only postponed the coming collapse. The longer we wait the worse it's going to be because we simply compound the mistakes that make the crash necessary.
The stage has been set for a currency crisis and a sovereign debt crisis, and they're going to come, and they're going to come relatively soon, and it's going to be horrific.
Not only are people going to continue to lose their jobs with this policy, even the Americans who manage to maintain their jobs, they're not going to maintain their living standard because their paychecks are not going to keep pace with the escalating cost of living, thanks to the Fed.
When the Fed finally has to choose between runaway inflation and a collapse because they have to raise interest rates to stop runaway inflation or hyperinflation… we're going to get to that tipping point at some time. The Fed will be 'damned if it does' or 'damned if it doesn't', and no matter what it chooses it's going to bring on a crisis. Except if it chooses inflation, it brings on an even bigger crisis. It might postpone it for a few months… but that's it – we're going to have this crisis one way or another. Just prepare for it.
It could happen in two months, although more likely it won't happen that soon, Schiff says, it will happen during the term of the next president. The next year or two is a high probability of some kind of crisis. Just pretend like it's tomorrow and make sure you have your ducks in a row.
From a survival preparedness standpoint, what can one do to prepare for this? While not knowing the magnitude of a dollar collapse, or runaway inflation, both will affect you badly. If inflation is in our future, consumable goods and tangible assets purchased today will be 'cheaper' than later on (assuming that your paycheck will not increase to keep up with inflation – which undoubtedly it will not, and is not). An all out collapse or runaway hyperinflation will be devastating, should it occur. Some advice may be to prepare to be able to live with what you have, or less, and perhaps to get what you need, now. Shore up your food reserves, and go from there. Realize and KNOW that things will not be the same in any way shape or form. Be ready to adapt. Get a head start from others who have no clue this is coming. Become more self-sufficient. Start learning new and practical skills. Don't buy frivolous things… instead, buy practical and useful. Things that will help you live your life. If you have 'extra', then diversify out of the dollar, perhaps into some precious metals, along with your other diversification.
Appreciate topics of survival, emergency preparedness – or planning for disaster?
Read our current articles on Modern Survival Blog
twitter: MSurvivalBlog
Facebook
---
Billionaire George Soros has recently sold more than a million shares of major financial companies including JP Morgan, Goldman Sachs, and Citigroup, valued at 50 million dollars. While George Soros is well known for his donations to foundations that often undermine the American way, one has to take notice when a powerful insider takes such drastic financial action.
What has he done with the money he has withdrawn from the stock market? He has invested it in GOLD. Soros Fund Management has doubled its position in the SPDR Gold Trust (GLD) to nearly 900,000 shares. That's nearly 150 million dollars. What's going on? What does he know? Is a major financial collapse eminent?
Back in April of 2011, I wrote an article titled Government Shutdown, a Soros Diversion, Bretton Woods II! in which a George Soros sponsored event, Bretton Woods II economic conference, which took place at the Omni Mount Washington Resort in Bretton Woods, New Hampshire, was outlined with a mission to change the global economy in one event.
Weeks later I highlighted in an article, Bretton Woods II, Results Are IN, that immediately following the conference, Brazil, Russia, India, China, and South Africa (the BRICS) met for a summit, calling for 'a restructuring of the World War II-era global financial system and an eventual end to the long reign of the U.S. dollar as the world's reserve currency.'
Could the implementation of the non-reported Bretton Woods II be on our doorstep? Could a major global financial collapse usher in a new world currency, partially backed by gold? Could this be why Soros and others are falling over themselves for gold? (John Paulson just increased gold holdings to $700 million, central banks buying gold, China amassing gold)
I'm just putting it out there for your consumption that this might be a further indication that something BIG may be about to happen in the financial world.
Be aware and be prepared.
Appreciate topics of survival, emergency preparedness – or planning for disaster?
Read our current articles on Modern Survival Blog
twitter: MSurvivalBlog
Facebook
---
An independent global think tank, LEAP/E2020, recently reported the opinion that "this second half of 2012 will really mark a major inflection point of the global systemic crisis;" "The shock of the autumn 2008 will seem like a small summer storm compared to what will affect the planet in several months."
In fact LEAP/E2020 has never seen the chronological convergence of such a series of explosive and so fundamental factors (economy, finances, geopolitical…) since the start of its work on the global systemic crisis. Logically, in our modest attempt to regularly publish a "crisis weather forecast", we must therefore give our readers a "Red Alert" because the upcoming events which are readying themselves to shake the world system next September/ October belong to this category.
All the other components of the global situation are in fact pointed in a negative, even catastrophic, direction. Indeed, in one form or another, more often on the inside pages than in big headlines, one now finds the following 13 topics (sourced from LEAP),
1. Global recession (no engine of growth anywhere / end of the myth of the "US recovery")
2. Growing insolvency of the Western banking and financial system and henceforth partially recognized as such
3. Growing frailty of key financial assets such as sovereign debts, real estate and CDSs underpinning the world's major banks' balance sheets
4. Fall off in international trade
5. Geopolitical tensions (in particular in the Middle East) approaching the point of a regional explosion
6. Lasting global geopolitical blockage at the UN
7. Rapid collapse of the whole of the Western asset-backed retirement system
8. Growing political divisions within the world's "monolithic" powers (USA, China, Russia)
9. Lack of "miracle" solutions as in 2008 /2009, because of the growing impotence of many of the major Western central banks (Fed, BoE, BoJ) and States' indebtedness
10. Credibility in freefall for all countries having to assume the double load of public and excessive private debt
11. Inability to control/slow down the advance of mass and long-term unemployment
12. Failure of monetarist and financial stimulus policies such as "pure" austerity policies
13. Quasi-systematic ineffectiveness henceforth of the alternative or recent international closed groups, G20, G8, Rio+20, WTO,… on all the key topics of what is no longer in fact a world agenda absent any consensus: economy, finances, environment, conflict resolution, fight against poverty…
As if the statements from LEAP are not alarming enough, yet another reason to be VERY concerned about the months ahead is the following chart from IMF.org which shows historical 'starts' of banking crisis by month.

source: IMF.org
You may ask, "If I am to believe any of this, what difference does it make to me, or what can I do about it?"
Suggestions include doing your due-diligence to discover what is really going on out there beyond your normal realm of input. Open your eyes to the fact that many of the 'talking heads' in the mainstream are peddling slanted information, at times bordering on propaganda. Take advantage of the technology at your fingertips. No longer are you limited to the mainstream alphabet news channels. Dig deeper and search out additional sources of news and information on the internet. It is often helpful to view news reporting from other countries, as well as alternative news sources from within your own country. The broader your input, the more likely you are to form a closer 'truth'.
Many alternative news sources are suggesting that a significant world financial crisis is heading our way, one that may dwarf what we went through in 2008, a global collapse big enough to right the wrongs of the past. Given the possibility, it may be prudent to prepare for it in some way, so as to soften the blow as it is always good advice to plan for the worst and hope for the best. Every personal situation is unique, so plan and prepare as you will.
Here's something to think about… during the great depression of the 1930s, more than half of the people lived in small towns and rural areas, and many of them knew how to grow their own food and preserve it for later – and knew a way of life filled with responsibility, dependability, hands-on skill, and self sufficiency. Compare that to today where most people who live in cities, metropolitan and suburban areas have little to no 'know-how', knowledge, or experience to take care of themselves, ability to provide for themselves, or practical skills to deal with making it on their own if they had to. It is estimated that 12 million people died during the great depression in America. Imagine how many would do so today? It would be staggering.
Appreciate topics of survival, emergency preparedness – or planning for disaster?
Read our current articles on Modern Survival Blog
twitter: MSurvivalBlog
Facebook
---
"Derivatives are financial instruments whose value is linked to something else. They're basically fancy instruments that have evolved over the last ten years that enable investors and institutions to bet on virtually anything, from interest rates or exchange rates to commodities."
I came across this definition of derivatives and credit default swaps in a 2008 article from PBS.org, which I feel sums it up nicely and in an easy to understand way. The current derivatives market today is so enormous, it's unraveling is unimaginable. It may be one of the biggest systemic risks that our current financial system faces today, even though it's intention is to nullify or reduce risk.
What's important today is that a multi-trillion dollar market in these bets has mushroomed (estimated today at $700 Trillion, and equates to 1200% of Global GDP resting on very, very weak foundations) without any real regulation, in part because in 2000, in the words of one account, hours before Congress was to leave for Christmas recess, Senator Phil Gramm slipped a 262-page amendment into the appropriations bill forbidding federal agencies to regulate the financial derivatives industry.
Forbidding indeed.
Now in point of fact, rather innocent bets like futures or options are also derivatives, but what the speaker meant was a TYPE of derivative known as a credit default swap (CDS). Very simple, really. It's a bet on whether some entity – a company, a government agency – is going to default on its credit and go bankrupt.
An example: Someone who loaned money to Lehman Brothers (by buying their bonds) might bet on Lehman going belly-up. Why? To protect their bonds. Lehman fails; they lose on the bonds, but cash in on the bet. It's a form of insurance. The price they pay for the "credit default swap" is, in essence, the insurance premium.
Why would someone else take the other side of the bet? WRITE the insurance, that is? Because it looked like easy money. How likely was it that Lehman Brothers would go bankrupt, a firm that had been in business, more or less, since 1844? Wouldn't YOU have given someone 100-1 (assuming you like to bet)?
But now, with so many firms going bankrupt, such bets have turned out to be killers. Literally, it would seem. AIG is mainly an insurance company. So maybe it shouldn't come as a surprise that it wrote lots of credit default swaps. Indeed, it even borrowed money to do so. But when the people with whom it bet – its so-called "counter-parties" – appeared ready to cash their bets, the lenders to AIG said, in effect: "Time for you at AIG to put up more collateral on your loans, because those bets of yours are looking shaky."
But how was AIG going to raise more collateral? By selling off assets going down in value? That would simply drive them down more, lowering the value of AIG's collateral, meaning they'd have to come up with even more collateral. A classic vicious circle, downward spiral, negative feedback loop – call it what you will.
Meanwhile, if AIG was in trouble with its lenders, its credit rating would drop, thus forcing AIG to put up even MORE collateral. More negative feedback. Down, down and down.
All kicked off in part because AIG went heavily into the credit insurance business, using derivatives known as credit default swaps.
Spoken from the co-manager of one of the largest hedge fund groups in the world, GLG Global Macro Fund in London, Raoul Pal recently said, "From a timing perspective, I think 2012 and 2013 will usher in the end. We have around 6 months left of trading in Western markets to protect ourselves or make enough money to offset future losses. After that…we put on our tin helmets and hide until the new system emerges."

Appreciate topics of survival, emergency preparedness – or planning for disaster?
Read our current articles on Modern Survival Blog
twitter: MSurvivalBlog
Facebook
---
On Bloomberg TV this morning, Todd Schoenberger, managing principal at BlackBay Group said, "They're headed for a deep depression (Europe). The debt bombs that are there… we're looking at 1.5 Trillion dollars in debt just amongst the PIGS countries that are held by those countries including the IMF. Think about it… another 500 billion held by the money center banks here in New York. That is going to crush the debt problem to the poison – you just can't cure it by throwing a couple of dollars there. But here's the thing… if Europe goes down, who is China's number one customer? Europe. They (China) go down… who's going to buy our treasury debt? Yet you have a US government right now that is leveraging it's own self by borrowing 40 cents on the dollar by issuing US treasuries… to China! If they don't buy our treasury debt, what are we going to do in this country? It will be anarchy. Chaos." [followed by shocked looks on the faces of the other talking heads in the interview]
Also on Bloomberg TV, Patrick Wolff, founder and chief executive officer of Grandmaster Capital Management LLC said "and China… I'm extremely bearish. I think we're starting to see the bubble break, I think it's probably very early in that process, I think as it breaks it's going to go alot farther than people believe."
From Reuters this morning, "Nothing tells the story of the global economy at the moment better than the world's equity markets. On Friday the Dow turned negative for the year and the S&P 500 dipped below the critical 200-day moving average for the first time since December – a level that many technical analysts view as a harbinger of more selling. Bear markets are raging in Spain, Italy, Brazil and Russia. Asian stocks have been weak. Most of Europe's other markets are negative for the year, and that is where U.S. stocks are going – and fast."
From CNBC this morning, "The Tokyo market slumped to a 28-year low on Monday as Asian shares dived on fears of a nightmare scenario of euro-zone breakup, U.S. economic relapse and a sharp slowdown in China."
From the New York Times this morning, "The question has grown more urgent since the release of data Friday showing a record-high rate of unemployment in the euro zone, poor job creation in the United States and a slowdown in manufacturing in China. Combined, those signals have fueled fears of a second worldwide recession."
It feels like we are on the precipice of another economic collapse, unless something is done to further delay or slow the unwinding. What that 'something' is, is what has surely kept the financial sector up and working this weekend. We shall soon see…
Appreciate topics of survival, emergency preparedness – or planning for disaster?
Read our current articles on Modern Survival Blog
twitter: MSurvivalBlog
Facebook
---
In case you haven't noticed, the DOW is down nearly 800 points in the last several weeks. Friday, the world markets have suffered their bleakest day of the year so far. Prominent financial players are expressing extreme concern, and some believe the end game is nigh. Could we finally be at the precipice of the economic tipping point, about to be hurled over the edge into an economic apocalypse that will make the events of 2008 seem like child's play?
Time is running out.
The truth is setting in.
This is all eerily reminiscent of the years following 1929. Following the initial crash (2008 parallel), the stock market rebounded, and the people thought they were 'out of the woods' and everything seemed okay (like today). Then, it all crashed hard, leading to the deepest years of the Great Depression. The past few years 'the system' has been propped up by massive bailouts, money injection into the banking system, and policies enabling banks to absorb their bad debt without defaulting. The problem is… this has all been temporary, and the 'real' economy has not improved. It has in fact worsened – despite the numbers that are presented (misrepresented) by the banksters, the government, and the main stream media.
30% of the purchasing power of the dollar has been destroyed in the past four years while wages remain stagnant. The U.S. economy needs 125,000 NEW jobs each month just to stay even with the unemployment rate. The most recent reporting has been well below that, and the prior month's numbers were revised downward well below that as well. China is rolling over, the Eurozone is in complete economic turmoil with the breakdown and apparent eminent sovereign default and exit of Greece. Money has been fleeing Greece (and now Spain) with ongoing bank runs.
We have been lulled into a false sense of security as we have been in the eye of the economic hurricane for several years now, and most have forgotten that the winds are swirling all around us as we are about to re-enter the fury of the storm. There has been no real correction yet, no deleveraging or unwinding of the massive derivative market. No one has been held accountable.
Greece is almost gone. Spain, and then Italy will swiftly be next. Dominoes will fall. All this while the Fed may be too late to act as it plays politics with the current election cycle in the U.S.
The outcome is not in question. However the timing and management (or lack thereof) of the unwinding is. At the present time, it appears that the market may be realizing the truth of the matter as they are fleeing to 'safety'. Reality has arrived. Friday's Gold was up $66 an ounce.
We don't know what is to come. The world has NEVER been here before. Those who believe the U.S. can remain unscathed from what is happening in Greece, Spain, Italy and the Eurozone, evidently do not understand the definition of 'contagion'. It can happen VERY fast.
Reported from an 'insider' source at SteveQuayle.com, who predicts the collapse of the Eurozone within 6 months,
The Iron boot has been firmly planted to the pedal of this runaway tractor trailer that is heading off the cliff. All of the Euro banks including my former associates at the Royal Bank of Scotland (RBS) are all prepped and ready for the Euro collapse. What we in the inside are calling "Spanish Flue" is now running hot with temperatures that are setting ten year yields sky high. What many do not realize is that Bankia's demise has started a breach in all the firewalls and safety measures that are in place in the Eurozone. This had an immediate effect on the Italian markets as you can now see the pandemonium that is there.

We keep hearing reports of massive bank runs that are occurring across many of the PIIGS but is not just limited to them. As I stated many times the UK and France are the most vulnerable to the Eurozone collapse, many of their populace are cashing out of their equities though there is a massive media blackout about this. European contacts report that there is a flight to German bonds, UK and a mass migration to the US dollar. But these currency life preserver jumps will not help as the contagion in all FIAT markets are affected. It is a game of hot potato that the investors are playing, jumping from one asset to the next and again before the one that they just jumped to burns. A juggling act with fire that cannot be quenched.
On Friday, Jim Sinclair of jsmineset.com said, "QE to infinity is for certain. About that there is no question whatsoever. It cannot be avoided;" "The Fed is playing with something worse than fire. That fire is posted in a video today [see below] and references a worldwide financial crisis that if it starts cannot be stopped by any power on the planet." "They are already easing up on the rhetoric. The Fed will downright panic as the world's economies go from slow to dropping out of sight. That is what is on the plate tonight, this night, right here and now."
This is one day going to end very badly. Time is running out. There is no stopping this. There is prediction among some insiders that the Eurozone will collapse this fall/winter with naked exposure of all derivative markets the world over. In essence, the end. The great reset.
Are you prepared for the chaos that will follow such an event? I hope so. If not, start planning TODAY.
Appreciate topics of survival, emergency preparedness – or planning for disaster?
Read our current articles on Modern Survival Blog
twitter: MSurvivalBlog
Facebook
---
Billionaire Donald Trump and best selling author and money manager Robert Wiedemer just predicted the market is going to get much, much worse. "This is no recovery," he says [Wiedemer]. "And this is no 'down cycle' that will soon be followed by a reliable 'up cycle.'
This is a big, multi-bubble pop and it's far from over."
In a nutshell, Wiedemers' best seller book, Aftershock
, argues that a succession of bubbles have set the country on the path to ruin. First came the dotcom bubble, then the housing bubble. Now Federal Reserve market 'manipulation' and the "incredible irresponsibility and bad judgment of the public sector", i.e. the U.S. government, make banana republic inflation levels inevitable starting in 2012.
Billionaire Donald Trump says the U.S. economy is poised for "massive inflation" and is warning investors to take steps now to protect themselves.
Trump told investors during a recent CNBC interview that they should not trust official government statistics. He even questioned the "official unemployment" numbers. "It's over 20 percent. It's not 8.3 percent," Trump said.
John Williams' www.shadowstats.com is an excellent site to discover 'real' unemployment numbers and how the government has changed the rules of how they are reporting this number over the years (skewed to make it look better than it really is).
Trump also thinks skyrocketing oil prices will cripple the U.S. economy. "Right now, [oil] is at an all-time record for this time of the year, in the summer they predict $5 gasoline, maybe $6."
Robert Wiedemer stated in a recent interview, "The data is clear, 50% unemployment, a 90% stock market drop, and 100% annual inflation . . . starting in 2012."
One could argue that Wiedemer has motive for painting doom and gloom to sell a book. However his previous economic predictions have come true, lending some credibility to his current stance (of which many others similarly agree). His co-authored book, America's Bubble Economy, published in 2006, accurately predicted the Great Recession and the popping of the housing, private credit, stock and consumer spending bubbles (same as some others with contrarian views during that time).
I'm not a financial expert by any means, but even I realized that something was not right during that time, just as I feel something is not right, now. This false 'recovery' is 100% fake in my opinion, being financed by newly printed digi-dollars out of thin air. This is all going to bite us in the a$$ big time, one day. You can't get something for nothing… there's no such thing.
I haven't read Aftershock
yet, but after having just sourced some of this information from www.newsmax.com for this article, and hearing about the book, it certainly raises an eyebrow of intrigue (that's putting it mildly). I  have also found that it's often a good thing to explore more than just one point of view.
One thing for sure, it's more fuel for the fire of prepping!
Appreciate topics of survival, emergency preparedness – or planning for disaster?
Read our current articles on Modern Survival Blog
twitter: MSurvivalBlog
Facebook
---
We Americans have been subject to the boiling frog syndrome for decades. Did you know that you can boil a frog alive? If the frog is placed in cool water and the temperature of the water is raised sufficiently slow, the frog will not jump out and will be cooked to death. Most Americans are that frog.
The slow raising of the water's temperature has been a creeping normalcy. What was normal to our parents and grandparents is by no means whatsoever, normal today. Although the frogs today go about their business as normal.
Many of the older and wiser bullfrogs have tried to warn the young frogs and toads, pointing out how the water around them is steaming. The frogs just croak how the water feels so good and how everything's alright.
The frogs are almost boiled.
This metaphor is indicative of our current 'system', a system designed to flourish the more debt that is spread around. The belief is that the more debt there is, the higher the GDP or gross domestic product. GDP is the monetary value of all the finished goods and services produced within a country's borders. It includes all of private and public consumption, government outlays, investments and exports less imports that occur within a defined territory.
The problem now is, people seem to have forgotten about the exponential-curve function, and how it works. We've taken on so much debt, that it takes even that much more debt to keep the GDP on the up-and-up because of the ever increasing interest we must pay on the debt. This is why Bernanke and the rest of the FED is adamant about keeping interest rates low. The minute they start to raise, then the pot will boil over. The frogs will be dead.
The problem is, given the bailouts and money printing required to keep the system from crumbling, the FED is having one heck of a time keeping the finger in the dike. The fact is that QE, quantitative easing, will be required to infinity to keep it together, a purposed method of injecting liquidity into the system (fiat money), which in turn will devalue the currency (increase inflation), which turns up the heat in the pan of water that the frogs are frothing around in…
They (the FED) are between a rock and a hard place. The inevitable will become reality and the pan will boil over, unfortunately with lots of frogs inside.
Are you one of those frogs? Or do you see what is going on around you? The MSM, main stream media, has made it very difficult for you to see the steam rising from the pan. To see it, you must wipe the mist from your glasses and look carefully. You will see it if you try.
Jump out now, before it's too late.
If you enjoyed this or topics of emergency preparedness, or are planning for disaster,
Read our current articles on Modern Survival Blog
---