Posts Tagged 'flour mill'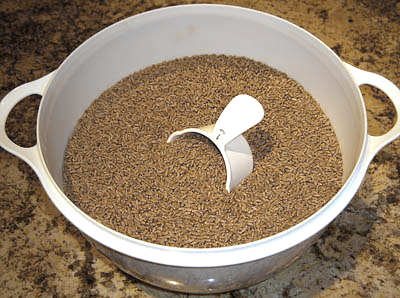 How do I choose which hand grain mill to buy?
There are quite a range of prices for various hand grain mills, and it may seem difficult to decide which one to choose, but you can narrow your choice by considering two basic questions…
1. Do you intend to grind/mill into flour for breads (versus only for courser grinds)
2. Do you intend to use it frequently.
If you will be milling wheat to make flour for bread, you will want to be sure that the mill will grind the wheat berries into fine enough flour. Many cheaper models apparently do not, although many claim that they do. Just read the reviews of the product in consideration and you will usually get to the truth.
If you will be using the mill frequently, then it will be important to choose quality construction that will hold up to the test of usage and time. Many of the cheap mills have reviews that indicate that the unit falls apart or fails in one way or another after a relatively short time.
The phrase, 'you get what you pay for', is usually true enough. Unfortunately it often requires a higher than expected amount of money to purchase a product that is at least 'good', and even more money for a product considered to be 'excellent'.
It seems that nearly every grain mill priced under $50 has generally poor reviews. This hand mill however rated fairly well…
Victorio Hand Grain Mill
, originally named the 'Back to Basics 555′ (now called the Victorio Hand Mill), has fairly good reviews for it's price range (~ $50). This might be a 'good enough' mill for the occasional user who isn't too concerned that the flour may not grind as fine as more expensive mills or may not hold up as well under heavy usage.
This hand mill is apparently a quality mid-range choice…
Wonder Junior Deluxe Hand Grain / Flour Mill
, which may be the best mix of value for quality and price. This hand mill comes with stone heads and stainless steel burr heads to accommodate different conditions, and will apparently grind fine flour (and everything else) without issue. It's pricey though (~ $200), but will no doubt hold up to more heavy use.
The top-of-the-line hand grain mill on the market may be this one…
Country Living Hand Grain Mill
, which will last generations and is built with the highest quality. It is very pricey (~ $400), but it may be the best, while you get what you pay for…
For those who are also interested in an electric grain mill, we have been using this one for years and have been very happy with it.
'NutriMill Grain Mill'
Browse around and read reviews. This will hone your choice. Keeping a hand grain mill is for the serious prepper who is preparing for the possibility of living without electricity for a time. Grinding / milling your own wheat is fairly hard work and it takes awhile to process the berries into flour. However the results will be unbelievably delicious and healthy. Don't forget to stock up on wheat berries too!

Appreciate topics of survival, preparedness, risk awareness – or planning for disaster?
Read our current articles on Modern Survival Blog
---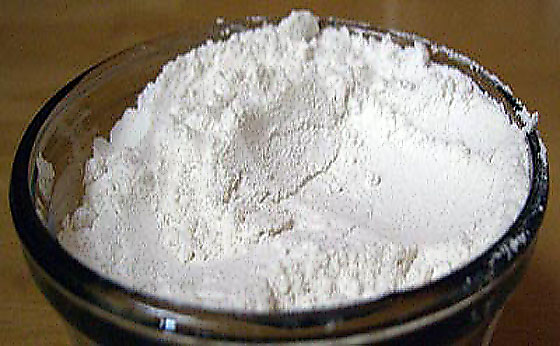 A disturbing report from Mike Adams over at Natural News.com titled, "Baked goods sold in USA contain potassium bromate, a carcinogen banned in Europe but allowed in the US due to chemical loophole", says it all. It is something that I had never heard anything about before today, and is something that I feel the need to relay to Modern Survival Blog readers for their own information. The report dovetails nicely with the notion that preppers should stock up on whole grains rather than processed flours (which have a much more limited shelf life anyway).
(NaturalNews) Much of the flour sold in the United States has been treated with potassium bromate, which causes the flour to bulk up, strengthens the dough, and makes bread rise more rapidly. This decreases the time needed for baking (thereby reducing costs) and also allows the use of low quality flour that might otherwise be unsuitable for baking. There's only one problem with this: Potassium bromate causes cancer.
Wikipedia says,
Potassium bromate is typically used as a flour improver (E number E924), strengthening the dough and allowing higher rising. It is an oxidizing agent, and under the right conditions, will be completely used up in the baking bread. However, if too much is added, or if the bread is not baked long enough or not at a high enough temperature, then a residual amount will remain, which may be harmful if consumed.
Potassium bromate has been banned from use in food products in the EU, Canada, Nigeria, Brazil, Peru and some other countries. It was banned in Sri Lanka in 2001 and China in 2005.
Did you get that last bit? It's been banned in China! What does that tell you?
What's worse is that according to NaturalNews.com, "U.S. law does not require that potassium bromate be listed as a separate ingredient on food labels."
So, there's no way to know for sure if your store-bought flour has potassium bromate, or not. The only way to know what you're eating is to mill your own flour yourself – straight from the wheat berries. Not only is consuming organic wheat flour much more healthy, the raw wheat (prior to milling) will store for decades!
We at the Modern Survival Blog homestead have been milling our own flour for a number of years now, and we highly encourage you to try it for yourself. Reap the benefits of long term wheat storage (and the ability to make flour, bread, biscuits, etc.), the associated health benefits, and the vastly improved flavor of your baked goods.
All you need to get started is a grain mill and wheat berries.
budget
Victorio VKP1012 Hand Operated Grain Mill
very nice
Wonder Junior Deluxe Hand Grain / Flour Mill by Wondermill
top of the line
Country Living Hand Grain Mill
best 'electric' grain mill
L'EQUIP Nutrimill Grain Mill
Although they're not an advertiser here, a great place to get wheat berries (for less than $5 shipping!) is from Honeyville Grain. (If you order from them, tell them you heard about them on Modern Survival Blog)

While recently we've discovered that there has been 'pink slime' in our ground beef, and now a carcinogen in our flour, what's next? It truly makes you wonder about what else there is and what other ingredients have been added to our foods that we haven't heard about. Something tells me there's plenty more…
Appreciate topics of survival, emergency preparedness – or planning for disaster?
Read our current articles on Modern Survival Blog
twitter: MSurvivalBlog
Facebook
---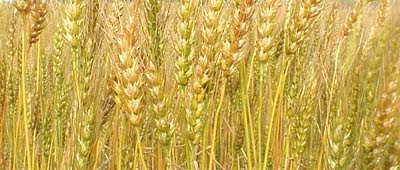 Reader Question: I am interested in Mylar bags. My question is if we could store flour because I know the flour goes bad in 6 months to a year. Another thing I want to know, I don't have any food grade buckets so could I store it in can buckets? Or could I store the food in the Mylar bags and leave them in the basement without any buckets?
What is the storage life of flour?
All-purpose flour (white) in cabinet storage will have a shelf life up to 8 months if properly stored in a sealed container or if tightly wrapped, and for refrigerator storage, up to one year.
Freshly ground whole wheat flour, if stored at room temperature with plenty of access to oxygen will, after a few weeks or months, goes rancid.  That rancidity is caused by the oxidation and breakdown of the oils in the wheat. Any flour milled from whole grains contains the germs. These are rich in oils (which is one of the benefits of freshly ground flour) and are prone to oxidation or – more commonly – going rancid. Depending on a few factors you can expect a storage life of 4 to 6 weeks.
Don't try to store unprotected flours longer than a year. Hermetically sealed (for example: Mylar bag) in the absence of oxygen, plan on a storage life of 5 years at a stable temperature of 70 degrees F. They should keep proportionately longer if stored at cooler temperatures.
For optimum shelf life of flour, procure and store the whole grain itself (wheat berries) and do not grind the flour until you need it. Of course you will need a grain mill for this. Whole grain does not lose nutritional value in storage, whereas once ground into flour, the nutrient level begins to drop dramatically. Whole grains will store for decades in an oxygen free environment.
Mylar bags
Use Mylar bags and oxygen absorbers for an oxygen free environment. Air contains about 78% nitrogen and 21% oxygen, leaving about 1% for the other gasses. If the oxygen is absorbed (with the oxygen absorbers in a sealed Mylar bag), what remains is 99% pure nitrogen in a partial vacuum. Perfect for long term food storage.
Mylar bags do not need to be stored in food-grade buckets. The Mylar bags themselves are the barrier between the food and the outside environment, so long as they are sealed. You could leave the Mylar bags in the basement with no buckets, however I would not put them directly on a concrete floor (use a board or shelves) to avoid the potential of condensation due to the temperature difference between the cold floor and the air (even though most of the air is removed – it's still a risk). Also, a bucket will serve as protection from the bag becoming punctured, especially from curious rodents.
Note that any sealable bag will work (seal-a-meal type vacuum sealer machines), as long as it holds a vacuum.
We would like to involve you, the Reader, more!

So, we're asking you to chime in with your questions, any questions, ideally relating to the general topics covered in this blog or anything to do with emergency preparedness; survival. From time to time we will post these questions and answers, while you, the questioner, will remain anonymous.

Email your questions here and type "Reader Questions" in the subject line.
If you enjoyed this or topics of emergency preparedness, or are planning for disaster,
Read our current articles on Modern Survival Blog
twitter: MSurvivalBlog
---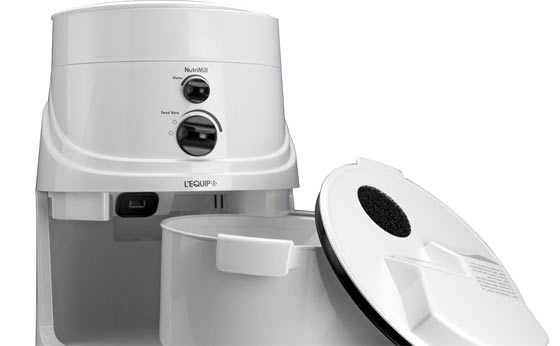 A flour mill is a essential basic survival preparedness tool for the kitchen which can be used for many things, the most common use being to make your own bread. Using a flour mill is a way to save money on food, a way to eat very healthy bread, and a way to prepare for nearly any survival situation where food may become scarce while having your own bulk wheat.
There are many types of flour mill machines. Some are entirely manual in operation, a hand mill
, requiring you to provide muscle power to turn the wheel (or some mechanism to turn the wheel) while others operate on electrical power.
We currently use a NutriMill Grain Mill
which does require electricity. Some may argue that an electric flour mill is not very survival friendly, however we do have solar electric power and therefore are not terribly concerned of an electricity power outage situation (except for the other things that would result if the power is out for too long). Having said that though, it is a great idea to have a hand mill as well.
The flour mill is a simple device really, it contains two hard abrasive surfaces that face each other that spin at very high speed and are separated by a very tiny distance, which is usually adjustable. It takes grain and grinds it to powder.
We usually use our flour mill to grind "Hard Red Winter Wheat", which we have purchased in 50 pound quantities. Making fresh bread with fresh unprocessed flour from a flour mill results in amazing good taste and nutrition. Although we use wheat berries (the entire wheat kernel except for the hull), the bread really doesn't have that same "processed" wheat bread flavor that you are used to from the grocery store. It is pleasantly mild and delicious. Of course, there are so many bread recipes to choose from to get different flavors and textures.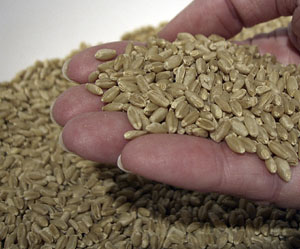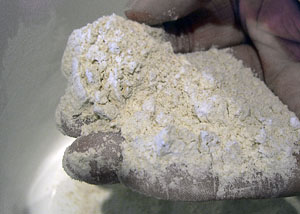 Most whole grains, when stored correctly, can last indefinitely. They do not spoil or lose nutritional value until they are broken open by milling. This is why we only mill what we need immediately before using the flour mill. If you expect to be storing for long-term storage, you will want to seal your grain in an air-tight container with an oxygen absorber and keep it away from heat.
No doubt there are many a flour mill to choose from, and I'm sure many of them are very good. But the reason we chose the NutriMill flour mill was because of its great reviews and popularity. It is a bit pricey compared to some others, but you pay for quality, and it pays for itself after about 50 loaves of bread, which really isn't that long.
Here is a video of How to use the NutriMill flour mill

If you enjoyed this post, or topics of preparedness, consider subscribing to our survival blog RSS feed or Email notification of new posts on the Modern Survival Blog
---