Posts Tagged 'knives'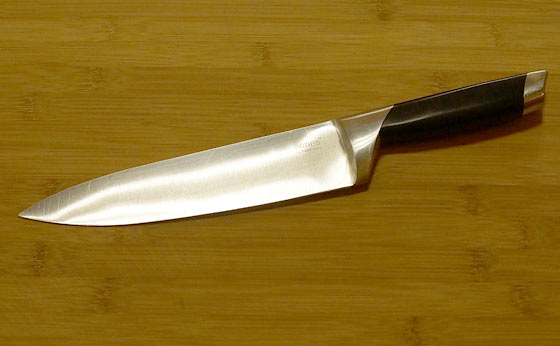 When it comes to survival and preparedness, much effort is spent having to do with the kitchen (food, storage, alternative cooking, etc..). When considering your preps, don't overlook your kitchen tools. A survival kitchen needs its knives…
The following is a list (and blade images) of most various types of kitchen knives. If you don't already have one of each, you might think about getting what you might need…
---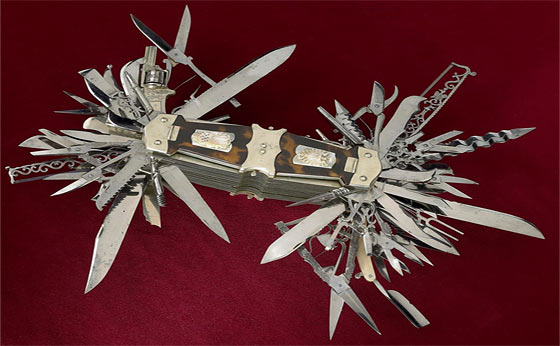 The Mother of All Swiss Army Knives, a multi-tool created by John S. Holler in Germany sometime around 1880. The knife predates the Swiss Army Knife, which started production about a decade later in 1890.
Check this out…
---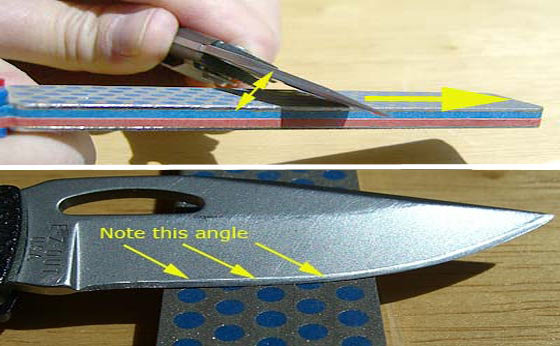 The basic technique of properly sharpening a knife is simple, but yet essential to keeping your pocket knife (or any other) razor sharp, and ready to perform.
Here's a basic method to sharpen a knife…
---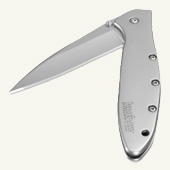 Tell us about your pocket knife! There are quite a number of makes and models of pocket knives covering a wide range of price, quality, style and purpose. Buying a pocket knife is a personal choice of this combination of preferences.
As I often do when looking to determine some of these factors is I turn to Amazon.com who seem to carry just about everything along with a high number of customer reviews, rankings and descriptions. It helps when trying to decide on one thing or the other. I did this with the ordinary pocket knife to see what turns up.
This is by no means a scientific claim or in-depth analysis. It's simply the result of searching a few parameters on Amazon. Here's what I did…
I selected a middle price range of approximately $25 to $50 so as to avoid the cheap stuff while overlooking the very expensive. I filtered out only the 4-star ratings or higher and then logged the number of reviews for each knife which indicates the popularity of the knife itself. What I came up with is the following list.
download PDF
Best/Popular Mid-Priced Pocket Knives
What's your opinion? What do you like? What are the things that you look for?
Appreciate topics of survival, emergency preparedness – or planning for disaster?
Read our current articles on Modern Survival Blog
twitter: MSurvivalBlog
Facebook
---
Permalink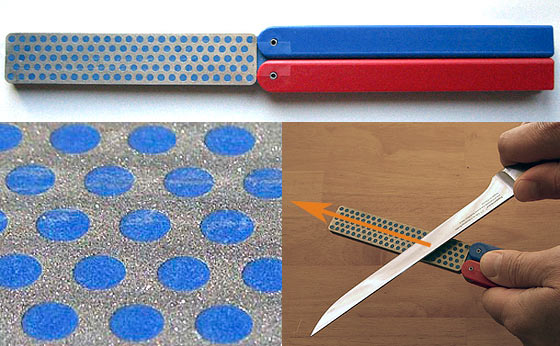 Having very sharp kitchen knives makes a huge difference while preparing foods. Without debating which knives are best or better than others, mostly any very sharp knife will get the job done.
You don't need to own a $500 set of kitchen knives, but you do need to own a decent knife sharpener to stay happy in the kitchen. I say that because without a good knife sharpener, you don't know what you are missing.
A good knife sharpener does not have to be expensive. There are lots of good sharpeners and sharpener systems out there, many of them purposed for specific uses ranging from small pocket sharpener stones all the way to tabletop plug-in models.




Recently, I happened across a knife sharpener for a fairly cheap price, and it turned out to be a very big surprise… it worked amazingly well, and it was very easy to use.
The way it works is simple.
The sharpener has two surfaces that you use, both impregnated with diamond particles, one course surface and one fine surface.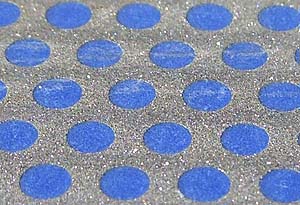 You simply look at the knife blade and pay particular attention to the angle at the edge of the blade where it suddenly steepens to a sharp pointed edge. That angle is usually about 20 degrees, depending, but don't worry about the number.
Hold the handle of the blade and line up that angled edge of the blade against the flat of the sharpener surface. Look closely the first time, where the blade edge rests flat against the sharpener, being sure that the blade angle is flat against the sharpener surface. Then, make a mental note of that angle, and use that angle each time you lightly swipe the knife blade down the surface of the sharpener.
More expensive systems have methods to physically hold the blade at a fixed angle or adjustable angle. However, the basic method of "eyeballing" it will work quite surprisingly well and get you very good results without becoming overly elaborate about the process.
Always slide the blade across the sharpening surface in the direction that you would be cutting something. In other words, you do not pull the blade across the surface, you push it across so the front edge of the blade is sliding into and against the sharpener surface.
There is no need to apply much pressure, just lightly push across, while repeating across the entire edge of the blade.
Then flip the knife over and do the other side the same way. Repeat the process a few times.
I start with the course surface side a few times, then switch to the fine side.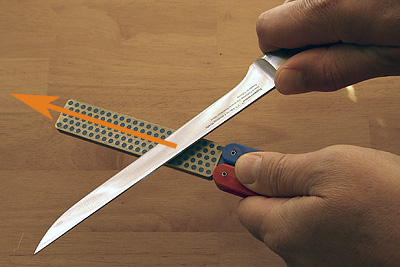 Of course, this will work with just about any knife, cutters, or scissors. It's a great tool to keep around.
This particular knife sharpener is made by a company named Diamond Machining Technology, DMT, and is manufactured in the USA. It looks like they make several models, but this one, the Diamond DiaFold, I found to be affordable, very effective and simple, and it folds up into a neat little package. The surface is long enough to get a good knife stroke, while small enough to throw in a kit or bag (or pocket).
Like I said, there are lots of good knife sharpeners out there, but give this one a look and consider getting one for yourself. You will be slicing through your kitchen foods with ease!
The DMT Double Sided Diamond Diafold




If you enjoyed this post, or topics of disaster preparedness, consider subscribing to our survival blog RSS feed or Email notification of new posts on the Modern Survival Blog
---