Sol-Ark Inverter – 8K & 12K – EMP Hardened Solar Generator
The Sol-Ark EMP hardened inverter. A solar generator (solar power charger / inverter system). 8K (8,000 watts) and 12K (12,000 watts). A dream charger-inverter for the preparedness-minded!
Disclosure: Sol-Ark is one of our sponsors. With that said, they're here for a good reason! I believe in their product, and they would like to present to a preparedness-minded demographic. We're the perfect place for that…
Also, to back up my 'cred' in this area… I have built several off-grid solar power energy systems, including my present system here at the homestead. I know how it works. The formulas. Design parameters. 'How-to' build a solar power system. The good and the bad things to watch out for.
I built my current system 6 years ago. It does not include a Sol-Ark EMP hardened inverter. But now that I am aware, if I ever had to do it again, there's no doubt whatsoever that I would choose their charger / inverter system. The only question would be which one… Their 8K or 12K model. Probably the 12K, since I like some 'margin'.
Sol-Ark Inverter is EMP Hardened
Their EMP hardening is just one aspect of their feature set. However, for me, it is an IMPORTANT one!
EMP hardened. In essence, this means it is protected to the extent possible from electromagnetic pulse (EMP), lightning , CME (coronal mass ejection) from the sun…
EMP is not science fiction. It has become a real potential threat in today's world. Knowing that the electrical grid is essential for our modern way of life to exist, an EMP could bring it all down – for a very long time… Consequently, I've written a lot about this topic here on Modern Survival Blog. If you're curious, start browsing this topic category.
EMP Hardened Solar Inverter – to Military Standard
The Sol-Ark invert is Solar Flare/EMP Hardened to 2015 MIL-STD461G (Independently tested June 2018).
I have finally found a company who designed their solar charger / inverter systems to be EMP hardened to military standard MIL-STD-461G.
Many months of testing went into their Solar Flare / EMP Hardening design. Of note, one of their engineers apparently worked at, and tested, solar systems and solar panels at White Sands New Mexico EMP test range.
During 2018, NTS Testing and Certification Services verified the Sol-Ark 8K Solar Generator withstood >100KV/m EMP while in use (twice the spec of 50KV/m). 100KV/m was the limit of NTS test equipment.
Sol-Ark apparently uses 6 specific technologies to achieve this protection. It is so effective that during NTS testing & certification, the same 8K unit was pulsed over 140 times with 3 axis of rotations without impact.
Sol-Ark 12K Inverter
Sol-Ark 12K is more efficient than ANY of today's battery based systems.
It manages power from Solar, Battery, Grid, Load, and Generator simultaneously, allowing you to power 120V/ 240V/208V appliances. Works with or without batteries (off-grid, hybrid, grid-tied).
It is capable of 20kW peak power, and stackable up to 72 kW.
Next generation efficiency is 3X Better! Only 3.5% losses vs. 14% in today's battery based systems.
Awhile ago, I had asked them specifically about electromagnetic interference. In other words, how 'quiet' is their inverter in this regard.
Here's another good thing (benefit) of EMP Hardened charge-controller / inverter, such as the Sol-Ark:

Not only should it keep EMP 'out', but conversely and logically it will (should) keep any internal 'noise' or EMI (electromagnetic interference) 'in'.

I need to get in touch with them about this, but low EMI will be good if you're a Ham radio operator. Why? Because many solar charger/inverters give off plenty of (too much) EMI, which can be heard when you tune radios, certain frequencies, etc..

~ Ken J.
They responded, "The Sol-Ark inverter has very low EMI. There are many different filters on every wire coming in and out."
There's so much goodness about this inverter I can't list them all without going all 'tech' and cluttering things up here (grin). Instead, I'll link to their specification sheet page, and their latest install guide.
Sol-Ark 12K Install Guide & Owners Manual
Favorable Reviews
There are lots of good reviews about this company and their inverter systems. Here are just a few…
We have been with Sol-Ark from the beginning and continue to be blown away by the continued innovation. The inverters are robust, easy to install and offer more features than any other.

Customer service and Tech support are both amazing. We continue to tell the world to go with Sol-Ark!

As an installer/dealer I love watching these systems perform with high efficiency. From Off-Grid, Hybrid , Grid Sell and Time of use systems to Stacked inverters with a variety of generators and batteries we have never been let down.

And to top it off the Inverter has really made it easy for us to help folks self install our DIY systems.

~ Engineer775 (Sol-Ark customer reviewer)
I have two 8k systems because we live in the middle of nowhere and our electric supply is unreliable at best. Also had a generator back up for power but it blows through lp gas.

The system is super efficient and runs our computers, refrigeration and all critical loads easily. Having the EMP hardening also protects from surges, lightning and other anomalies.

We are generating more energy then we consume for the core of our farming operation.

SolArk employees have exceeded any expectations for education, service and support. They are always available to answer questions and share knowledge. We have recommended them to many people and all of our close friends.

~ scradiodoc (commenter on MSB)
Sol-Ark Price
Like I mentioned earlier, their price is outstanding compared with the competition.
The price of the Sol-Ark 8K and 12K "beats any competition".
I will link to the page which currently lists their MSRP:
About
I believe the Sol-Ark 12K is the best Inverter on the market. The price is entirely competitive, which is amazing for what you'll get. The Sol-Ark inverter also has a standard 10 year warranty! Wow…
Sol-Ark is a Veteran owned company that takes pride in its hiring of other Veterans who have bravely defended our great country.
Questions? Sol-Ark is available 7 days a week to answer all questions and keep your system up and running.
Sol-Ark prides itself at American Engineering, making its products the best in the industry.
Located in Parker, Texas.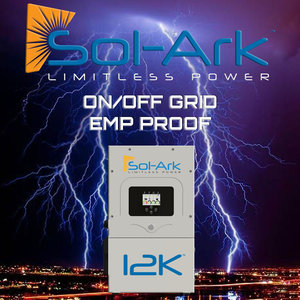 [ Read: The Four Essentials of Off Grid Solar ]
[ Read: Nuclear EMP Components E1, E2, E3, and what they mean… ]