Of all the shortwave radio bands, the most popular is the 31-meter band. The first thing to get familiar with is (are) shortwave 'bands'. You are likely already familiar with the term, AM band or FM band. These are nothing more than frequency groupings on your radio. Shortwave radio has it's own bands, and they are referred to with names like the '31 meter' band, which is typically abbreviated '31m'.
The band's number (e.g. '31') refers to the wavelength of the invisible radio wave that the radio is picking up. Wavelength is the distance between peaks of a sine wave, and for the 31 meter band, that distance is just that… 31 meters! That's quite a distance, and quite a long wave when you think about it.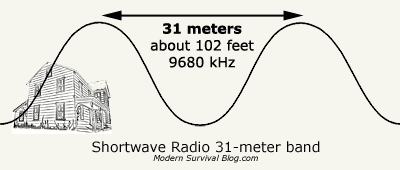 The 31-meter band represents a group of frequencies centered around 31 meters, with a specific frequency range of 9400–9900 kHz. This band is the most heavily used shortwave radio broadcast band and typically has its best reception during the afternoon and evening, generally beginning around 5PM. This band is good year round with slightly better reception during the winter when the band becomes active around 3PM.
Hardly any shortwave frequency operates 24 hours. Stations will reserve their operating hours until the time of day when people will be listening and when the conditions are favorable for successful signal propagation.
Some of the major broadcasters on the 31-meter band frequencies who are targeting their signal in English to North America include,
CBCNQ (from Canada)
9625
China Radio International (from Cuba)
9570, 9580, 9790
KBS World Radio (from Canada)
9650
Radio Romania International (from Romania)
9435
Radio Vaticana (from Canada)
9800
Voice of Russia (from Russia)
9840
Voice of America (from North Carolina, USA)
9820
World Harvest Radio (from South Carolina, USA)
9470, 9490, 9505, 9540, 9840, 9895
WYFR Family Radio (from Florida, USA)
9680
The time of broadcast will vary, so it is helpful to obtain up to date schedules. It is also interesting to simply scan the band looking for who is on at any given time. There are many broadcasters out there, many of which are targeting other areas than North America, but you can sometimes pick up their signals too.
A good site for checking shortwave frequency schedules is,
www.primetimeshortwave.com
Major International Broadcast Bands
16m (17,480 – 17,900 kHz) Morning
19m (15,100 – 15,800 kHz) All day
25m (11,600 – 12,200 kHz) Afternoon and Evening
31m (9,400 – 9,900 kHz) Afternoon and Evening
49m (5,900 – 6,200 kHz) Evening
When the power goes out and the local AM/FM stations and satellite/cable/internet are off the air, a shortwave radio may be your only communication link to outside the region. Those of you visiting Modern Survival Blog are probably interested in emergency preparedness, and you should consider getting yourself a portable shortwave radio.
Here are a few radios to browse. Check out the features and reviews to get your own ideas about what works for you.
$20
Kaito WRX-911 AM/FM Shortwave Radio
$50
TECSUN PL-380 DSP FM stereo. MW. SW. LW. World Band PLL Radio Receiver
$70
Sangean ATS-404 AM/FM Digital Shortwave World Band Receiver
$120
C Crane CCRadio-SW (Model CSW-TCF)
$$
Sony ICF-SW7600GR AM/FM Shortwave World Band Receiver with Single Side Band Reception
ETON Satellite 750 AM/FM Band Radio (Black)
Appreciate topics of survival, emergency preparedness – or planning for disaster?
Read our current articles on Modern Survival Blog
twitter: MSurvivalBlog
Facebook