TERK AM Radio Antenna Advantage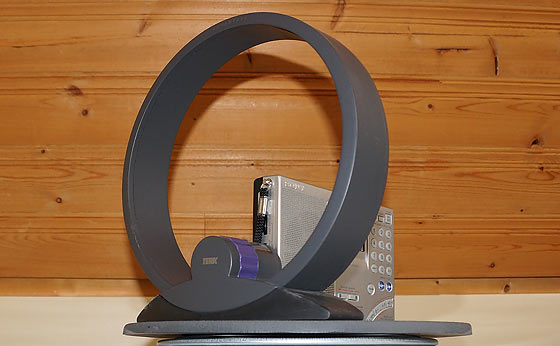 The TERK AM-radio antenna may be the best portable indoor AM-radio antenna today; an antenna which does not require external power to amplify – making it a favorable prep for when the power goes out and you need to pull in distant stations for news and information.
For those who are preparedness minded, you know that communications are an integral part of an overall survival preparedness plan. Having a portable battery operated AM-Shortwave Radio will enable you to receive important information from local and far away stations.
I use this particular AM-radio antenna which does a significant job at amplifying and boosting distant signals for my portable radio, if used properly…


Not only do I enjoy the peace of mind having a number of communications radios, I occasionally enjoy listening to distant AM radio stations during the evening when the propagation is often terrific. This TERK AM-radio antenna has helped keep those distant stations tuned in and sounding better; more stable with less drift in-and-out.
This antenna can be used with ANY AM-radio, with or without external antenna terminals.
I have found that during the daytime, this antenna makes little difference. However at night, if tuned properly, the antenna can make a significant difference.
The way it works is simple (but can be a bit tricky at times).
How To Use The TERK Antenna
There are three important factors for success with this antenna…
1. The orientation of the radio with the antenna
2. The tuning dial on the antenna
3. The direction of the antenna
Orientation Of The Radio With The TERK
Place your radio right next to the antenna so that the antenna loop that is wound inside the TERK 'induces' it's signal into the small coil antenna that is built into your AM-radio (inductive coupling). Depending on how your radio's internal antenna is configured will affect the proper orientation that you should use when you place your radio next to the antenna. As you can see in the image above, I orient my radio in a perpendicular direction as shown. Yours might be different in that you get better results if positioned parallel with the antenna. Once you discover the best way, use it the same every time.
TERK Tuning Dial
The antenna has a tuning dial which needs to be tuned depending on the AM-radio station frequency that you've selected on your radio. Let's say for example that you are trying to tune in WJR (Detroit) on AM-760 (760 kHz)… not only do you tune your AM-radio to that frequency, but you also tune the dial on the TERK antenna to that frequency. I have noticed that the frequency dial on the TERK is slightly off, but by tuning it back and forth around the frequency until you maximize the signal – it will become obvious when you've reached the right spot.
Antenna Direction
The TERK antenna direction needs to be oriented to be facing the geographical location of the AM-radio station while also maintaining the proper radio orientation as in step-1. I have found a simple solution to this issue by placing both the TERK antenna and the AM-radio on a 'lazy susan', which rotates both together.

If you follow these three steps how to use the TERK AM-radio antenna, you will be able to pull in more distant stations, or at least help the signal from fading in and out so much.

This is the radio I most often use for DX (distance) listening on the AM band:
Sony ICF-SW7600GR AM/FM Shortwave World Band Receiver

Note that this antenna is strictly for AM Radio. AM (Medium Wave) reception has its benefits from a prepper standpoint (as does Short Wave radio and Ham radio) allowing you to obtain news and information during most any disaster.