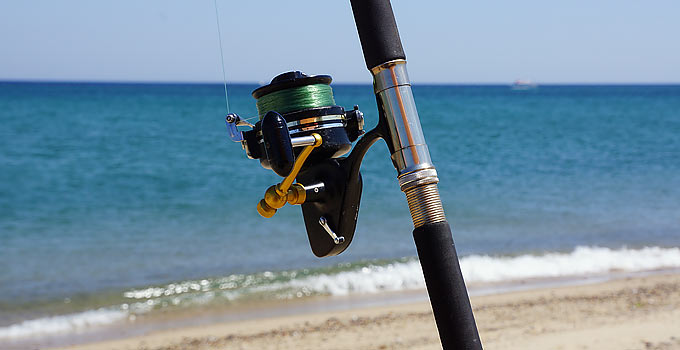 Take a vacation. It's good for your health! De-stress… good for modern survival.
I'm typing this in the middle of July. It feels like everyone's on vacation. I'm sure many are!
So why not go off topic here and do a post on favorite vacation spots and get some of your own input. Seems like a good time for it…
Question: If you asked people if they would rather vacation "near the water" or "near the mountains", I wonder what the percentage would be…
POLL Results:
Would you rather vacation near the mountains or near water?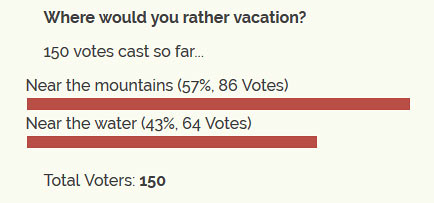 One's choice for a vacation spot will surely depend on one's age, whether a couple (or not), a family with kids, one's present geographical location, budget, how much vacation time there is, interests, etc..
My own preferences have changed somewhat over the years. When I was very young I would want to go "where the action is" ;) The older I got, the more I would enjoy the peace and quiet!
I have enjoyed many vacations near the water (lakes and ocean) and I also enjoy the mountains (where I currently live).
I haven't taken any 'official' vacation since a year ago Spring. But this summer Mrs.J and I are doing it. In fact next week we're hitching up the 5th-wheel and heading to a spot we've never been before. We're looking forward to a week+ of new experience and R&R. Hint… it's way down east Maine. Looking forward to the rocky shoreline and exploration.

When reflecting back on previous vacations, a few favorite vacation spots come to mind…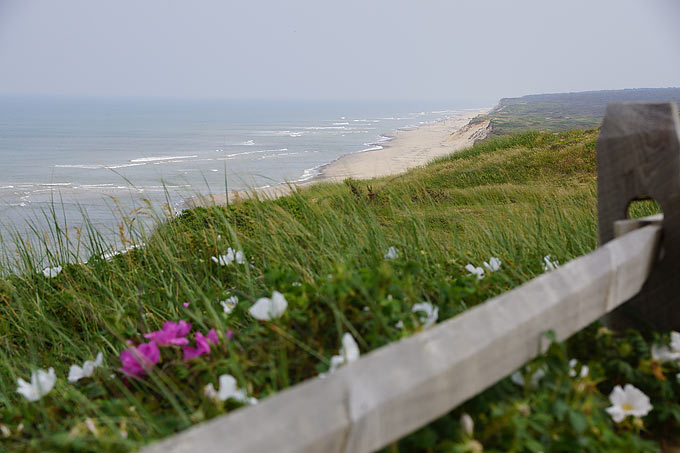 Cape Cod
Having grown up in New England, I have many childhood and young adult memories of vacationing on the Cape. Our family would regularly go there. My dad had a small sailboat and we would sail into Cape Cod Bay out of Wellfleet Harbor. Lots of good memories (and fishing, digging for clams, low tide in Eastham where you could walk out for literally a mile into the bay).
Even as I got older I still enjoyed time there. Really enjoyed getting the off-road vehicle beach pass and surf casting for Striped Bass and Blues way up on Race Point among the dunes.
It had been awhile since we vacationed there (we had moved to California for 15 years, then moved to New Hampshire). However Mrs.J and I spent some time there a few summers ago. The place had changed to an extent. How? Lots and lots more people. It had always been a busy place, but it's a lot more crowded these days. Plus, the Feds closed down much of the off-road beach access due to a little bird called a Piping plover. So my surf casting experiences weren't as nice as before.
Off season (like most places) would present fewer crowds for sure. Maybe we just went at the wrong time…
National Parks
We have a lot more parks to see on our wish list, but we have really enjoyed visiting a number of national parks around the country. Each of them had their own 'feel' and were unique in their own special way.
While visiting a park may only involve a day or two, making a trip to see one or several is an experience you'll likely never forget. A few of our own experiences come to mind…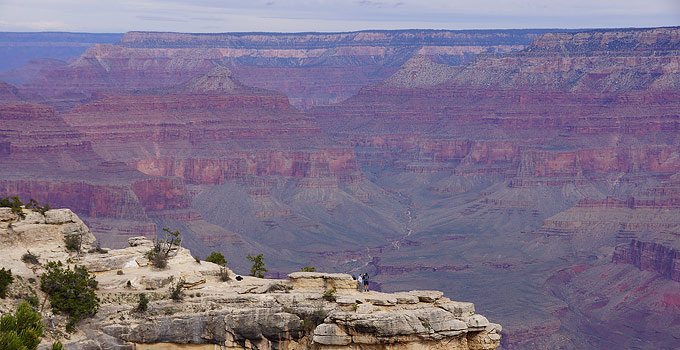 I had so many pictures to choose from our trip, but none do it proper justice…
The Grand Canyon
I had been there many years earlier (on a family cross-country trip when I was young). But when Mrs.J saw it for the first time during our own cross country trip last Spring, she teared up in awe as we walked from the parking lot towards where the rim and expanse became visible. It's an emotional thing to experience…
We walked along the rim trail, even with our little mini-Dachshund for several miles. Words can't describe it. You just gotta see it.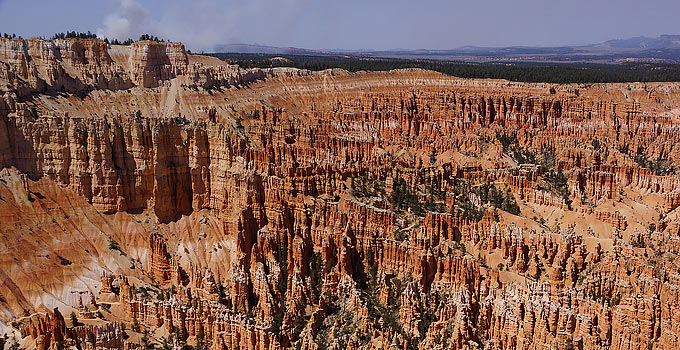 Bryce Canyon
A brilliantly orange hued colored marvel of nature. It's another place that words won't justify. A huge amphitheater with stunningly tall spires extending from the canyon floor. Feels like you're on a different planet. We stopped by there on our way through Utah.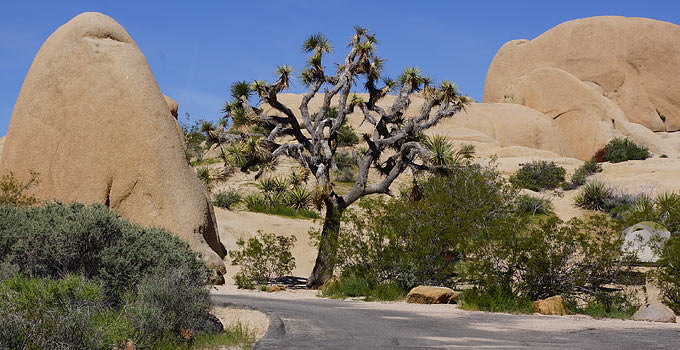 Joshua Tree
During our road trip while visiting a dear friend who lived nearby Joshua Tree – she brought us inside the park to check it out. We really enjoyed the Joshua 'trees' dotted through the desert region. They're unique only to that area (although they look more like some sort of cactus if you ask me…). Just as impressive were the rock formations up there. Felt like being on the Moon or Mars… Incredible.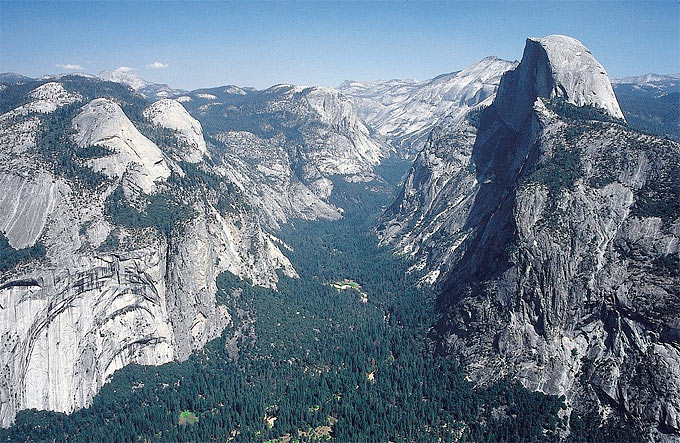 Yosemite Park
We visited Yosemite a number of times while living in California. Absolutely stunning views and hikes. When looking up at El Capitan, you feel like a tiny little gnat. The waterfalls are unforgettable too. My favorite spot up there was the long winding drive up Glacier Point Road to an overlook of Yosemite Village and up and down the canyon. Breathtaking while just looking around at the valley and surrounding peaks.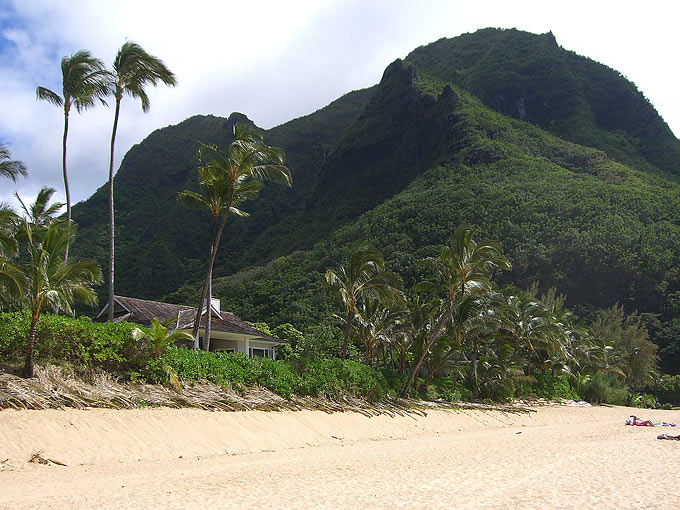 No, we didn't stay at that cottage (I wish ;) )
(just visited the shoreline there)
Kauai
We will never forget our experience on the little Hawaiian island of Kauai. What a beautiful spot on the planet! The snorkeling, the reefs, the green, the colors, flowers, the shoreline, the turtles, the 'everything'. We were blown away when we took a boat tour along the Napali Coast (north shore). The cliffs rising up out of the ocean were a sight you'll not see anywhere else. I got 'caught' at the airport trying to smuggle out some sand (they let me keep it).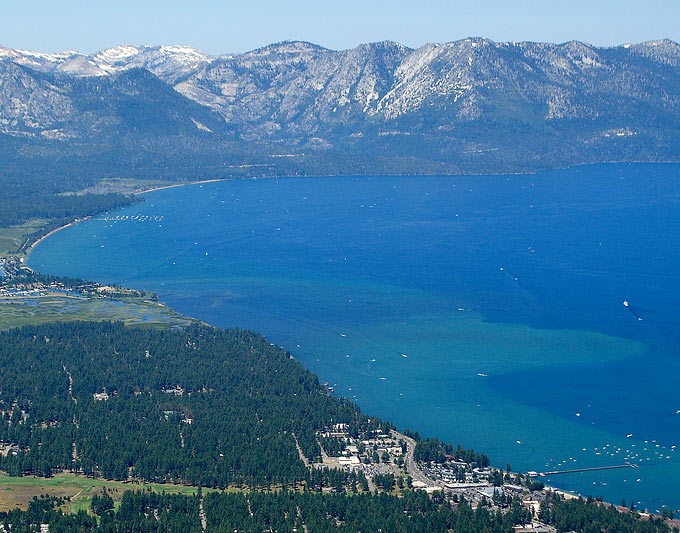 Lake Tahoe
While living in CA, we also spent some vacation time at Lake Tahoe – majestically nestled in the Sierra Nevada mountains. It is spectacular to see with your own eyes. A very deep blue lake bowl (it's huge) surrounded by towering peaks. I took the picture above from the top of Heavenly ski area.
We also enjoyed one particular vacation while driving the Sierras and exploring the '49er gold rush trail. Got a bit of gold bug fever!
Your Favorite Vacation Spots
I could go on… like how we enjoyed vacations on the secluded Trinity Lake (northern CA), that night up on Lassen Peak (the most stars I've ever seen), our road trips to various places…
It's fun to reminisce about past favorite vacation spots. But I won't bore you with the rest at this time ;)
Lets hear from you! What are some of your favorites?