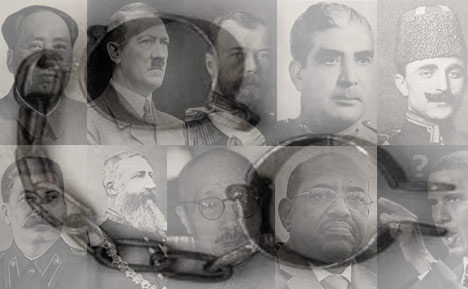 [Society]…in a state of ease and safety, as if wanting its appropriate nourishment, it [Patriotism] languishes and decays.
"It is a law of nature to which no experience has ever furnished an exception, that the rising grander and opulence (abundance) of a nation must be balanced by the decline of its heroic virtues."
-Alexander Fraser Tytler
History tells us that we may be in the final phase of democracy, leading to dictatorship…
"A democracy cannot exist as a permanent form of government. It can only exist until the voters discover that they can vote themselves largesse from the public treasury…

From that moment on, the majority always votes for the candidates promising the most benefits from the public treasury with the result that a democracy always collapses over loose fiscal policy, always followed by a dictatorship…

The average age of the world's greatest civilizations has been 200 years."

-unverified attribution, but commonly given to Alexander Fraser Tytler
"Great nations rise and fall. The people go from bondage to spiritual truth, to great courage, from courage to liberty, from liberty to abundance, from abundance to selfishness, from selfishness to complacency, from complacency to apathy, from apathy to dependence, from dependence back again to bondage."

-unverified attribution, earliest known usage from Henning W. Prentis, Jr.

Nearly 237 years after the United States Declaration of Independence, here we are…
If we are to give credence to Tytler and 'why democracies fail' or Prentis and the 'fatal sequence', then where are we now, our democratic republic, on the timeline?

It does seem to be fairly clear that we have passed the tipping point of more people voting for candidates who promise government handouts versus candidates sponsoring fiscal responsibility and smaller government.
It does seem to be fairly clear the we have passed the tipping point of government fiscal irresponsibility such that it currently needs to print a fresh batch of $85 Billion each month to keep the system from collapsing while its deficit, and total debt are immense beyond any hope of balance or repayment.
It does seem to be fairly clear that the last election was perhaps the final nail in the coffin, reflecting a population who desires more government than more self responsibility.
It does seem to be fairly clear that we have passed through the phase of 'complacency to apathy', where the population at large has a lack of interest or concern, especially regarding matters of general importance; they are indifferent and ignorant on these matters.
It does seem to be fairly clear that we are in the phase of 'apathy to dependence', where the greater majority take from the lesser majority that work. They depend upon government to enforce and provide their needs, regardless of the consequences.

Having said that, it does seem to be fairly clear that we are at the precipice of the final stage of each of the two quotations… dictatorship and bondage.
Some might say that we are in a situation, socially, similar to the prelude to the Nazi takeover of Germany in the early 30's, where an IRRATIONAL exuberance will overtake the U.S. political order.
There is an undercurrent of seismic proportions, of a social Tsunami that, if things don't change drastically, soon will overtake our country and we will be gone forever. Many have even given up hope of our country changing for the better without significant social upheaval.

What say you?