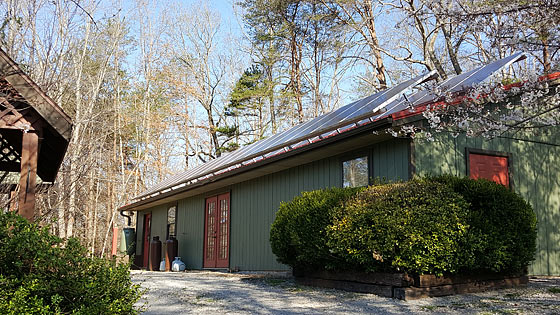 (Ready Made Resources, walk-in store)
I just wanted to point out that ReadyMadeResources.com (Robert Griswold) has a walk-in store on their homestead over in Tellico Plains, Tennessee.
He welcomes you to come on over and see their homestead working as well as shop…
Here's a bit more information:

'Ready Made Resources' has been in business for 18 years and they live the homestead lifestyle on a wonderful property in Tennessee.
The store is 100% solar powered and includes an Amateur Radio Station (KM4IEQ). They have Organic Gardens, Bees, Homeopathic Doctor (his wife), and a very large selection of products.
He says that one thing people like when they visit is that they can look through their Night Vision devices (they love this). He is notorious for his night vision products and is very knowledgeable on the subject.

UPDATE: My Visit to Ready Made Resources
( Yes, I bought a night vision device -> PVS-14 😉 )

They carry Berkey, Sawyer, and Katadyn water filters.
For Food they stock Mountain House, Augason Farms, Lindon Farms, and Numanna Foods.
Medical Supplies include fish antibiotics, advanced trauma supplies, and pre-made medic kits – along with all sorts of camping supplies.
They are also a licensed FFL dealer.
They have a Very Large Selection of Books and Videos, Protective Equipment for NBC, Water pumps, Solar Equipment, and more…

If you're ever in the area, stop on by!
Ready Made Resources
239 Cagle Rd.
Tellico Plains, TN
423-253-6789
800-627-3809