Chain Reaction Dam Burst to Split Heartland USA?
Is the Missouri River, the longest in the United States at 2,321 miles long, about to suffer a chain reaction failure beginning at the monolithic Fort Peck Dam in Montana, which itself is 21,026 feet long, 250 feet tall, and the largest earth-filled dam in the world?


The massive reservoir behind the world's largest earth dam, Fort Peck Lake, is 134 miles long with 1,520 miles of shoreline, and reportedly holds enough water to equal the totality of the annual river run off – or one full year's worth of the Missouri River's flow.
According to Jody Farhat, chief of water management for the corps' northwestern division, the six major Missouri River dams in the states of Montana (Fort Peck – the highest dam), North and South Dakota and Nebraska all will release record flows to make room for the incoming mountain runoff.
"We had a very heavy plains snowpack, and as that melted it used a fair amount of the storage that we had in our reservoirs."
Farhat said this spring's flood will be the most severe the region has seen since the Missouri River Mainstem Reservoir System was completed in the 1960s. (In other words, the dams have never been tested to this degree before.)
"We're not going to get to peak releases until early July," Farhat said. "This flood event is going to go on from now until early August."


The safety of the Fort Peck Dam recently was called into question by a columnist for a St. Louis website. Bernard Shanks, who is writing a book on the hazards of Missouri River dams, posted a column June 7 claiming that there is a possibility of failure at the Fort Peck Dam that could lead to a domino-like collapse of all five downstream dams in the Missouri River Mainstem Reservoir System.
"It probably would wreck every bridge, highway, pipeline and power line, and split the heartland of the nation, leaving a gap 1,500-miles wide," Shanks wrote. "Countless sewage treatment plants, toxic waste sites and even Superfund sites would be flushed downstream. The death toll and blow to our economy would be ghastly."
Shanks based his doomsday scenario on the fact that Fort Peck Dam is North America's largest hydraulic-fill earthen dam. Such dams are prone to "liquefaction," meaning they can become water-logged and disintegrate if exposed to extreme pressure or seismic activity. For that reason, California replaced most of that state's hydraulic-fill dams.


Map of the 6 major dams of the Missouri River built by the Corps of Engineers for flood control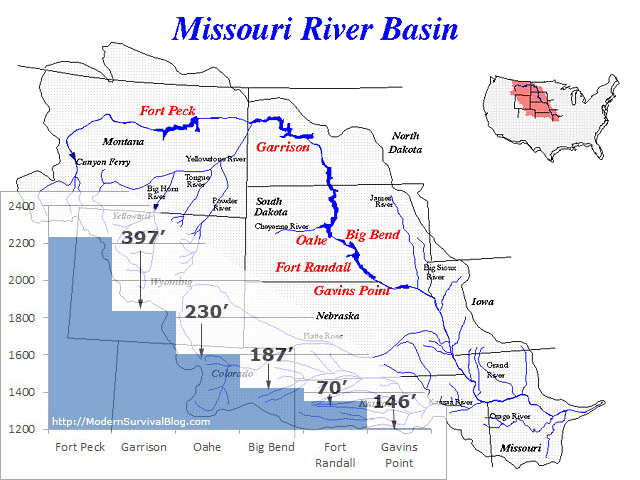 For those that live along the Missouri River, it may be a good time to run the evacuation scenario through your mind once or twice…


If you enjoyed this, or topics of preparedness or current events risk awareness, consider our survival blog RSS feed, new posts by E-mail, or bookmark us at Modern Survival Blog