Hurricane Season Begins – 2010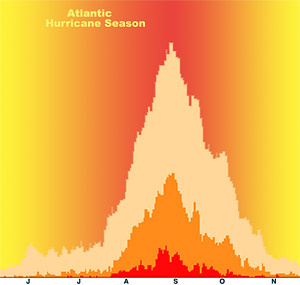 June 1 was the official beginning of Hurricane Season in the Atlantic basin (to November 30).
For those living along possible affected coastline areas, now is the time to check preparedness plans.
Do you realize that 49% of the United States population live within 50 miles of the ocean?
38% of the world's population live within 100 km and 44% live within 150 km of the coast. Although not every coastline is affected by hurricanes (also known as typhoons or cyclones), a huge number of the world's population needs to remain vigilant to the threat.
Hurricane – Cyclone Seasons
Atlantic tropical cyclone season is from June to November with peak cyclone activity in September.
Northwest Pacific tropical cyclone season year round but with more activity between July and November.
North Indian basin tropical cyclone season is from April to December and reaches peak cyclone activity in May and then again in November.
Southwest Indian basin and Australian – Southeast Indian basin tropical cyclone season is from November to May and reaches peak cyclone activity during January and again in March.
Australian – Southwest Pacific basin tropical cyclone season is from November to May and reaches peak cyclone activity in March.


A typical hurricane contains the equivalent power of 200 times the total world-wide electrical generating capacity at any given moment of it's existence! It is the greatest storm on earth. The many dangers of hurricanes include extremely powerful winds, torrential rain and flooding, high waves, storm surge, and even tornadoes.




Hurricane Winds
Unlike tornadoes whose winds are concentrated in a small tight area (and can be spawned within a hurricane), sustained hurricane winds can be felt far away from it's center. Hurricane force winds can reach out 25 miles from the center of a small hurricane and up to 300 miles in a large hurricane!


Saffir-Simpson Hurricane Wind Scale
Category 1 (74 – 95 mph) (64-82 kt) (119-153 km/hr)
Category 2 (96-110 mph) (83-95 kt) (154-177 km/hr)
Category 3 (111-130 mph) (96-113 kt) (178-209 km/hr)
Category 4 (131-155 mph) (114-135 kt) (210-249 km/hr)
Category 5 ( greater than 155 mph, 135 kt, 249 km/hr)
Hurricane Storm Surge
Hurricane storm surge is extremely dangerous and the most deadly force to those living on the shoreline (and miles inland!), will creep up on unsuspecting coastal residents, potentially to the point of no escape from it's destructive power.
As a hurricane travels across the water, it pushes the water in front of it which rises up higher than the sea around it. As a hurricane approaches land, this bulge of water ahead of it grows even higher as the bottom of the ocean floor rises up to meet the shoreline.
Storm surges are devastating in that as the high water, waves, and wind begin to tear apart structures on the shoreline, the water becomes filled with debris which acts as a deadly battering ram which will move onshore, up to many many miles depending on the situation, destroying everything in it's path.
Those that currently live on the shoreline of hurricane prone areas are surely familiar with the threat of storm surge. A critical key to survival is to leave the area early enough so as not to be caught. Today's weather forecasting is incredible in that there are no excuses for people not to know when a hurricane threat is approaching. Today's powerful and high resolution satellites can see the early stages of development sometimes weeks ahead of time. A NOAA Weather Radio is a great thing to have, and they are not expensive, so go get one.


Have a Survival Preparedness plan
Make a plan ahead of time, like now, and decide where your destination will be in the event of an evacuation. Do not wait to decide this until later.
If the plan is a particular hotel 100 miles inland, then keep it's phone number nearby so that you can call and make reservations at the first sign of threat. If it later becomes apparent that the hurricane is veering off in a different direction than your location, you can usually cancel the reservation up to 24 hours (sometimes even less) ahead of time. Once a threat is eminent, you can be sure that these inland hotels will book up almost immediately.
If you are heading to a friend or relatives home, then just be sure to leave early enough. Obvious, I know.
Keep a few gasoline jugs filled at the house so you can take them with you in case you get caught up in an evacuation line of traffic and also in the event of regional power outages where the gas pumps will not be working.
You should also always have a 72 hour kit in your vehicle at all times, which at a minimum consists of 3 days food and water for everyone that might possibly be traveling in your vehicle and additional supplies left to your discretion such as a change of clothes, walking shoes, knife, compass, map, back pack, flashlight, matches or lighter, etc..




NOAA is expecting a busy hurricane season during 2010 for a number of reasons including a weaker El Nino (resulting in less wind shear that can tear apart a storm) and warmer ocean surface temperatures in the region where these storms develop, currently 4 degrees F warmer than average – now I know where our temperatures went since it has been 4 degrees cooler here during May in our geographical location  ;-)



If you enjoyed this post, or topics of preparedness, consider subscribing to our blog RSS feed or Email notification of new posts on the Modern Survival Blog