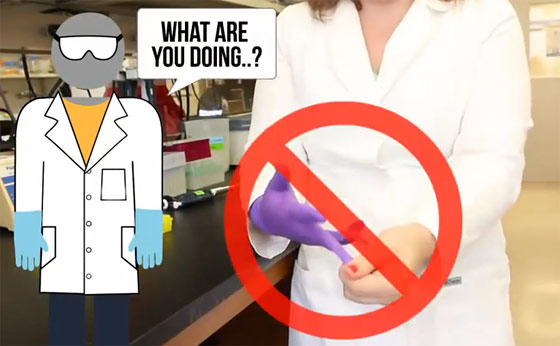 The deadly Ebola virus raging into the world, and now making it's way into the United States, is motivating many people to purchase preparedness supplies including protective gear such as disposable exam gloves and Tyvek suits – for proximity protection from the infected.
While it's fairly easy to put on exam gloves, eye protection, and a protective suit, there is a high risk when you remove this gear after being in a contaminated environment.
Here's how to remove exam gloves the right way, and how to properly 'doff' a Tyvek suit.


Here are two videos which properly show the procedures.
How To Properly Remove Exam Gloves
Disposable exam gloves are a physical barrier between you and the substances (infections) you are working with, and are crucial to avoid contamination while handling or in close proximity to the infected.
They are inexpensive and effective protection from infection –
but only if you remove them properly without contaminating yourself.
Here's a video from UCLA how to properly remove disposable exam gloves.
How To – Donning and Doffing a Tyvek Suit
A Tyvek coverall suit will provide modest protection in a hazardous environment. The key to avoiding contamination is knowing how to properly remove the coverall suit without contaminating yourself.
The following video from DuPont shows how to properly remove their Tyvek suit.

We can be prepared with all sorts of supplies and gear, but knowing how to properly use them could be critical in some situations. When it comes to infectious disease, there are levels of protection which depend upon the circumstances. Knowing some of the basics (proper removal of gloves and a protective hazmat suit) is a good start…