How to Properly Remove Exam Gloves and Tyvek Suit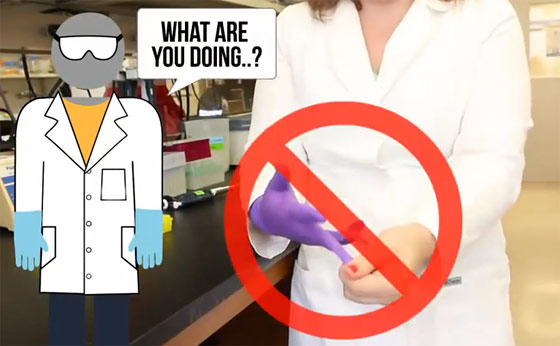 How to remove sterile gloves without contaminating yourself.
I am republishing this article, given the coronavirus (Covid-19) situation that is unfolding.
Many people are purchasing "exam gloves", N95 (or better) masks, and some are buying the "Tyvek coverall suit".
It is important to know how to take off those exam gloves and the Tyvek suit without contaminating yourself.
It's fairly easy to put on exam gloves, eye protection, and a protective suit. However there's a risk when you remove this gear after being in a contaminated environment.
Here's how to remove exam gloves the right way, and how to 'doff' a Tyvek suit.
I found two videos which show the procedures:
How To Properly Remove Exam Gloves
Disposable exam gloves are a physical barrier between you and the substances (infections) you are working with. They're crucial to avoid contamination while handling or in close proximity to the infected.
They are inexpensive and effective protection from infection –
but only if you remove them properly without contaminating yourself.
Here's a video from UCLA how to properly remove disposable exam gloves.
Donning and Doffing a Tyvek Suit
A Tyvek coverall suit will provide modest protection in a hazardous environment.
The key to avoiding contamination is knowing how to properly remove the coverall suit without contaminating yourself.
Getting out of a suit without recontaminating yourself is not as easy as it looks.
The following video from DuPont shows how to properly remove their Tyvek suit.
We can be prepared with all sorts of supplies and gear. But knowing how to properly use them could be critical in some situations.
When it comes to infectious disease, there are levels of protection which depend upon the circumstances. Knowing some of the basics (proper removal of gloves and a protective hazmat suit) is a good start…
Tips regarding PPE (personal protective equipment)
In extreme hazard environment:
1. No exposed skin.
2. Two gloves; inside the PPE sleeve and outside the PPE sleeve.
2a. When pulling off the PPE suit, the outer gloves will peel off too. Then, use the gloves that are under to finish removing the outer PPE suit.
3. PPE suit and PPE apron
4. Last thing removed are the inner gloves.
 A mistake is to pull off the gloves THEN pull off the glasses and face mask.
A great tip for securely removing PPE gloves is a toaster (bread) removal tongs. Stick one of the ends of the toast removal tongs in between the glove and your skin. Squeeze the glove and peel it off inside out. Then disinfect afterwards. (Disinfectant Bleach-Water Ratio)
Some of you readers are in the medical profession. If you care to offer additional advice regarding gloves or suits, let's hear it…
Continue reading: How to Survive Pandemic