Pandemic Panic | When The Food Starts Running Out…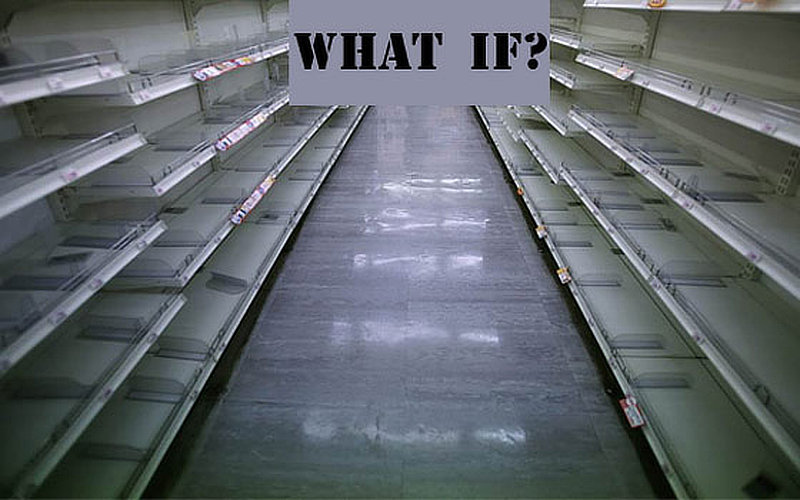 A short while ago, I wrote an article which asked the question to our readers, "When do you raise the drawbridge (close the gates, so to speak)?".
[ Read: "What's Your Coronavirus Red Flag?" ]
I thought about this in a contemplating serious way. Here's what I came up with…
Most of us know that we can choose to greatly mitigate our risk of catching COVID-19 coronavirus by self-isolation. Though for many, that's easier said than done. And it requires that you are fully supplied to do so.
[ Read: Pandemic Survival Tips ]
Even when going out in public (example: a calculated grocery store run), there are precautions that you can take to lessen the likelihood of catching this thing. Not touching face with hands. Disinfecting the handles on your shopping cart. Going during slow periods. Sanitizing afterwards. Lots of hand washing.
[ Read: Best Time To Go Grocery Shopping ]
Most of you also know that the panic so far has resulted in shortages of toilet paper, disinfectant wipes and sprays, some over-the-counter meds, bottled water, bleach, and a few other things.
Here's a picture of the Toilet Paper aisle taken just yesterday (yes, I'm putting myself at minimal risk to get these photos – though being careful),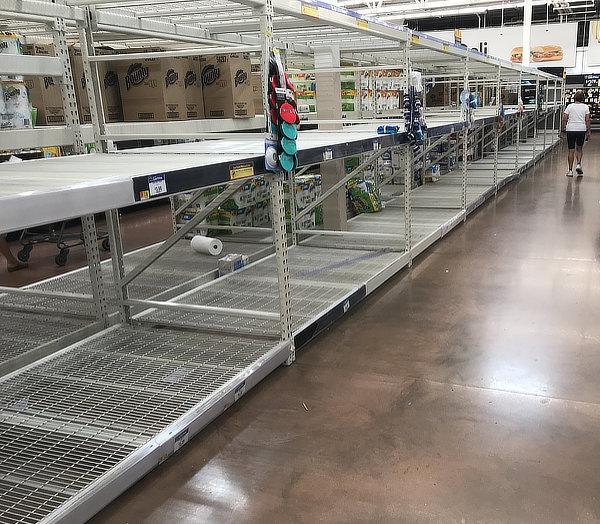 So far it has been toilet paper. HOWEVER…
What Happens When Food Shelves Empty?
This is my Red Flag. That's when it's really time to close the gate. SHTF time.
When the food runs scarce, that's when real dangers will spike from increasingly desperate 2-legged creatures.
I am watching for this. I want to know it's happening BEFORE the masses realize it. Because once they perceive real food shortages, there WILL be a run on food. Just like toilet paper.
Running low or out of food is VERY different from running low on TP, disinfectant wipes, bleach, things like that…
Food shortages (partially or mostly empty shelves) have already started. But just with a handful of foods (not everything in general).
I have observed low shelf quantities of the following food items. Mainly though, rice and beans. It's getting scooped up.
RICE
DRY BEANS
Peanut Butter
Canned Meats
What Will The Government Do?
I can almost guarantee that if food in general starts to disappear off grocery store shelves (panic buying), government will demand rationing. You can only buy one of this. Two of that. Etc..
Although this will help to an extent, people will still freak out.
How will they be able to enforce this? Is a grocery store checkout clerk going to do the enforcement with an angry public? (you get the idea). It might not work so well, or everywhere.
"Fat, Dumb, and Happy?" "Bread and Circuses" Uh-oh…
Some say that if people are kept "fat, dumb, and happy", and/or appeased with "bread and circuses", then "the people" will not revolt…
But, there's an increasing problem with the 'circuses'.
They just shut down the NBA (basketball) season due to coronavirus. Today the NHL (hockey) suspended their season too. UPDATE: MLB (baseball) just stopped preseason play and postponed season opening. The masses like their sports. Uh-oh…
Now, the "fat" and "bread" part. Food shortages? People getting hungry to an extent? Uh-oh…
FOOD. It's the ultimate for control. What if "they" lose control of that, and it becomes increasingly scarce?
We would truly be looking at SHTF. No sports entertainment. People getting hungry. Watch out…
Let Me Know If You See Food Shortages
Our readers are from all around the country (and world for that matter). You all are a great resource for sharing intel.
Lets keep an eye on the potential for food shortages.
Comment below and tell us what you're seeing (with regards to FOOD).
I'm consistently seeing shortages of rice and beans. But other than that, and a few other food items, the grocery stores at my present location appear stocked in the category of food.
I've written about the JIT (just in time) systems of distribution. Many of you understand how this works. The distribution "pipes" are built only so wide. Wide enough to get "just enough" product through to the end users, based on normal forecasting analysis. However when panic starts, this system cannot keep up. They may even break.
It's unknown just how badly the food distribution networks will handle food panic buying. At least I don't personally know (I can only surmise). I do know that grocery stores are CONSTANTLY being resupplied and that inventory turn over is pretty high. Many people use the rule-of-thumb (3 days). Probably depends on the product type.
Anyway, it's about the food.
When serious shortages begin popping up in more and more locations, that will be a big red flag that it's about to get real. Real bad. Hopefully not. Maybe not. But keep your ears to the ground…
[ Read: When The Trucks Stop – It's Over ]