72-hour-kit, Vehicle, Food Storage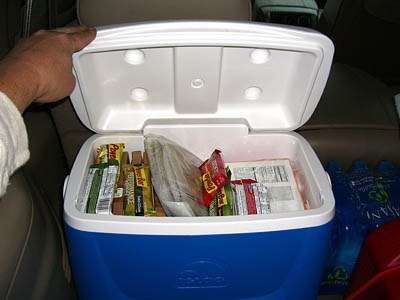 Ever wonder what is the best way to store food in a 72-hour survival kit for your vehicle?
There is a perfect solution to keeping your vehicle survival food fresh, the longest. It is simple. Keep your survival food in a cooler! Depending on the size of your vehicle's trunk, tailgate space, pickup truck storage space, buy an appropriate size cooler that will fit the best.
For example, what we did with our vehicles is we purchased a cooler that seemed about right to hold all of the food, which includes calorie bars, some MRE's, chocolate bars, canned stew, peanut butter, a variety of high calorie items – etc…
Storing your vehicle's survival kit food in a cooler will help to keep the heat out during the summer (heat is the worst enemy of food storage life), and will help to keep the extreme cold out during the winter.
Having said that, we recommend keeping some kind of backpack along with your other additional 72-hour kit supplies, so that if you have to hit the road with your feet, you will have a means to carry some food (and water, etc…) with you.
We believe the best way to store food in a vehicle for an emergency is in a cooler. The size will depend on your requirements and storage space.

Please refer to the following additional articles regarding a 72 hour kit for your vehicle:
Things To Keep In Your 72-hour Car Kit
Best First Aid Kit (Made in the USA)