Augason Farms – Food In Pouches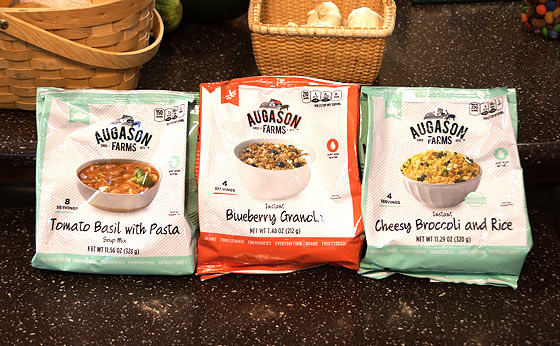 Augason Farms (a family owned leader in the food storage industry for over 40 years) has recently introduced a new product line (pouches) consisting of a variety of foods (listed below) which may fit well with your food storage plans – be it at home, camping, or in an emergency kit (vehicle, pack, or other such kit).
The great thing about their food pouches is that all you need to do is add water. Additionally, for the price – you get lots of calories compared to some other alternatives.
Here's a quick review of three of the many new food pouches that they have:


Disclaimer:
Augason Farms has been a long time advertiser here on Modern Survival Blog (for good reason!)
They sent me three pouches of my choosing – in order to review and let you know about it.
I chose 'Instant Blueberry Granola with Milk', 'Instant Cheesy Broccoli and Rice', and 'Tomato Basil with Pasta Soup Mix'.
The pouches are made of a substantial Mylar type material and were sealed tightly. An oxygen-absorber packet was in each pouch.
Augason Farms – Instant Blueberry Granola with Milk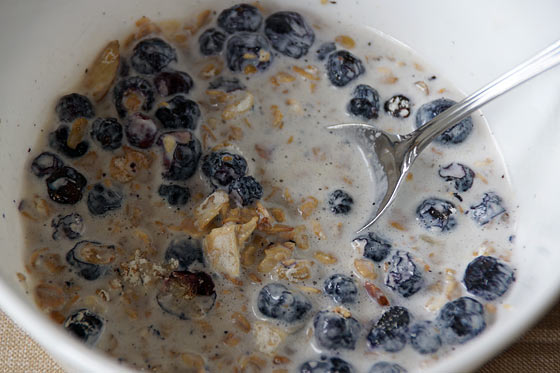 Having just had some for breakfast this morning, I must tell you that it tastes great! First of all, I LOVE blueberries and I was not disappointed to find lots of blueberries mixed in with the other ingredients. The taste was great! I really enjoyed the Granola blend (there are more than just a few ingredients in the Granola) which filled me up nicely (oats and nuts are not only healthy but they will satisfy your hunger longer than a sugary sweet breakfast or other such 'junk'). The blueberries were big, plump, and tasty.
Ingredients include a Granola blend, nonfat dry milk, freeze dried blueberries.
The Granola blend consists of (organic rolled oats, organic evaporated cane juice, expeller pressed canola oil, coconut, almonds, sesame seeds, sunflower seeds, cashews, walnuts, honey, sea salt, natural vanilla flavor, epazote leaf, organic cardamom seed, organic fennel seed, organic fenugreek seed and organic nutmeg).
Calories
4 (1/2 cup) servings at 210 calories each = 840 calories per pouch.
JUST ADD WATER (to your own preference consistency). They recommend 1-1/2 cups for the entire pouch. I simply poured out some in a bowl and added water until it 'looked right' ;)
Shelf Life
Up to 10 years if stored properly (cool, dry place).
Augason Farms – Instant Cheesy Broccoli and Rice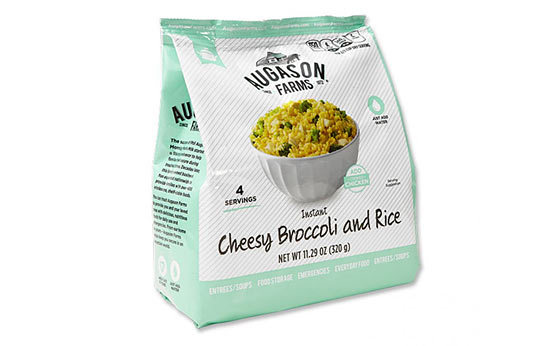 (I forgot to take pictures of this before we ate it all ;) )
Four of us had this last week as a meal supplement, and EVERYONE liked it. With regards to food storage for preparedness, not only is caloric content important (as well as diversity, nutritional aspects, packaging, shelf life, etc..) but also the FLAVOR. Since I personally like broccoli (and who doesn't like cheese…), I did enjoy this meal. I felt that if I had added more broccoli (fresh or otherwise) it would have been even better ;)
Directions: Whisk entire contents of pouch into 2-3/4 cups of boiling water. Cover, remove from heat and let stand 10 minutes.
Calories
4 servings at 350 calories each = 1400 calories per pouch.
Shelf Life
Up to 10 years if stored properly (cool, dry place).
Augason Farms – Tomato Basil with Pasta Soup Mix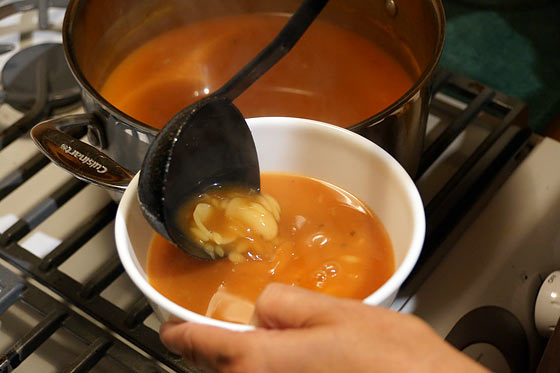 Mrs.J and I had this a few nights ago. Again, their foods are quite tasty. Love the flavor. This reflects the apparent fact that freeze-dried foods always seem to taste better than many other preservation methods. We mixed the entire pouch and had it with some bread – but could not eat it all (so it served us lunch the next day too).
Mrs.J told me to mention how simple and easy it is to prepare :)
Whisk soup mix into 8.5 cups of boiling water. (For a thicker soup, reduce water by 1/4 cup.) Simmer on low heat for 20 minutes. Stir frequently.
Calories
8 servings at 150 calories each = 1200 calories per pouch.
Shelf Life
Up to 10 years if stored properly (cool, dry place).

My conclusion is that Augason Farms new line of food pouches contain a very good value (calories vs. price) and the taste has been superb. As with any food storage, diversity of food types is important and these pouches seem like yet another good versatile package.
I encourage you to try it for yourself, or any of the other food products at Augason Farms.
The list of their new product is as follows:
Instant Blueberry Granola with Milk
Instant Oatmeal with Strawberries
Instant Cheesy Broccoli and Rice
Chili Cheesy Enchilada Soup Mix
Tomato Basil with Pasta Soup Mix