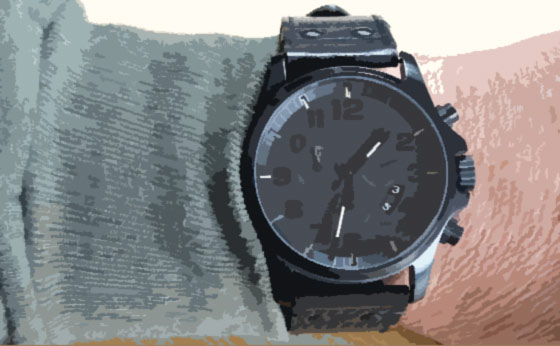 Do you wear a wrist watch?
Many people don't wear a wrist watch anymore. Since nearly everyone carries a 'smart phone' these days, the functions of a watch are contained within. (A quick view of the screen reveals the time & date, and there are all sorts of timer apps to fulfill the needs of anything to do with counting time forwards, backwards, sideways…)
However, there are the 'what if' scenarios that might render that smart phone useless — whereas a good old fashioned (or modern) wrist watch may keep on ticking.
A wrist watch — Best for preparedness

Granted, the 'what if' hypothetical scenarios that would turn your iPhone or Android into a paper weight are fairly extreme. However a good ol' wrist watch will likely keep on ticking under many of those scenarios.
There are lots of reasons why a wrist watch may be a better time piece than a cell phone.
Some uses include the following:
– Coordinate a time when to meet (for whatever reason). "After 90 minutes, let's meet back here". Accurate meet-up time.
– Use as a compass. Point the hour hand in the direction of the sun.. halfway between 12 and the hour hand (in the smallest angle) will tell you which way is south (in the northern hemisphere).
How To Use A Watch As A Compass
– Tactical & Security – coordination. (e.g. knowing when your night guard shift is up.)
– Medical: timing one's pulse.
– Baking, cooking.
– You wake up in the middle of the night and wonder, how long until sunrise – just check your watch.
– Most watches are well resistant to water.
– Estimate speed: If you hiked 6 miles and it took two hours on your wrist watch, you were traveling 3 miles per hour.
What kind of wrist watch is best?
Many of the best solar or kinetic quartz watches today may provide 20 years or more of service-free performance.
Solar Powered Wrist Watch
Solar watches use natural or artificial light to charge its internal battery.
Kinetic (self winding) Wrist Watch
Kinetic watches were apparently invented during the 18th century in Switzerland. That said, Seiko is known for their kinetic watches. They contain a large rotor inside that charges the battery by the movement of the wearer. Note: Kinetic batteries are weakened when they are completely drained, so many have a power reserve battery to last months. Obviously by simply wearing the watch every day will avoid the issue.
Best Wrist Watch Examples
Casio
The Casio 'G-Shock' is highly popular and comes in LOTS of configurations. Price ranges from 50 dollars to hundreds of dollars. A few popular Casio wrist watches include these:
Casio 'Master of G' Stainless Steel Solar Watch
Casio 'Pro Trek' Tough Solar Digital Sport Watch
Seiko
Or any of the Seiko kinetic watches including the following popular divers watch:
Seiko Kinetic Analog Japanese Quartz Stainless Steel Silver Watch
Citizen
Or any of the Citizen 'eco-drive' watches:
Citizen 'Eco-Drive' Stainless Steel Watch

Do you wear a wrist watch? Do you have a preference of what you wear?
What features do you like?
Opinions?