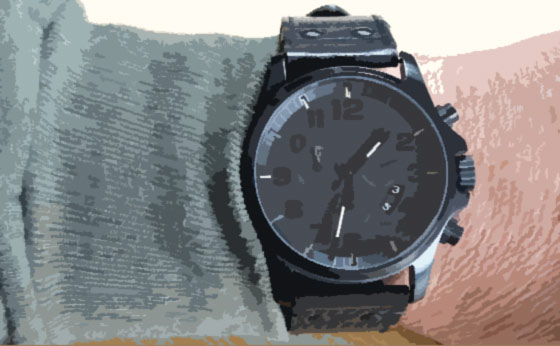 Most people (except maybe the 'old farts') don't wear a wrist watch anymore. Since nearly everyone carries a 'smart phone' these days, a time check is always available, and there are all sorts of timer apps to fulfill the needs of anything to do with counting time. However, there are the 'what if' scenarios that might render that smart phone useless…whereas a good old fashioned (or modern) wrist watch will keep on ticking…
Why is a wrist watch best for preparedness?


Granted, the 'what if' scenarios that would turn your smart phone into a paper weight are fairly extreme, and some would say pretty unlikely, however if you're serious about preparedness for worst-case scenarios, then you're serious about the threat of EMP or long-term power grid down. There are wrist watches that will survive this.
There are countless reasons why a wrist watch will be best following any of the worst-case SHTF scenarios. Some uses include the following:

A wrist watch will enable you to —
Coordinate a time when to meet (for whatever reason).
Or, "After 90 minutes, let's meet back here".
Most include the day and date.
A compass. Point the hour hand in the direction of the sun.. halfway between 12 and the hour hand (in the smallest angle) will tell you which way is south (in the northern hemisphere).
Tactical coordination.
Medical: timing one's pulse.
To see the time at a glance while your hands are full.
Baking, cooking.
Knowing how long until the sun will rise or set.
Water resistance (whereas a smart-phone will fail under water).
Estimate distance: Sound travels apprx. 1000 feet per second. If you see something and the noise comes 5 seconds later, it's about a mile away. Etc..
Estimate speed: If you know that you're hiking distance based on your map is 3 miles, and it took you one hour to get there, you were traveling 3 miles per hour. Etc..
Similarly, if you know that your pace is about 2 miles per hour (which you can test out and average for yourself), and you've been walking for 4 hours, then you've traveled about 8 miles. (Helps while estimating and planning your hiking travels, etc.)
What kind of wrist watch is best?
Note: A wrist watch that's packed with electronics will be susceptible to EMP if you're close enough to the EMP source. However some of those watches are pretty amazing and would perform well under a 'grid down' situation (just potentially not an EMP).
Many of the best solar or kinetic quartz watches today can provide around 20 years or more of service-free performance.
Solar Powered Wrist Watch
Solar watches use natural or artificial light to charge the battery. Just don't stick it in your drawer and leave it there…
Kinetic (self winding) Wrist Watch
Kinetic watches (originally invented by Seiko) have a large rotor inside that charges the battery with the movement of the wearer. Note: Kinetic batteries are weakened when they are completely drained, so many have a power reserve battery to last months. Obviously by simply wearing the watch every day will avoid the issue.

Best Wrist Watch Examples
Casio
The Casio G-Shock watch is highly popular and comes in a zillion configurations designed towards various purposes, and price ranges from 50 dollars to hundreds of dollars. A top-of-the-line model includes the 'Rangeman' of the tough rugged 'Master of G' series.
Casio GW-9400-1CR Master of G Stainless Steel Solar Watch
Seiko
Or any of the Seiko kinetic watches including the following popular divers watch:
Seiko SKA371 Stainless Steel Kinetic Dive Watch
Citizen
Or any of the Citizen 'eco-drive' (solar) watches:
Citizen Eco Drive Solar Watches

Do you wear a wrist watch? Do you have a preference of what you wear?
What features do you like?
Opinions?