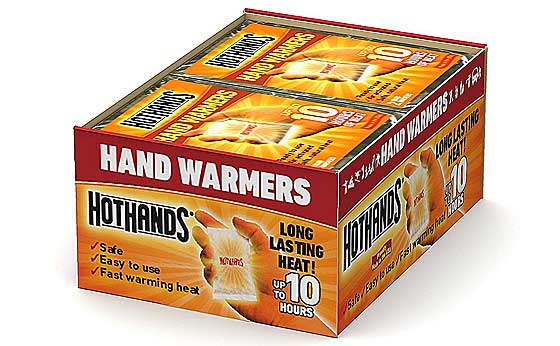 We have a number of articles here with suggestions for what to keep in a 72-hour survival kit designed to be kept in your vehicle for 'just in case'.
A few of those articles are here:
72-Hour Emergency Kit
How To Choose The Best Foods For A 72-Hour Survival Kit
When Summer Ends, Replace The Food In Your 72-hour Vehicle Kit
However I have added a few small but potentially highly impacting preps to the kit – especially for the winter months! I have personally used the following additional recommended products and stand behind their effectiveness:
Made in USA…
HotHands Hand Warmers (10 Pair)
HotHands Hand Warmers (40 Pair)

Made in USA…
Hothands Foot Warmers (5 Pair)
HotHands Foot Warmers (40 Pair)

These hand warmers tuck right into your glove or mitten in the palm of your hand, and they really do keep nice and warm for a surprisingly long time…
Around Christmas time Mrs.J and I were doing something for an outdoor Christmas Festival on a day that was windy and cold with temps in the low teens. We were outside for a solid 6 hours and these hand warmers kept on putting out the heat. Even after we got home those little suckers kept warm for hours afterwards.
Anyway, I thought that I would put it out there as food-for-thought to add a pair or two of these to your 72-hour kit if you happen to live in a cold region. Should you ever be caught with a disabled vehicle or have to 'hoof it' in the cold, you might be glad that you had them…
Or you just might want some to keep at home for shoveling on those very cold wintry days…
Ditto for the foot warmers!