I love my Dorcy Cyberlight Flashlight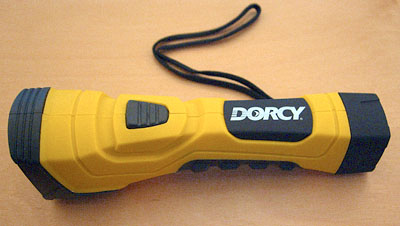 I just purchased this Dorcy LED Flashlight and was so impressed  with it that I had to post a short accolade about the product.
(Update) Current models include:
Dorcy 190-Lumen CyberLight
Dorcy Floating Waterproof LED Flashlight
In its price range, which is very affordable and not expensive, dare I say "cheap" price range, this flashlight performs, and would be perfect for many types of survival kits and general purpose uses.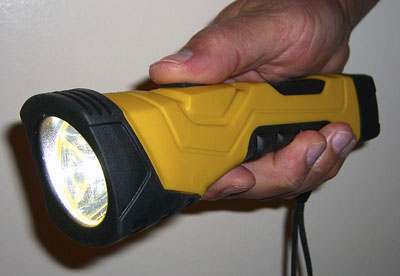 Dorcy LED Flashlight Features
The very first impression after removing the packaging was its handy shape, color, and size. Then, my second impression after turning it on was, "Wow"!
The shape has squared off corners that are rubberized. This will keep it from rolling when you set it down while the rubber edges provide some protection against shock. There are hand grips underneath that form perfectly to a natural hold while your thumb naturally rests on the light switch.
The color is mostly yellow. How genius is that. During the times when you need a flashlight and are looking for it, the environment is dark, and most flashlights today are painted black!
The size seems perfect for normal general use. It is not big and it is not small either. I would say that it is definitely smaller than a typical general purpose household flashlight that would hold a handful of C or D size batteries (this one holds 4 AA batteries).
Now lets talk about the light. When I first turned it on, my first word was "Wow". It was a lot brighter than I had expected. It is an LED flashlight, one LED (lifetime), and boy is it bright (180 Lumens). Not only that but the spot beam is very tight and projects a very long distance, indicating a very unique designed reflector. One warning, don't look directly into the light source. It is that bright… and it may cause damage.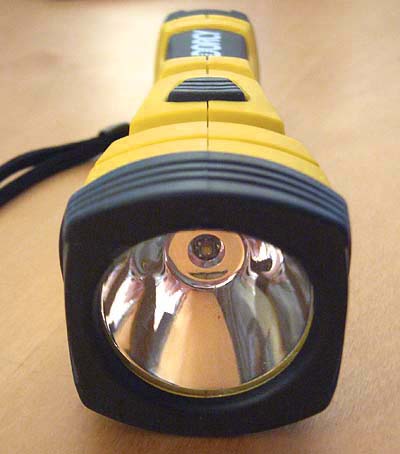 The product is made by a well respected flashlight company, Dorcy International, while the product is made in the country where most all of our products are made today. It's all about the specs and the design.
Don't get me wrong, there are many very high quality flashlights out there (you pay a lot for them), but for the price, this one is a keeper. I'm definitely ordering more, one for each car and probably a bedside replacement for my heavy old maglite (which is black and hard to find in the dark, and has probably rolled away when I set it down last because it is round).