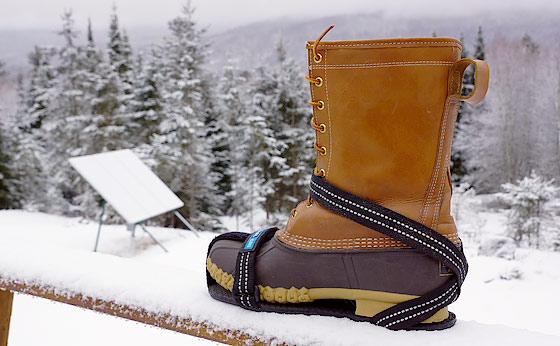 I have finally found the best Ice Cleats for my boots! The traction of ice cleats on slippery ice and snow is paramount to safety and confidence while moving about.
Over these past winters I have tried several different types of ice cleats for my boots but have always been disappointed for one reason or another (they fall off while walking or the cleats pop off or they just don't fit well…).
Well now I can say that I have found a pair of boot cleats that are going to last for many winters to come, and will wear them more often due to the ease of attaching to my boots.
Why these ice cleats are the best
First, I'm not talking about professional climber ice cleats (I can't even imagine the risk in that!). I am referring to ice cleats that will fit on any boot (or shoe) for the average person.
The reasons why you should have a good pair of ice cleats for your boots include ordinary outdoor winter tasks such as shoveling, snow-blowing, going out to get the mail, putting the garbage out, ice fishing, etc..
Let me tell you something… All it takes is one fall on the ice or snow and you could break a bone, a hip, or even suffer a concussion. This is serious, so you should take it seriously.

Here are the attributes of these particular ice cleats that I like:
Easy on, Easy off
Adjustable Velcro straps for the toe and for the heel make it very easy to get these cleats to fit. Some of my issues with other types of ice cleats include a general poor fit (rubber stretching over the boot – but never seemed to fit securely). With these, once you've adjusted the toe strap you can just leave it that way (it will slip on and off), or you can just peel the Velcro and adjust it real tight if you want (not really necessary though). What I really like is the rear strap which wraps around the boot as pictured. These cleats are going to stay on the boot and not fall off!
Incredible grip on the ice
The most important job of the cleat is traction, and these cleats are great at it. You can see in the picture how rugged these cleats are, and let me tell you they grip VERY securely as you walk. These cleats do not look like they will wear out anytime soon, that's for sure…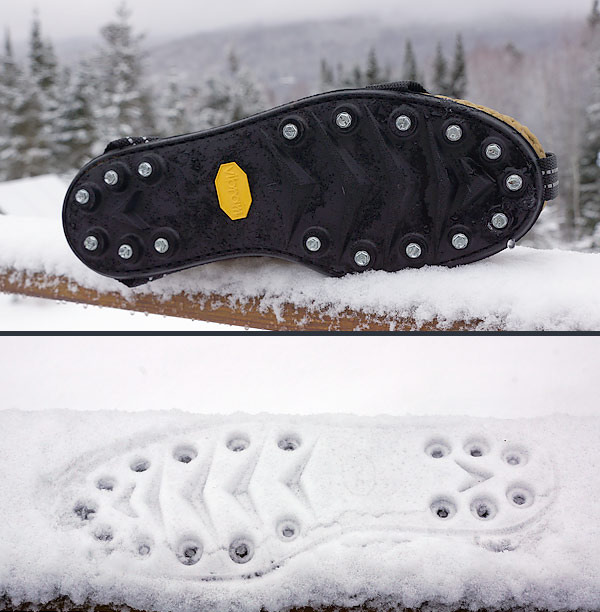 ice cleat tread pattern
Full 'Vibram' soles
They use a proprietary 'Vibram' sole design which makes this boot cleat 'solid'. Unlike other ice cleats, these are designed such that the entire sole (with it's unique tread) and attached cleats are doing all the gripping work. Your boots simply strap on top…
Best reputation and reviews
Naturally, when looking for nearly any product it's good to read about what others are saying. These particular ice cleats have excellent reviews. Evidently these cleats are "relied on by hundreds of thousands of postal letter carriers, police, rescue teams, and outdoor work crews." according to the company. And now you can add me to the user list 😉
Made in the USA
These cleats are made in Maine. It's always a good thing for America to buy Made in USA where possible. The profits go to their business and community, and not some global conglomerate.

STABILicers Maxx Original Heavy Duty Stabilicers Traction Cleat for Snow and Ice