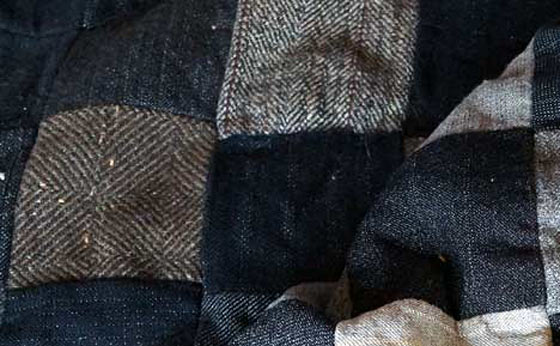 Have you ever wondered what is the best survival blanket to have — either in your car as part of a basic survival kit, or in your home, or in a bug-out bag, etc.?
Here are my thoughts:


First, let's understand where the warmth of a blanket comes from.
Warmth comes from the heat of your body. To keep that warmth near your body, the blanket needs to trap the air close. It does this by the gap spaces between the fabric threads.
A blanket that stays the warmest is directly related to it's fabric capacity to hold warm air.
Natural Wool
It's widely considered that the best natural fabric to trap and hold warm air is wool.
If you looked at wool fabric under magnification, the wool fibers do not lie flat against each-other. Instead they have a natural 'crimp' which keeps the wool fabric relentlessly curly or kinky. This creates countless air gap spaces, even in the most tightly woven wool fabric, which makes it a leader in holding warmth.
Wool remains effective even when wet. Although it doesn't dry out real fast.
Wool repels water and also wicks away moisture. Water beads up on the surface because the overlapping scales of the fibers create a hard outer layer that liquid water does not penetrate. Water vapor, however, is absorbed into the wool fibers core (wicking away perspiration).
Wool is made from sheep hair and is naturally fire resistant.
Merino wool does not have the itchy feel of some wools.
Polar Fleece
Modern synthetic Polar Fleece comes very close to imitating the natural properties of wool, and is also very effective in trapping warm air. It's a great alternative to wool.
Polar Fleece provides similar warming characteristics as wool in its warmth retention and also possesses the capacity to wick away body moisture while holding heat in its many tiny air pockets.
Polar Fleece still keeps warm when wet, and it will dry out quickly (just wring it out).
It weights little compared to wool.
Polar Fleece fabric has a wicking property.
Be very aware (cautious) that polar fleece is highly flammable.

If you're wondering why I haven't mentioned 'Down' yet, well now I'm mentioning it. It makes for a very good insulation! However, if it gets wet, it's mostly useless. Also when you wash it (a Down jacket, blanket, etc.) the loft will clump – although you can add tennis balls to the dryer to help with this.
There are also blankets made of other manufactured fibers such as nylon, acrylic, and other synthetic yarns which imitate the fuzzy loft of woolen fibers, but they just don't seem as effective as wool or Polar Fleece.

So, what is the warmest survival blanket? Is it wool or Polar Fleece?
I believe that wool is a bit warmer, but Polar fleece has it's advantages too.
What do you think about this?
Related Posts That You Might Like: