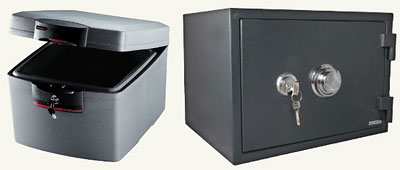 A fireproof safe is an important asset for anyone wishing to protect valuables, including preppers and those concerned about the possibility of social unrest, chaotic times, and desperate people. Why a fireproof safe? Should go without saying, but there are lots of safes out there that are not fireproof, for less money, but are at obvious risk.
A fireproof safe (more accurately called fire resistant) is typically rated by the amount of time it can withstand the extreme temperatures of a fire, while not exceeding a given internal temperature. For example, less than 350 °F over 30 minutes. Fireproof safe models are typically available between half-hour and four-hour durations. You pay much more for the higher rating durations (stands to reason).
Popular fireproof safe brands include 'Sentry Safe', 'First Alert', 'Fire King', and 'Phoenix Safe' to name a few…
There are two types of fireproof safes on the market today. Those for paper document storage such as cash or insurance papers, etc. (UL 350 fire rating) and those for data storage or computer media (UL 125 or UL 72 fire rating). Paper will begin to char at 400-degrees and media begins to melt at 140-degrees Fahrenheit.
There's more to it, but basically a Class 350 rating indicates that the internal temperature will be held below 350-degrees Fahrenheit for the time period specified and Class 125 will hold below 125-degrees. Etc.
Statistically speaking, the average fire burns at around 800°F for about 20 minutes. The UL test for both UL 125°F and UL 350°F ratings is performed for 1 hour at 1700°F. So, it seems that a half-hour rated safe is 'good enough' for most fire scenarios while a 1-hour rating will provide even more insurance.
By the way, the melting point of gold is 1,947-degrees Fahrenheit. The melting point of silver is 1,763-degrees F. No worries there… you just need it secured in the safe! Evidently the ignition temperature of most Fiat paper currency is 450-degrees F.
A tip to remember if buying a large safe, or if you plan to elevate the safe, be sure the floor or support can carry the weight (check the product specs). They can be very heavy!
Everybody has valuables. For storing your important documents, cash, precious metals, and more, you really should own a fireproof safe, not just an ordinary safe. The following are the top selling on Amazon, sorted by the highest reviews and best ratings. While searching for your own, I find it helpful to read the reviews and discover which brand and model is selling the best, before settling upon a final decision.
Apparently eligible for free shipping… (no small thing when it comes to a Safe)
SentrySafe H2300 0.36 Cubic Foot
SentrySafe H3300 1.29 Cubic Foot
LockState LS-30J Dial Fireproof Safe
SentrySafe Fire-Safe 2-File Drawers
Slightly unrelated, I love this 'diversion' safe which looks like an ordinary can of vegetables! (not fireproof) It will fit right in with your food preps!
Del Monte Can Safe Storage Container
Enjoy topics of survival, emergency preparedness – or planning for disaster?
Read our current articles on Modern Survival Blog
twitter: MSurvivalBlog
Facebook