SIGNAL App – Encrypted Messaging Big Tech & Big Brother Don't Like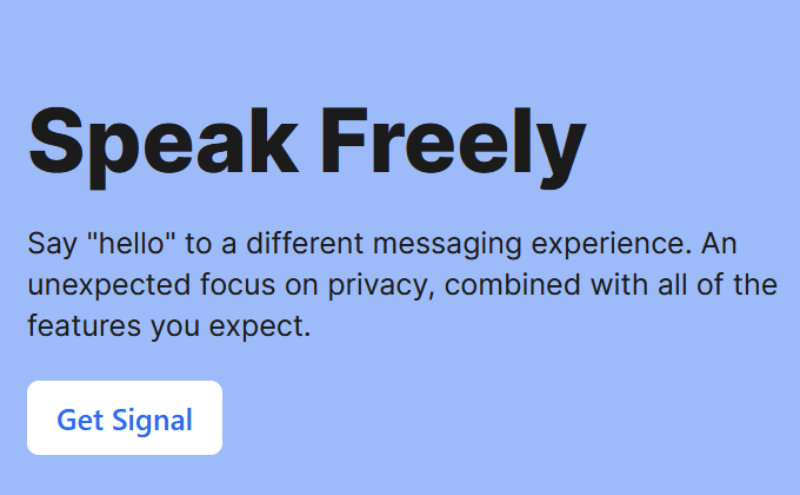 I have been using a messaging app named " Signal " for some time. Given today's climate of privacy invasion by Big-Tech platforms as well as .gov, I just wanted to let you know about this.
Big-Tech & .gov Privacy Intrusion
The Big-Tech companies who have social messaging platforms do read and archive your every message. One very common messaging app is "Messenger" (for example). Most everyone has it on their phones and use it. Why? Because it's quite convenient for communicating with someone on your contacts list. There are other popular apps as well.
However, if you are at all interested or concerned about your own privacy when messaging to someone else (be it text, voice, video), a best way to mitigate this is to use encryption. This is where the "Signal" app comes in…
Signal Messaging App – Everything Is Encrypted
EVERYTHING. It's all encrypted when you use it. End to end. It's all open-source, nothing proprietary. No fees. It all happens in the background and it's so easy to use – just like "messenger".
Signal.org is a non-profit. Look for it in your "app store" on your device.
State-of-the-art end-to-end encryption (powered by the open source Signal Protocol). It keeps your conversations secure. We can't read your messages or listen to your calls. No one else can either. Privacy isn't an optional mode — it's just the way that Signal works. Every message, every call, every time.

No ads and trackers. No kidding. There are no ads, no affiliate marketers, and no creepy tracking in Signal. So focus on sharing the moments that matter with the people who matter to you.

Free for Everyone. Signal is an independent nonprofit. We're not tied to any major tech companies. We can never be acquired by one either. Development is supported by grants and donations from people like you.

~ from Signal.org website
>> I get nothing for promoting this. I'm just putting it out there for your own privacy concerns. Why?
First and foremost, because it protects your messaging/communications/chats. Anything you send or receive while using Signal is encrypted. This makes it very hard for anyone who intercepts the data to work out what's being said unless they are the specified recipient. Additionally, Signal doesn't store any user data. So governments and other agencies can't request it, and it can't leak out.
Big-Tech gleans the subject matter of your messages and sells it via advertising and targeted ads. You're constantly tracked. Your Big-Tech (and .gov) profile "dossier" is constantly being updated/built. None of that happens with the Signal app.
Why I Use Signal
"Hey Ken, why do you use an encrypted messaging app instead of a regular one like "Messenger"? What, are you hiding something?"
Because it kind of ticks me off… Big-Tech and Big-Brother reading and archiving normal messaging communications. Continuing to build our online dossiers. It's none of their business what I say. Especially when speaking "privately" as opposed to commenting on a public blog, forum, or public social media platform.
We are headed in a bad direction. Our privacy, liberty, and free speech are under full assault, in part due to internal anti-American hatred and the New Left Marxist revolution. I would suggest that patriots begin using apps like Signal to keep their private electronic communications – private. Presently it's the best option out there in my opinion.
This has been a public service announcement for bettering your personal security.
[ Read: Free Secure Private Email ]