10 Items For Your Pet's Emergency Kit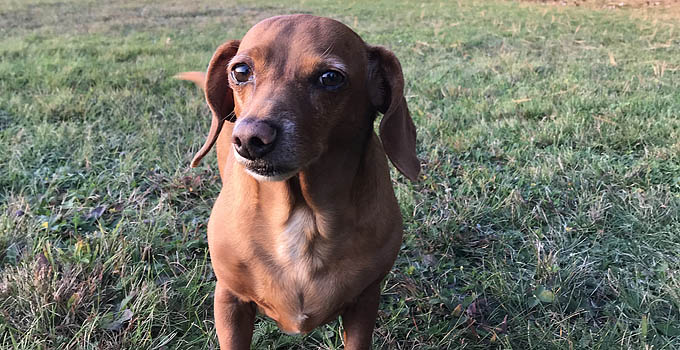 Just as you hopefully have at least a minimal emergency kit for yourself (e.g. a 72-hour kit in your vehicle, a bug-out-bag or get-home-bag), do you have one for your pet dog?
There are two situations to consider. One is sudden evacuation from your home. The other is a longer term 'shelter in place' at home where you have to rely on the supplies that you have on hand.
For convenience you might keep a tote bag with some of your pet dog's 'stuff' in it (I'm using a dog as an example because they're the most common pet). If you have to suddenly evacuate (bug out) you could simply grab the bag and go.
Here are some items to consider keeping at the ready for an emergency kit for your pet:
Food
If you're into the preparedness mindset, you very likely have food in your 72 hour kit AND some long term food storage at home (beyond just a few weeks worth). Similarly, do you have food set aside for your pet's bug out bag? And do you keep extra long term pet food? Don't forget to include a food bowl for your pet e-kit.
We purchased the following collapsible style bowls for our dog's food & water:
Silicon Collapsible Dog Bowls
Water
While you should always have some water in your vehicle (water bottles, a jug,) – you could simply share some with your pet. Be sure you have enough for all of you. Like I just mentioned, we keep a collapsible water bowl for our dog to drink water (space saving).
Speaking of water, here's Sampson on the beach in Maine this summer vacation: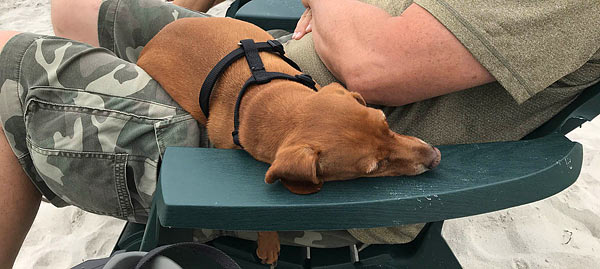 Collar with tag, Harness, Leash
Your dog may already be wearing a collar, but it's a good idea to keep an extra one in the kit. You may have a leash at home, but similarly keep an extra with the kit. If your pet gets lost, is there a tag on the collar for identification? What about a rabies vaccination tag?
A picture of you and your pet together
If you become separated from your pet during an emergency, a picture of you and your pet together will help you document ownership and allow others to assist you in identifying your pet. Include detailed information about breed, age, sex, color and distinguishing characteristics.
(spoiled rotten?)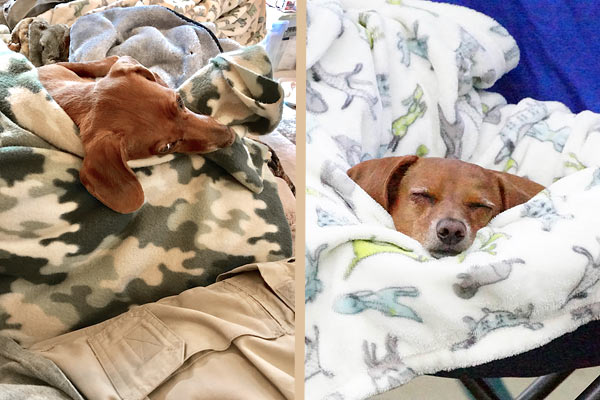 Records & Medicines
Keep an extra supply of medicines your pet may be taking on a regular basis (heartworm pill, flea & tick prevention, etc..) in a waterproof containment (e.g. Ziploc). Keep the phone number of your vet – just in case. Make a copy of vaccination records (Rabies) which are usually required if you stay at a pet-friendly motel.
Crate, Pet Carrier, Pet Bed
If applicable for your pet who may be crate trained, don't forget to take it with you for your pet's 'safe place' while in a different environment. If your pet has his own pet bed, take it too. We keep a separate 'dog bed' in the truck. It sits on the console between us where Sampson peers over the dashboard ;)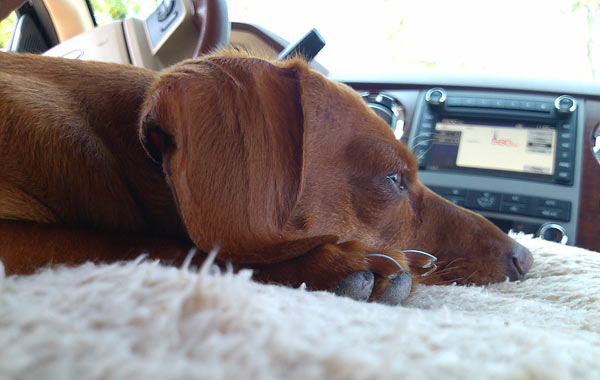 Blankets
Our dog has a number of his own blankets. Again, we keep one in the truck too. On a trip this will provide comfort and warmth if they need it.
(this can't be comfortable…)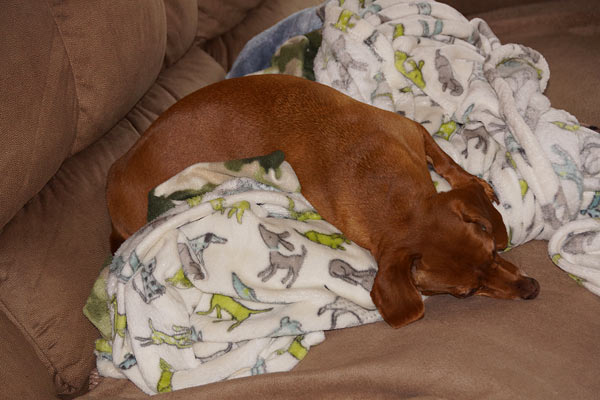 Outerwear?
Okay, I know, not every dog wears a sweater or jacket… Ours does during the cold months because he doesn't have much of a natural coat to keep him warm! Our little mini-Dachshund has very short hair and is always c-c-cold. Therefore we have a variety of coats and sweaters for his comfort. He's always under a blanket or pillow or something…
(when we moved to NH, he didn't quite know what to make of these 'white walls'…)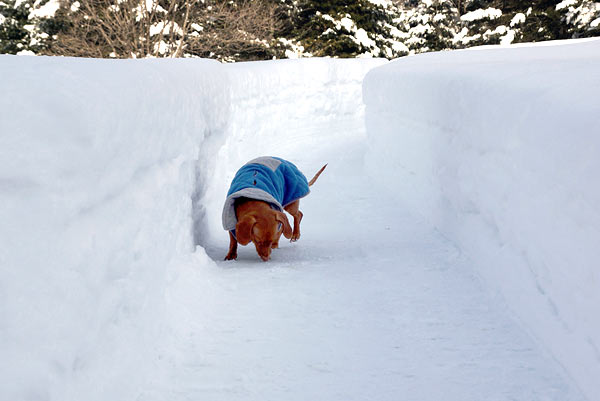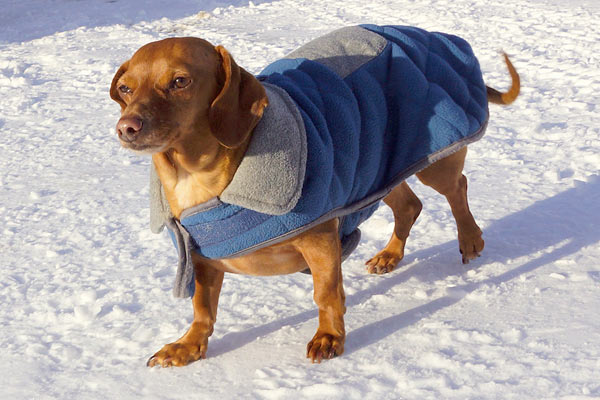 I think I'm going to get Sampson one of these:
Dog Clothes: SECURITY Hoodie
Sanitation
Dog Duty Bags. Again, you may have these at home – depending on how you deal with 'the situation'. But keep extra in the bug out bag or vehicle.
Toys, Familiar items
Toys. Chew bones. Ropes. You know the things your pet likes to play with. These things will help reduce stress for your pet if they're away from their environment.
(Sampson likes this sock…or what's left of it…)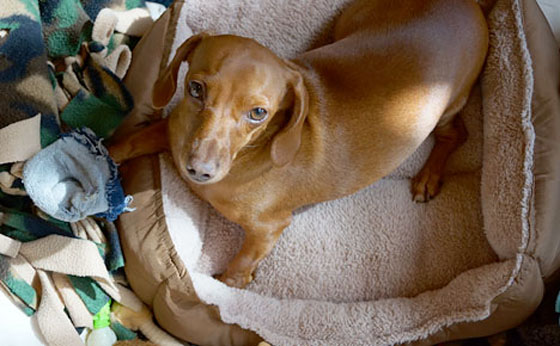 The idea here is this… If you have to leave suddenly (or even on a planned trip – vacation?), your pet will be more stressed than at home. Just plan ahead for what you might need for them. Some pets travel better than others. Only you will know what your own pet really needs. Just spend a little time and think about it. Become better prepared (for them).

More: Search "72 Hour Kit" on ModernSurvivalBlog

Sampson isn't spoiled or anything…
Okay, okay, I know what you're thinking… this dog's a woos. On the contrary, the Dachshund has the loudest bark I've heard! They are barkers when someone's coming. And they don't realize that they're little – seemingly no fear at times ;)
In years gone by, we've had big dogs (Shepard/Akita mix and a Golden Retriever). Never thought I would have a 'little' dog. That said, this one's my favorite ever! Can't believe he's 9 already.
Here he is when a puppy, 3 months: