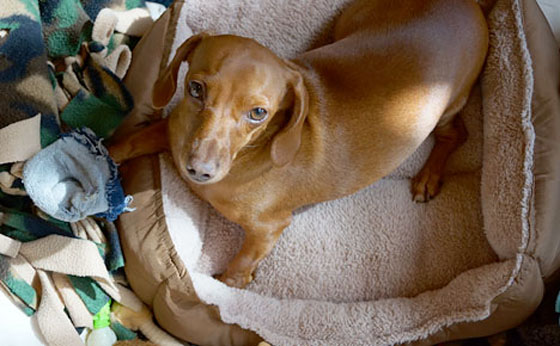 Just as you (hopefully) have an emergency kit (e.g. a 72-hour kit, bug-out-bag, etc..), if you have a pet – they should have one too.
It's simple, and here's how I do it:


For convenience we keep a tote bag in the closet with our dog's 'stuff' in it. If we go on a trip or have to leave suddenly, we could simply grab it and go. Here's some things to consider keeping for an emergency kit for your pet:

Food. Keep at least three days of food in an airtight, waterproof container. Keep more if you have the space because your pet will still need to eat once you get there – or you will have to locate and purchase more on the road, on your trip. Don't forget a food bowl for your pet kit.
Water. While you should always have some water in your vehicle (some water bottles, a jug, etc..) – you could simply share some with your pet. Be sure you have enough for all of you. I always keep a small plastic bowl with it's own lid in the vehicle for our dog's water needs (If he doesn't drink it all, I simply snap on the lid for use later so it doesn't splash out all over the place while driving, etc..).
Collar with tag, Harness and Leash. Your pet should wear a collar with its rabies tag and identification at all times while traveling – especially if he gets lost. An extra harness and leash should be in the kit.
A picture of you and your pet together. If you become separated from your pet during an emergency, a picture of you and your pet together will help you document ownership and allow others to assist you in identifying your pet. Include detailed information about species, breed, age, sex, color and distinguishing characteristics.
Medicines and Records. Keep an extra supply of medicines your pet may be taking on a regular basis (heartworm pill, flea & tick prevention, etc..) in a waterproof container. Keep the phone number of your vet – just in case. Keep a copy of vaccination records (Rabies) which are usually required if you stay at a pet-friendly motel.
Crate, Pet Carrier, or Pet Bed. If applicable for your pet who may be crate trained, don't forget to take it with you for your pet's 'safe place' while in a different environment. If your pet has his own pet bed, take it too.
Blanket. Many a pet have their own blanket or blankets. On a trip this will provide comfort and warmth if they need it.
Clothes. This is not for everyone's pet, but our little mini-Dachshund has very short hair and is always c-c-cold. Therefore we have a variety of coats and sweaters for his comfort. He's always under a blanket or pillow or something…
Sanitation. Kitty litter and litter box where appropriate. For the dog's, don't forget the rolls of doggie pooh bags for environments where it is appropriate to use.
Familiar items. Toys. You know the things your pet likes to play with. Your old socks? Ropes? etc.. These will help reduce stress for your pet.

Basically, if you have to leave suddenly, or even on a planned trip, your pet will be more stressed than at home. To avoid having to get things for your pet while 'on the road', just plan ahead for what you might need for necessity and comfort for them. Some pets travel better than others. Only you will know what your own pet really needs. Just spend a minute, think about it, and get better prepared (for them).
Do you have any particular advice or experience to share while traveling with your pet?
---
0 unique visits for this page today
3 unique visits for this page (past week)
Related Posts That You Might Like: