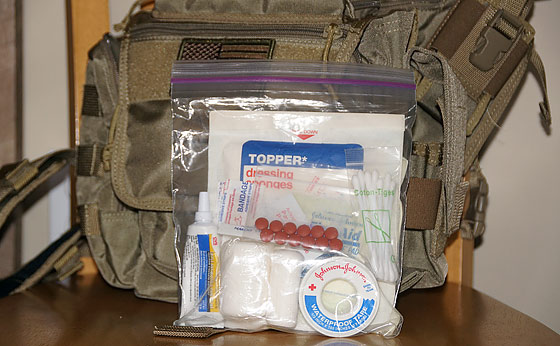 I keep a 'do-it-yourself' First Aid Kit in a quart size Ziploc bag to fit nicely into any number of my various 'bags' (backpack, my Versipack's, etc..).
Why do I do keep a First Aid Kit in a Ziploc?
While I do have a few other more substantial First Aid Kits, the minimalist (Ziploc) First Aid Kit works well for me because I can just slide it into a small space in my pack. Even if the pack is full, there's a way to get it in there… Actually I just leave these Ziploc kits in the various bags so they're always there.
There's no extra bulk or weight of a hard container and there is the advantage of being able to see right into the Ziploc and what's inside.
What First Aid items do I keep in a Ziploc bag?


Good question! It seems that I'm changing it around from time to time. Admittedly the problem that I have is that there's always a good reason to add more Fist Aid items, however then it gets too big! There's really no right or wrong kit, so do what works for you.
I might tailor it depending on what I'm going to be doing and where I may be going (with the associated risks thereof), but that involves extra time (and remembering to do it), so it doesn't happen that often… Therefore the contents are usually pretty much just the basics.
Various size ordinary band-aids for ordinary cuts
Butterfly closure bandages
QuikClot clotting sponge
Antiseptic wipe packets
Small tube of antibiotic ointment (e.g. Neosporin)
Various size sterile bandages (2×2, 3×3, etc..)
Gauze wrap
Adhesive cloth tape
Packet of Ibuprofen tablets
A 'feminine pad' (for bleeding not bad enough for QuikClot)
ACE bandage (folded to fit within Ziploc)
Tweezers (for those nasty slivers)
Additional suggestions:
-Latex, vinyl, nitrile gloves (Vinyl Medical Exam Glove, Latex Free)
-Super Glue (emergency stitch)
-Israeli bandage (How To Use The Israeli Bandage)
-Tourniquet (CAT tourniquet)
-Imodium
-'Adult' Aspirin (heart attack? chew two tablets, call 911)

I have had more or less than that stuffed into a quart-size Ziploc bag, however keeping at least a handful of basic First Aid supplies in some sort of 'small' kit will enable you to pack it into a small bag for an outdoor activity that you might be involved in (hike, camp, hunt, fishing, boating, 4-wheeling, snowmobiling, etc..).
Share your thoughts and ideas too…