Surviveware First Aid Kit – A Look Inside The Survival Model
The Survival First Aid Kit from Surviveware. It's really a combo kit, not just a First Aid Kit. They sent one to me so that I could have a look. Yes, they are currently one of our sponsors on the blog (disclosure). I captured a number of photos for those interested, and will provide my opinion as we go through it.
First, I just want to say that Surviveware (as of this date) has six different First Aid Kits. They also sent me the 'small' which I will do a separate look, later.
Okay, again, this particular one is their "Survival" First Aid Kit. They decided to mix some survival-specific items along with some First Aid. So, it's unique in that respect. Might be useful for some people looking for that combination.
Being honest, this concept doesn't appeal to me personally. I like the dedicated First-Aid-Kit (of which they have several, including their large, small, and trauma). Why do I feel this way? Only because I'm already well setup with survival-specific items – depending on the outing, where I'm going, what I'm doing. I build by own tailored kits as well as my specific every-day-carry. But I am a seasoned preparedness-minded individual who has been living this way for a long time.
With that said, in my opinion, this type of combo-kit might be a good general pick for someone new into 'survival and preparedness'. Or, as a gift for a person who may be enticed into the mindset of being better prepared in general. If you don't already have these types of survival items, it may provide some reassurance being in the kit.
I'll show you what's inside…
What's Inside the Surviveware First Aid Kit (The Survival Model)
View this specific model on amzn
My first impression upon looking at it, and then after opening the kit, was the bag. I really like the bag! Seriously. It's nice. Here's a photo of the back of the bag…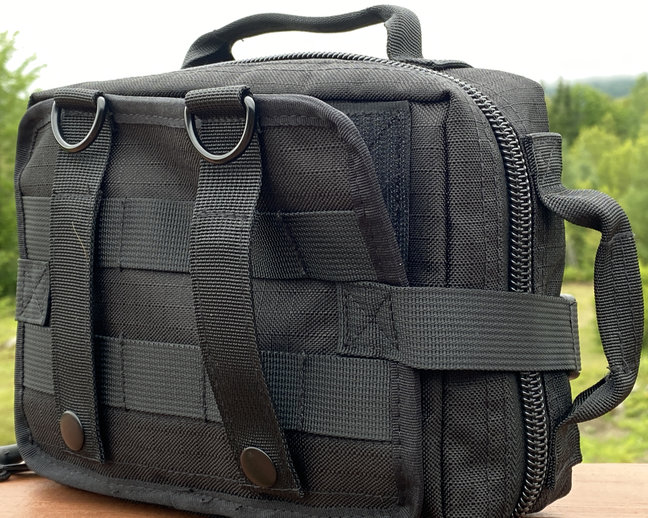 Every compartment on the inside is clearly labeled. That's nice too. Here's a photo of the bag opened up, revealing what's inside: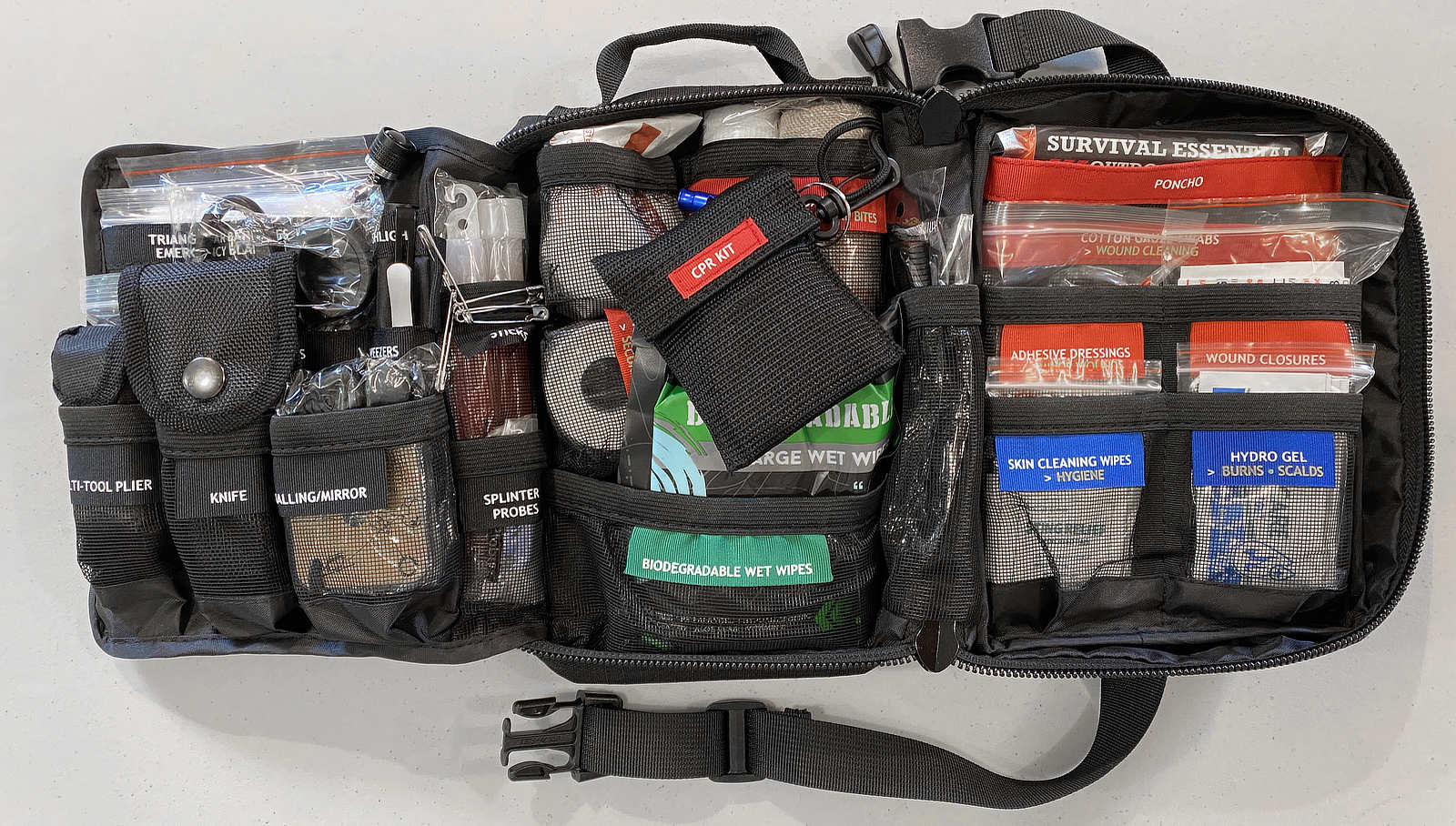 Then I took everything out: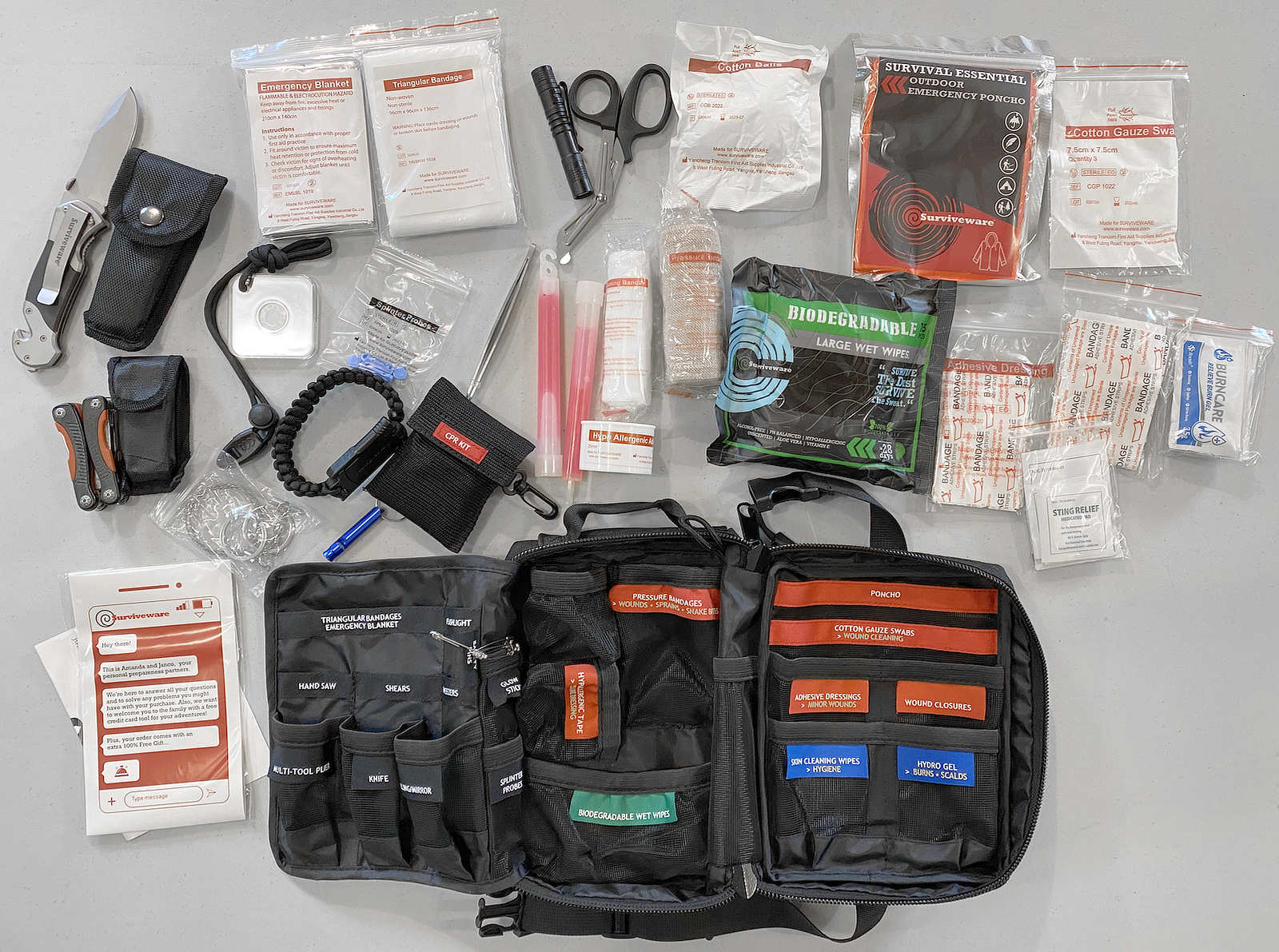 I'm not going to over-analyze everything, or show everything. Rather, I'll just give you my first impressions, and highlight a few things of note.
Like I already said, the bag is very good. 600D Polyester. MOLLE compatible. Lots of evident versatility. Really like the bag. Oh, some of their kits come in different color choices (like this kit). I chose black for this one.
I'll start with the 'survival' items.
Surviveware First Aid Kit Items Purposed For Survival
You know what? Their folder-knife in the kit was pretty impressive. Heft. It does not appear to be a 'cheap' knife just for the sake of throwing one in the kit. It's not small, or too large. The knife has a 'drop point' 3-1/4 inch blade (7-3/4 overall when open, 4-1/2 when closed). Sharp. Seriously sharp. Nice locking mechanism when opened. Built-in seatbelt cutter blade (and other uses). A glass breaker built in to the bottom of its handle. An 'easy out' type of assist on top of blade. Overall, I was surprised about the knife.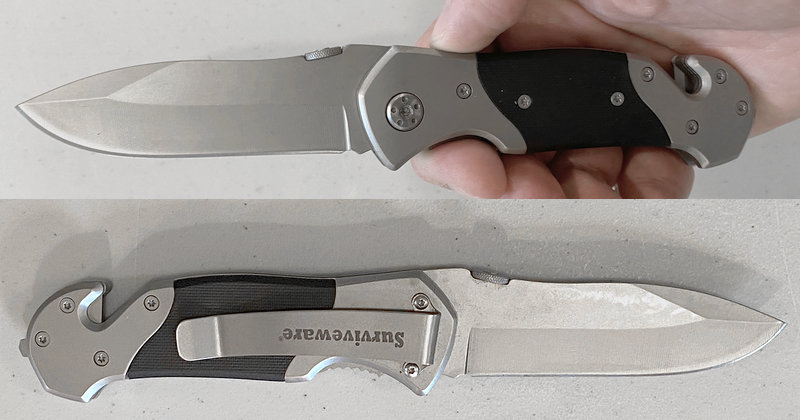 I took a few pictures of other 'survival' type items in their kit. Here's their signaling mirror. These work, if you know how to use them. I wrote an article about it awhile ago…
[ Read: Signal Mirror For Your Survival Kit ]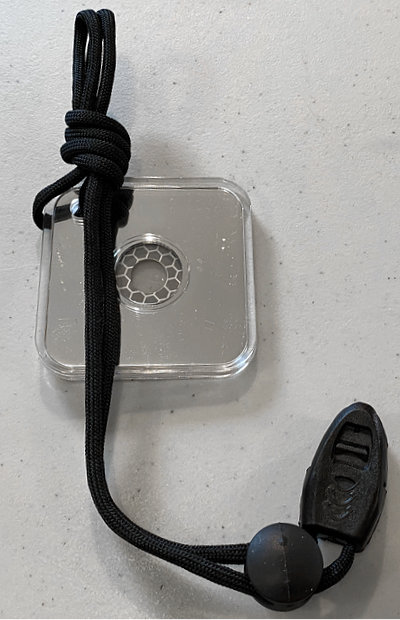 Here's the multi-tool. To be honest, I would upgrade to some sort of Leatherman multitool. There are so many to pick from! With that said, the reality is if everything in the kit was the highest quality, it would cost too much! Instead, you might choose to upgrade whatever might be more important to you.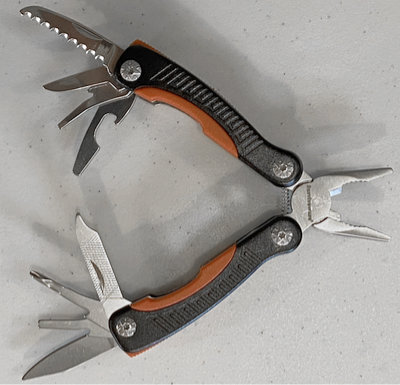 Here's a list of the survival type items in the Surviveware Survival First Aid Kit:
Folding Knife (pretty nice)
Multi-tool
Signal Mirror
Wire Saw
Paracord Bracelet (built-in blade)
Poncho
Mylar Emergency Blanket
Small Flashlight
Whistle
Glow Sticks – chemical lights
Surviveware 'Survival First Aid' Kit Items Related to First Aid
First, here's the list.
6″ Shears
Tweezers
Triangular Bandage
Tape
Crepe Bandages(1)
PBT Conforming Bandage(1)
Butterfly Bandages – Medium(5)
Butterfly Bandages – Large(5)
Knuckle Bandages(5)
Large Rectangular Bandages(2)
Mini Bandages(5)
Square Bandages(5)
Standard Bandages(20)
Cotton Gauze Swabs(3)
Cotton Ear Swabs(10)
Safety Pins(4)
Splinter Removal Probes(2)
Cotton Balls(10)
Personal Laminate Baggies(6)
Nitrile Gloves (Located in the the CPR Pouch)
CPR bag kit
Burn care ointment
Various antiseptic swabs
Biodegradable Wet Wipes
One complaint, sort of minor. But it was sort of difficult to see which bandages were which. The labels are the same (Bandage Adhesive Strips). It was somewhat difficult to see through the individual packaging to exactly know what's inside. I took a picture of the bandages (except the 20 standard bandages). I then cranked up the camera contrast to better illustrate what's inside the packages.
All of the bandages seem to be pretty thin (not sure if that matters). There's room in this kit to add more of your own preferred bandages.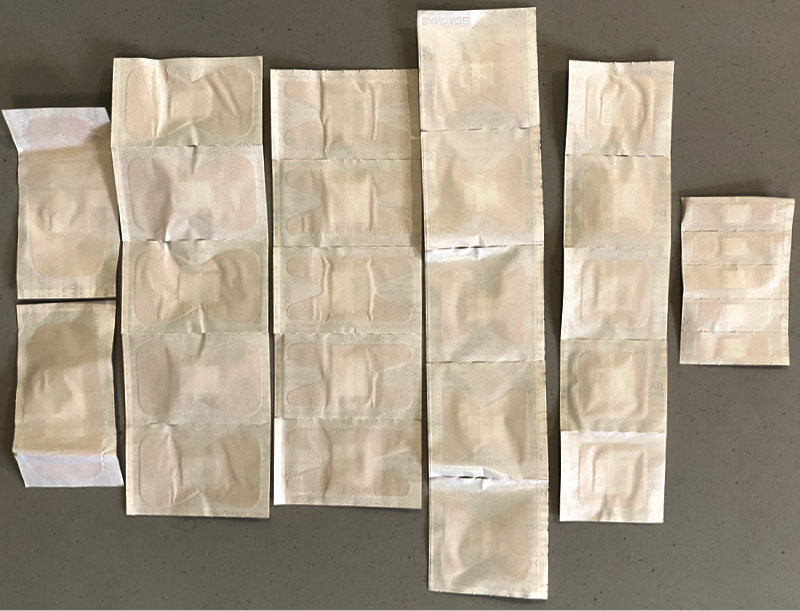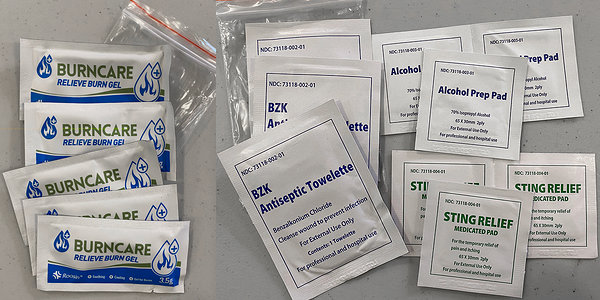 I removed the triangular bandage and unfolded it to discover its size: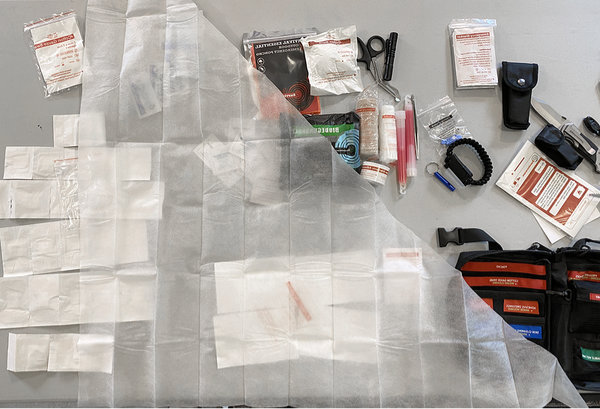 Here's the Surviveware CPR Kit: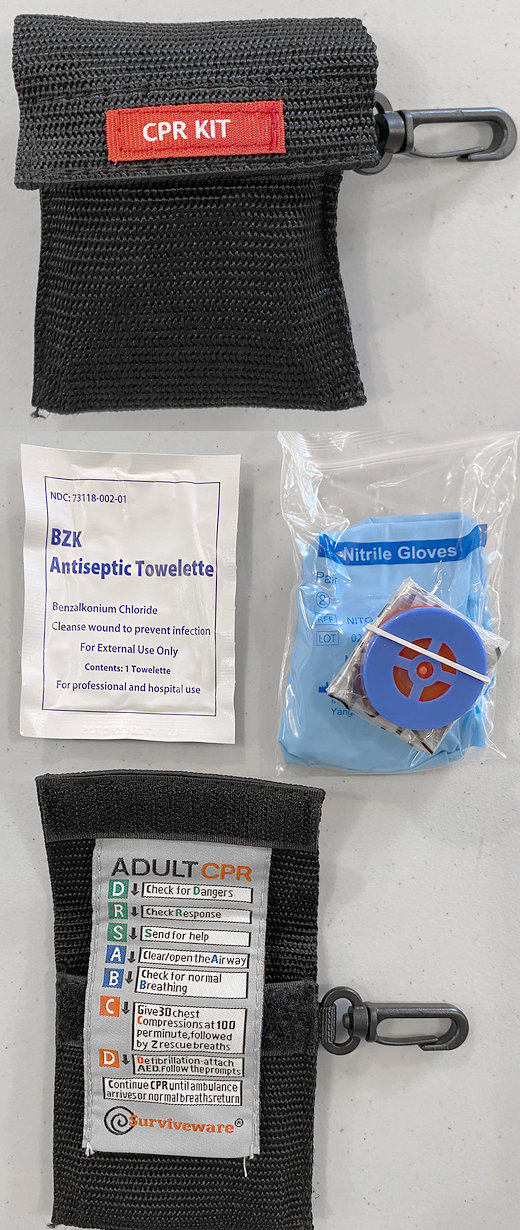 Bag Compartments
Closeup pictures of the left, center, and right compartments…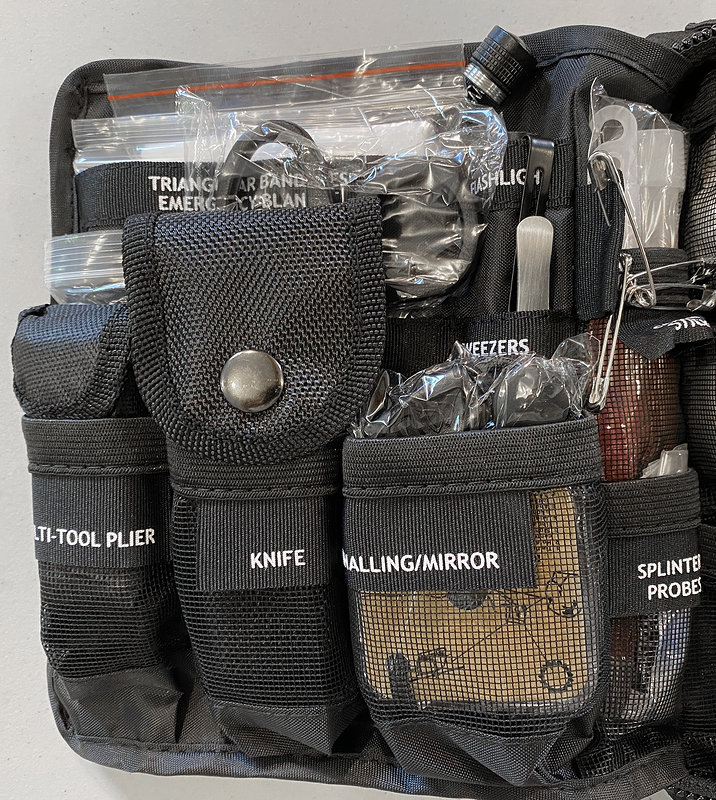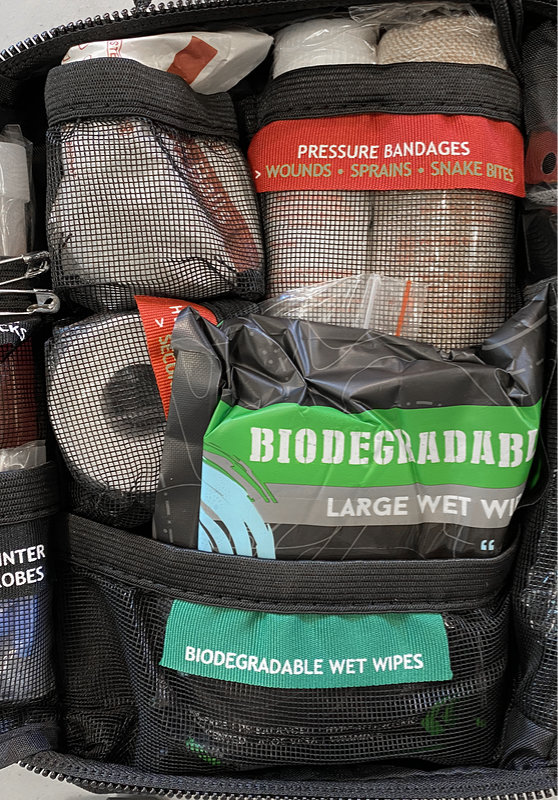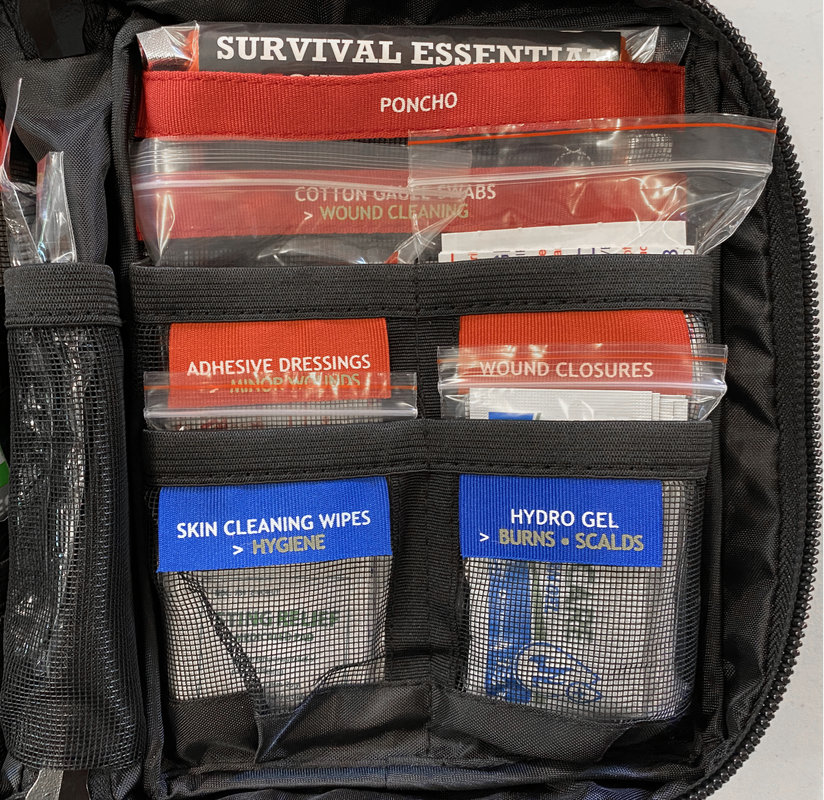 Dimensions
Oh, I almost forgot to mention the dimensions. Depending how much you stuff the bag, it's about 9″ x 7″ x 4″.
In Summary
What I like most about the kit? The bag. It's versatile enough so that I could tailor the contents. Upgrade a few if I wanted to. Maybe I also add a Recon Tourniquet. And/or a Hyfin Vent Chest Seal. Some QuikClot bandages.
[ Read: Trauma Kit – 5 Lifesaving Essentials ]
[ Read: How-to Stop The Bleeding With QuikClot ]
Would an Israeli Bandage fit in there? Probably… or maybe if you remove something if you had to.
[ Read: How-to Use An Israeli Bandage To Stop Bleeding ]
However, the bottom line is this… There are a bazillion ways to put together a kit. A First Aid Kit included. Same goes for the companies who build readymade kits. This particular Survival First Aid Kit by Surviveware is a unique combination of some survival items as well as First Aid items. It appears to be a nice size, convenient for attaching in a number of different ways. And certainly a good kit for many people looking for this sort of combination.