Last updated on February 17th, 2012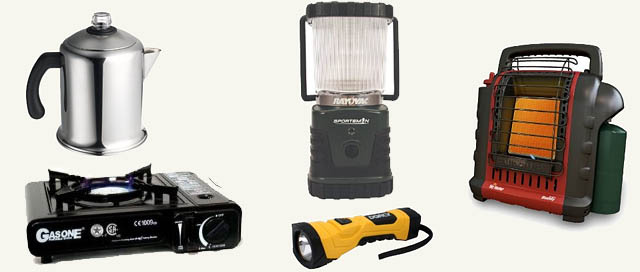 Here are a few of the basic items that you may want on-hand while in 'survival mode' during a winter snow-storm power outage situation. These are very minimal considerations, but they at least should provide a small amount of comfort inside your home, and will hopefully get you thinking about other items to have on hand.
These 5 survival items can be purchased for less than $200 and will provide enough heat to be comfortable in a room, enough light for the dark, a means of cooking for food, and the taste of percolated coffee in the morning.
Mr. Heater Buddy 4,000-9,000-BTU Indoor-Safe Portable Radiant Heater

During the winter, the immediate concern will be heat. This particular heater will safely and effectively provide plenty of heat for a room. You will have bigger problems if the outdoor temperature remains consistently below freezing while at the same time the power outage lasts much longer than a day (pipes will begin to freeze and may rupture), but this heater will provide a first level of defense for a short term survival situation.
GASONE Portable Gas Stove

This portable butane stove will do the job. I like the fact that it's flat and will support a heavy or fairly large pot, whereas some other portable stoves are upright and precariously support a pot or pan. This is one of the portable stove's that I own, and I have been very happy with its performance. I also recommend the Coleman dual-burner stove, but it is larger, and more expensive. Be cautiously aware that a Coleman-type stove / propane stove will build up carbon-monoxide and should be used outside. Butane though, like the one listed above, is OK for in home.
Farberware Classic Yosemite Stainless Steel Percolator

How many of you have thought of this one… most coffee drinkers use 'drip' coffee-makers to make their coffee – which require electricity. So, to make that cup of coffee with a portable gas stove, you will need a percolator.
Rayovac Sportsman Xtreme 300-Lumen LED Lantern

This LED lantern is compact, and will provide many hours of battery-efficient light. I've owned this model for years and it has served well.
Dorcy 180 Lumen High Flux LED Cyber Light Flashlight with Batteries

Of the many flashlights that I own, this Dorcy flashlight is amazingly bright and is a great value for the money. I really like the design of this one, as a general purpose home flashlight.
OK, so, what else should you have on hand for a short-term winter snow storm power-outage emergency?
Should go without saying, but, of course you should have an adequate supply of food. Be sure to keep some ready made canned food 'meals'… things like canned stews, chunky soups, ravioli, chile, spaghetti and meatballs, things like that.
It would be a good idea to have a cold-weather sleeping bag. Instead of sleeping under your normal blankets, a good cold-weather sleeping bag will keep you much, much warmer at night.
Since your electricity is out, how about reading a book or two while you sit in front of your cozy Mr. Buddy Heater…
If your power outage lasts much longer than a day, and if it is very cold outside, you will need to take your survival mode to 'Level 2', which will require that you have more supplies than the the basics listed above. But, that's for another post…
If you enjoyed this, or topics of current events risk awareness or survival preparedness,
click here to check out our current homepage articles…