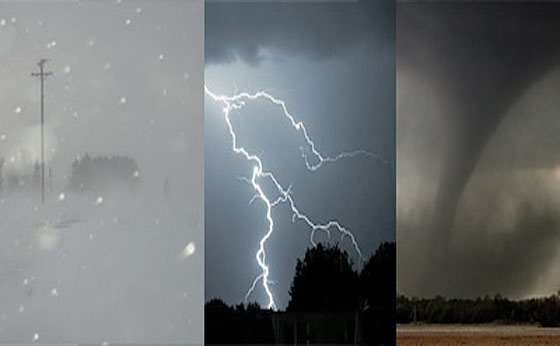 If you're interested in preparedness having to do with weather – and you have a weather radio and are curious about the 7 channels that are assigned to them, here's some information about the channel numbers versus frequency, and a list (download) of all United States NOAA weather radio stations sorted by State – listing the station channel numbers for your reference.
Admittedly, this is a bit geeky – but it's one of my many interests (weather).


Weather radio transmitters broadcast on one of seven frequencies from 162.400 MHz to 162.550 MHz. The broadcasts cannot be heard on a simple AM/FM radio receiver, however there are many receiver options ranging from handheld portable units that just pick up Weather Radio broadcasts, to desktop and console models which receive Weather Radio as well as other broadcasts.
If you want to be alerted to weather Warnings and Watches day or night, a standalone receiver may be the best option. There are many choices from a number of manufacturers with prices ranging from around $20 to over $100, depending on the brand and the number of features included.
Weather Radio Channels

There are two different channel numbering systems used by various weather radio manufacturers regarding the seven allocated frequencies.
Chronological Sequence
The first is the chronological sequence – the sequence to which the radio frequencies were allocated over time to the service. This ordered sequence is used by some weather radio manufacturers, but not all.
1=162.550 Mhz
2=162.400 Mhz
3=162.475 Mhz
4=162.425 Mhz
5=162.450 Mhz
6=162.500 Mhz
7=162.525 Mhz
Frequency Sequence
The second is in simple increasing radio frequency sequence. Your weather radio channel sequence may follow this method – check your radio's documentation.
Weather radios that follow this method:
Midland WR300
1=162.400 Mhz
2=162.425 Mhz
3=162.450 Mhz
4=162.475 Mhz
5=162.500 Mhz
6=162.525 Mhz
7=162.550 Mhz
Weather Radio Station List
The National Weather Service has an online interactive list of States with their associated transmitting station locations and frequencies.
Here's a list of weather radio channels for each state's location in an all-in-one document:
NOAA Weather Radio Channel List – Chronological Sequence
(Working on list for Frequency Sequence…stay tuned)
A weather radio should be something that every preparedness-minded person should have, and is a tool that should be always 'on' in alert mode – just in case. They provide life insurance.
Best Weather Radios