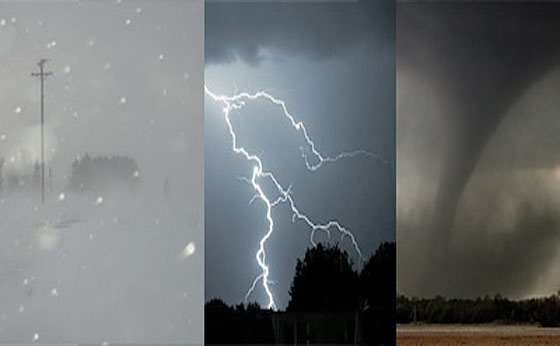 Got a weather radio? Looking for weather radio channels or NOAA station listing frequencies in your area? I have some answers and links for you…
A NOAA weather radio will have 7 channels assigned to them. Each channel represents one of seven frequencies between 162.400 MHz to 162.550 MHz.
Weather Radio Channels
There are two different channel numbering systems used by various weather radio manufacturers regarding the seven allocated frequencies. A chronological sequence and a frequency sequence.
(specific station listings further below (state / county and coverage maps)
Chronological Sequence
The first is the chronological sequence – the sequence to which the radio frequencies were allocated over time to the service. This ordered sequence is used by (some) weather radio manufacturers.
1=162.550 Mhz
2=162.400 Mhz
3=162.475 Mhz
4=162.425 Mhz
5=162.450 Mhz
6=162.500 Mhz
7=162.525 Mhz
Frequency Sequence
This method is popular. Simply an increasing radio frequency sequence. Your weather radio channel sequence may follow this method – check your radio's documentation.
1=162.400 Mhz
2=162.425 Mhz
3=162.450 Mhz
4=162.475 Mhz
5=162.500 Mhz
6=162.525 Mhz
7=162.550 Mhz
Weather radios that follow this method include THE most popular model:
Midland – WR120B / WR120EZ
(view on amzn)
Additionally the popular Sangean CL-100 and Midland WR400
Weather Radio Frequencies & Station Listing | S.A.M.E. County Codes List
Here are some interactive NOAA links from the National Weather Service in varying formats. They will help you to identify where the transmitting stations are located, their call signs, broadcast frequencies, coverage maps, SAME # county codes and more.
NOAA Station Listing by State / County
This interactive list will show you each station in your state, sorted by county. It will indicate each station's SAME #, location of transmitter (town), call sign, and frequency.
County Coverage Listings by State
NOAA Station Listing for each State
This list also sorts by state. It will provide a list of all NOAA stations in a given state, including call sign, site name, frequency, and WFO (weather forecast office) name & link.
Station List within each State
Search For NOAA Weather Radio Transmitter Locations
This one is an interactive map. Click on the Search icon to enter an address. It will reveal nearby transmitter locations. You can then click on the trdansmitter location icons for more details AND propagation maps (pretty cool!).
NOAA Weather Radio Coverage Maps
The following interactive map will open up a statewide / regional view which shows individual stations and coverage.
A weather radio should be something that every preparedness-minded person should have. It should always be 'on' and in alert mode – just in case. It's potentially a form of life insurance!
If you want to be alerted to weather Warnings and Watches day or night, a standalone receiver may be the best option. There are many choices from a number of manufacturers with typical prices ranging from around $20 to $70 (as of this writing), depending on the brand and the number of features included.
Continue reading: Best NOAA Weather Alert Radio