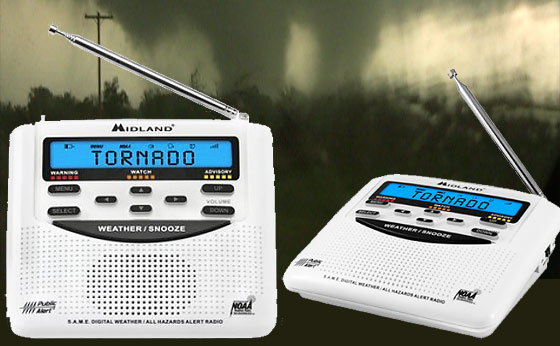 In this instance, 'the best' refers to the majority opinion of those who have reviewed various weather alert radios with their own varying set of criteria ranging from quality, features, price, and ease of use.
Although I have written about weather radios a number of times over the years, I again will emphasize the good preparedness of having your own at home. When minutes count, it may save your life.
Here is the best weather radio of 2016:


Midland WR120-EZ NOAA Weather and All Hazard Public Alert Radio
The Midland WR120-EZ (be sure that it's the 'EZ' model – explained below) is a NOAA Weather Alert Radio that's so inexpensive, there's no excuse not to have one for the safety of your household and family – especially if you live where tornadoes are possible, or hurricanes, or severe thunderstorms (which covers just about everyone).
Why is this one the best?
Because it is purpose built as a weather alert radio (nothing else).
Because it is from a very well known and quality company, Midland.
Because its popularity reflects the best choice.
Because of its excellent price and value.
Because of its features, listed below:
Weather Alert Radio Features of the Midland WR120-EZ
-SAME technology -Localized Reception
-Continuous Backlighting Option- Keeps the LCD on
-25 Programmable Locations (counties/provinces)
-Color Coded Alert Level Indicators
-Alert Override automatically switches over to warn you of impending danger
-Time & Alarm Clock with Snooze
-Silent programming
-Single, Multiple, or Any S.A.M.E program settings
-3 Selectable Warning Systems: 90dB Siren Alarm, Flashing LED, Voice Alert
-Uses 3AA Alkaline batteries for emergency power back-up
-All 7 NOAA / Environment Canada Weather Channels
-Stores up to 10 Different Previously Received All Hazards and Weather Alerts
-Public Alert Certified
-Over 60 Emergency Alerts
Note: The WR120-EZ (the 'EZ' model) has a unique feature that lets you set which of the alerts you want the radio to respond to. For example you may not wish to be alarmed by the tone alert for many of the "Advisory" and/or "Watch" alert tones. The radio will still respond to these alerts though by providing the text in the LCD display, but just not the loud tone. The entire list of alerts may be viewed via the menu and you can set which alerts that you want the alert tone on or off. Note that some alert tones such as "Tornado Warning" can not be turned off to insure you get this very important alert.

The following is a very unique and effective add-on option, a visual alert which will flash red when there's a warning:
Midland 18-STR Strobe Light for Weather Alert Radios