How Much Coleman Fuel Do I Need?
Ever wondered how long Coleman fuel will last? How long it will burn, and what is it's shelf life? I'm talking about the special fuel that is made for the Coleman camp stove (Coleman® Fuel – 'White Gas')… What is it? How long can I cook with a full fuel tank? And does it go bad after awhile?
Many of us have one of these stoves, the brand name of which has been around for decades. I thought it would be helpful to address these questions, and determine approximate Coleman fuel consumption estimates. The answers may help determine how much fuel you might need depending on your usage.
I determined the consumption values based on the Coleman website per-hour usage for their Two-Burner camp stoves (Coleman® Fuel, and Propane).
Two-Burner Camp Stove Fuel Consumption (White Gas)
How long does Coleman fuel last?
This is my Coleman dual fuel stove. I've had it for a LONG time! It still works great…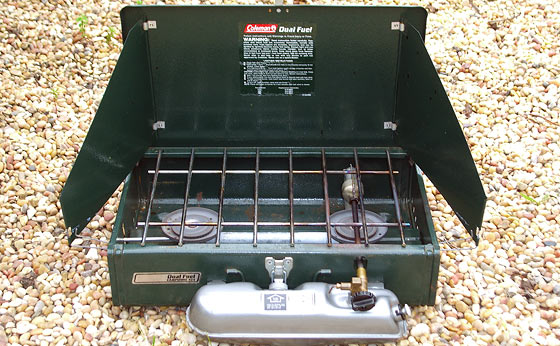 Coleman 2-Burner Dual-Fuel Stove
(view on amzn)
Coleman fuel consumption obviously depends how long you operate your burners. So I will list a few examples, based on data I found from Coleman.
Both Burners on High for 1 hour will consume about 0.16 gallons (about 20 ounces) of Coleman fuel.
That would be almost exactly one gallon if you did that for a week (lets say your camping for example).
The fuel tank holds 2.5 pints, or 40 ounces.
A full tank will burn for about 2 hours on high.
The dual burner camp stove will burn about 1.25 pints (20 ounces) of Coleman fuel per hour. However, that's if it's on high. This may be the case if you're boiling water. But unless you want to burn your dinner, chances are that you will lower the burner and the fuel will last a lot longer (just saying).
You can get about 6.4 hours of both burners on high, per gallon of Coleman fuel.
TIPS:
Fill up the fuel tank before you use it. Doesn't matter how full you think it is. Just fill it up. It will work better.
Pump the tank according to the instructions. It is easily possible to pump it too little. It is very hard to pump it too much.
Once you light it, DON"T TOUCH IT. Let it sit for a few minutes so the generator can heat up fully. This is the number one thing that makes people think their stove isn't working properly. I know it's tempting, but seriously, don't touch it.
The dual fuel aspect is for emergencies. Unleaded gasoline is not what you're supposed to use on a day-to-day basis.
Coleman Fuel
Yes, you can buy it by the gallon. However, that can be a pain to deal with. I've found that the following 32-ounce can is a convenient size for most people and situations. Easier pack and storage too.
32-ounce
(amzn)

What is Coleman Fuel, and the difference between that and the new Premium Fuel?
I discovered the following information…
If you look at the MSDS's for the original Coleman Fuel versus their newer 'premium' fuel shown above, th premium has Xylene which is a solvent… it should help to clean out varnish inside the fount/tank. It also has Ethylbenzene would should make it easier to start in colder weather. Other than that, it's a light naptha just like the original fuel.
Coleman Camp Fuel contains:
Cyclohexane
Nonane
Octane
Heptane
Pentane
Coleman Premium Camp Fuel contains:
Cyclohexane
n-Hexane
Xylene
Ethylbenzene
Two-Burner Camp Stove Fuel Consumption (Propane)
Their latest dual burner propane stove: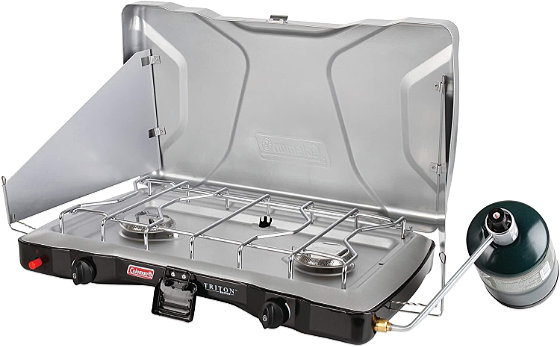 Again, from Coleman estimates…
A 1 pound propane cylinder will last a bit longer than one hour with both burners on high. Your results may vary. And often you're only using one burner anyway…
TIP:
The 1 lb propane bottles can be refilled. The hose kit is available and not expensive. Learn the correct method to refill— it's easy.
Here's an adapter
(amzn)
Types of Fuel for Coleman Camp Stoves
Coleman® Fuel (White Gas)
Also called white gas or camping fuel, you can't beat it for camping in the winter or at high altitude. Burns hot even at subzero temperatures. And unlike butane and propane, output doesn't falter as temperatures drop. Coleman® Fuel is very refined, and burns hotter and cleaner than other liquid fuels. It's not difficult to come by. By carrying the fuel in small refillable fuel bottles, you don't have the disposal considerations you do with empty propane or butane cylinders. But unlike appliances that use those fuels, you do need to fill liquid-fuel appliances. And for steady output, they need to be pumped occasionally to maintain pressure within the fuel tank.
Shelf Life of Coleman® Fuel (White Gas)
An un-opened container of Coleman® Fuel stored in a dry area with no rapid extreme changes in temperature will remain viable for five to seven years. An opened container stored in the same area will remain viable for up to two years though will be at its best if used within a year. Coleman® Propane Cylinders can be stored indefinitely in a dry area. The propane fuel inside the cylinder will not break down.
Unleaded Gasoline
Coleman DualFuel™ appliances are made to accommodate automobile fuel. Coleman's modified valving even allows for differences between summer and winter blends. Personally (just an opinion) I would not recommend using unleaded gas in your dual burner stove as your normal 'go to' fuel. Rather, use it in an emergency when you don't have Coleman fuel. Obviously, be very aware of the dangers while using such fuels and flame… I do know that some people use this regularly without issue…
Propane
More campers use this fuel than any other, probably because of convenience and ease of use. No pouring. No priming. Just attach the fuel cylinder to the appliance and you're in business. Coleman equipment is pressure-regulated at 15 psi (pounds per square inch) to ensure steady output throughout the life of the cylinder. Propane offers great overall reliability, but be aware that it operates less effectively at subfreezing temperatures than liquid fuels. Cold will cause a pressure drop in the cylinder and output will diminish as a result. If you tend to set up camp and stay for days or weeks, investing in a refillable bulk tank will significantly reduce the overall cost of fuel.