Best Manual Hand Grain Mill Choices For Milling Wheat Into Flour
I'm going to give you a recommendation for the best manual hand grain mill. Actually, I'll provide three recommendations, each in different price ranges.
Mrs. J and I began milling wheat into flour a long time ago. Since we're also into preparedness and wanted one with ultimate reliability, we purchased what we believe to be one of the best hand grain mill choices out there (in addition to our electric one, referenced below).
Given my research, I thought I would present this, and several other models for others who may be looking for one.
[ Editors note: This post has been updated and republished to reflect current information and hand grain mill availability. ]
Most people use them to grind grain (wheat berries) into flour. That's what we do.. Wheat berries store well for a very long time. And that, coupled with a grain mill, goes 'hand in hand' towards a bit of self reliance.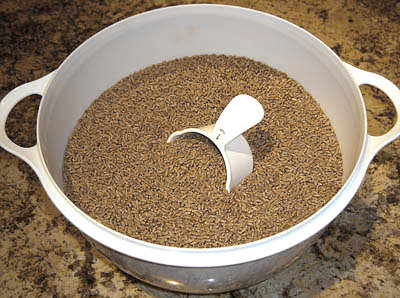 "Why in the world would I want to do all that work by hand with a manual grain mill, if I could just use an electric mill instead?"
Answer: For preparedness sake! No electricity? No problem!
Learning to use a hand grain mill to grind wheat berries into flour (the most popular use) is a rewarding process. It's for the preparedness-minded, or anyone who's interested in making their own healthy bread from scratch!
There are quite a range of prices for various hand grain mills. The question is, what's the right one for you?
Here are three recommendations. The first one is very expensive (for good reasons), while the others are perhaps a bit more affordable, yet good choices.
Manual Hand Mill | Best Grain Mill?
I am going to start with what many consider to be the best manual hand grain mill on the planet. Well, one of the best… It sure is popular. And it sure is expensive! I purchased this one many years ago. It will most certainly outlive me. It provides peace-of-mind knowing that it's a rugged kitchen tool / appliance that's not going to break!
Country Living Hand Grain Flour Mill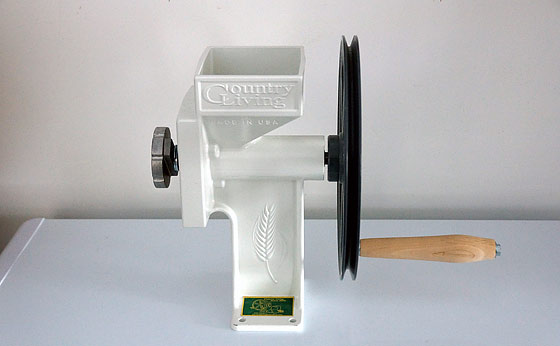 Country Living Hand Grain Flour Mill
(view on amzn)
Among the top-of-the-line hand grain mills on the market is this one, the Country Living Hand Grain Flour Mill.
Looking for more than a common emergency mill, one that's suitable for long-term use? This one will literally last generations, and is built heavy duty with the highest quality.
You get what you pay for. It is very pricey (now it's over $600 as of this update!). But it's one of the best hand grain mills out there in my opinion… I can personally attest to its quality of materials and durability. It's heirloom quality that may pass down for generations.
Made of solid, cast aircraft aluminum
Made entirely in the USA
FDA Approved Food Grade Powder Coating
Double Sealed Industrial Grade Ball Bearings
Cast Iron V-Groove Flywheel
High Carbon Steel Grinding Plates
Adjustable – From Cracked Grain to Cake Flour
LIFETIME WARRANTY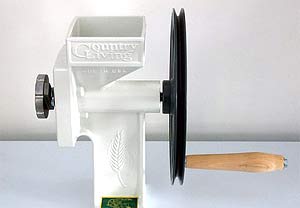 Quality Materials
If you will be using a grain mill frequently, then it will be especially important to choose quality construction that will hold up to the test of usage and time.
Many of the 'cheap' hand grain mills have reviews that indicate problems of one thing or another after a relatively short period of time. This may or may not be an issue depending on your intended usage.
The phrase, "you get what you pay for", is often true! Unfortunately it means paying a higher price to get a product that's very good, and even more money for a product considered to be "great!".
Grind To A Fine Flour
If you will be milling wheat (wheat berries) to make flour for bread, you will want to be sure that the grain mill will grind the wheat berries into fine flour.
[ Read: Why You Should Mill Your Own Flour From Wheat Berries ]
Can you grind wheat with a manual hand grain mill into fine flour?
Fine flour depends on the grain mill and the grinder setting. You can also choose to grind it over again until you get the flour as fine as you wish. On each pass, tighten the grind adjustment a bit more – to a level to where you can still turn the wheel comfortably.
Grinding / milling your own flour is 'work' (your hand and arm cranking round-and-round). It does take a little while to process wheat berries into flour. Some mills are better at it than others. However the results will be unbelievably delicious and healthy!
Many cheaper hand flour mills are inadequate when it comes to grinding to a fine consistency, although many claim that they do. Read the product reviews and they will usually reveal the 'real world' experiences and results from people who have used them.
Regarding the Country Living hand mill, one reviewer said, "After 7 years, this mill still works perfectly. While very pricey, this thing is built like a tank, and performs perfectly. This will be the last grinder you will ever need." They're absolutely right about that…
My preference is to mount it directly to a dedicated table. However, a table clamp for the Country Living hand grain mill works too..
Table Clamp Accessory, Heavy Duty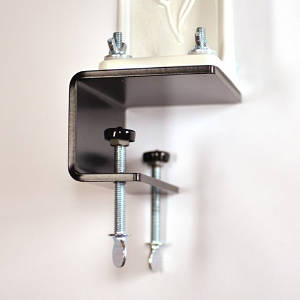 You may also be interested in the extension handle accessory. I don't have one, but logic dictates that it will enable more efficient use of your hand crank energy 'elbow grease' delivered to the mill. Though the turning radius will be slightly greater..
Extension Handle
(amzn)

Wonder Junior Deluxe by Wondermill Hand Grain Mill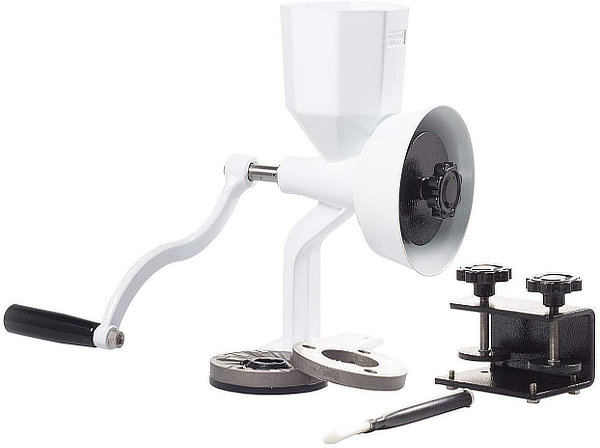 Wonder Junior Deluxe by Wondermill
(view on amzn)
This manual hand grain mill is a quality choice and is very popular.
Photo of their most current model (red)…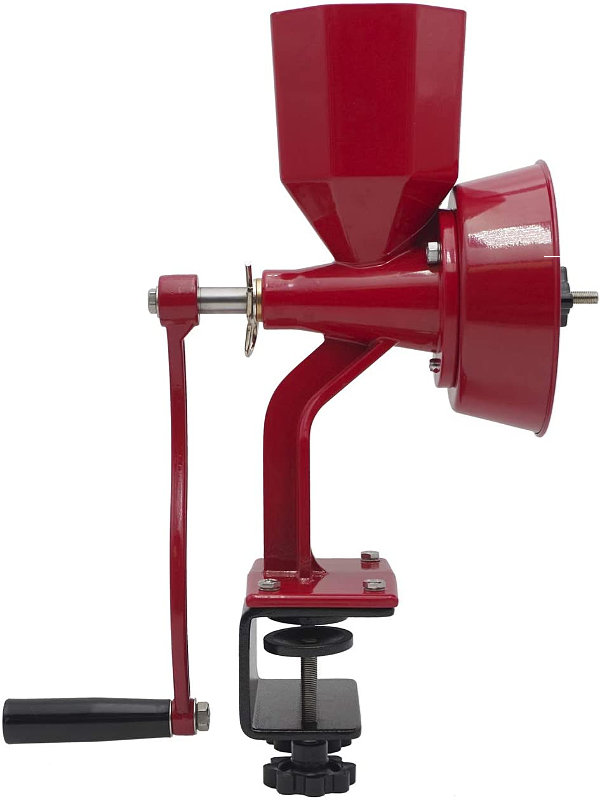 It may be the best mix of value for quality and price. This hand mill comes with stone heads and stainless steel burr heads to accommodate different conditions. And it will grind fine flour (and everything else) without issue.
It is heavy duty. It will grind "almost all grains, seeds, beans, and nuts". Comes with both the Standard Auger and a Masa/Nut Butter Auger (can you say, "homemade peanut butter"?!
A locking adjustment knob lets you set ultra-fine flour all the way to a super coarse cracked grain setting.
It's pricey though (~ $300+), as of this update. But will no doubt hold up to more heavy use. Fortunately it does have a limited lifetime warranty, should anything go wrong (peace of mind).
I don't have this one (I have the Country Living model shown above). However, I would not hesitate to purchase this model hand grain mill – given one's budget. Here's what one reviewer said..
Nicely built one-piece feed funnel. No cracks between sheet metal parts where grain can stick.
Very secure clamp for bolting to table. Option to bolt directly to table without clamp.
Good quality flour from stone burrs, two passes.
Crank turns smoothly and feels as if it will last.
Burr plates clean easily with a toothbrush.
If you're wondering where the Wondermill Junior Deluxe is made, it's made in India.
Deluxe Hand Crank Grain Mill

– Now Named "Roots & Branches"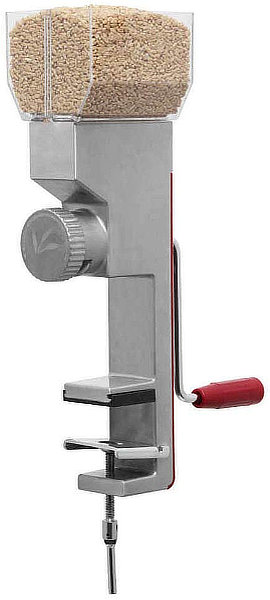 UPDATED VERSION:
Deluxe Hand Crank Grain Mill
(view on amzn)
It seems that nearly every manual hand grain mill priced around $50 has generally poor reviews. Personally, I wouldn't bother with any of them. However spending just a little bit more (~ closer to$100) as of this writing, will get you a much better budget grain mill, like the one shown above.
If my budget was a hundred bucks, I would get this one.
The "Deluxe Hand Grain Mill" (VKP1024) has a decent size hopper, an adjustable knob for coarse-to-fine grind, replaceable milling cone, and table clamp.
This one is a step above being "entry level". Although I don't own this model, people seem to like it. Probably just fine for occasional use.
Checking the most recent reviews as of this update, a few read as follows..
I only use this product to grind my wheat berries. It does a beautiful job and I use it every week. 
 We use it to grind hard red spring wheat for making cracked wheat porridge and have also used it to make small amounts of stone ground flour. It's a bit small but works well for our purposes.
This mill works perfectly. It's is extremely simple, relatively easy to crank, small and sturdy.
FYI, the product is made in Taiwan.
For those who may be interested in an electric grain mill, Mrs. J and I have been using this one for years and have been very happy with it:
NutriMill High Speed Grain Mill
(view on amzn)
[ Read: An Electric Flour Mill For Your Own Homemade Breads ]
[ Read: Wheat Berries | Varieties: Hard, Red, White, Soft ? ]