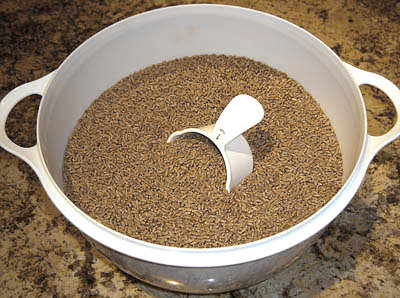 (UPDATED)
Hand Flour Mill | Best Hand Grain Mill?
I will recommend three hand flour mill's. One is primarily for low use. The other two are for moderate to heavy use. And yes, those two cost more. Especially the last one (though it will probably outlive you ;) ).
Shortcuts / jump to section:
(Maybe the best lower cost hand flour mill)
(A very popular heavy duty hand flour mill)
(One of the best hand grain mills)
Acquiring (and learning to use) a hand grain (flour) mill is a rewarding process. It's for the preparedness-minded person, someone who may be into self-reliance, or anyone who's interested in making their own healthy bread from scratch!
There's quite a range of prices for various hand grain mills (flour mills) and it may seem challenging to choose one that's right for you.
Grind To A Fine Flour
If you will be milling wheat (wheat berries) to make flour for bread, you will want to be sure that the grain mill (flour mill) will grind the wheat berries into fine flour.
Grinding / milling your own flour is 'work' and it takes awhile to process the wheat berries into flour. Some are better at it than others. However the results will be unbelievably delicious and healthy.
Many cheaper hand flour mills are inadequate when it comes to grinding to a fine consistency, although many claim that they do. Read the product reviews and they will usually reveal the "real world" experiences and results.
Quality Materials
If you will be using the mill frequently, then it will be important to choose quality construction that will hold up to the test of usage and time. Many of the cheaper hand grain mills have reviews that indicate problems of one variety or another after a relatively short time.
The phrase, "you get what you pay for", is often true! Unfortunately it means paying a higher price to get a product that's "good", and even more money for a product considered to be "excellent".
Best Lower Cost Hand Flour Mill?
Deluxe Hand Crank Grain Mill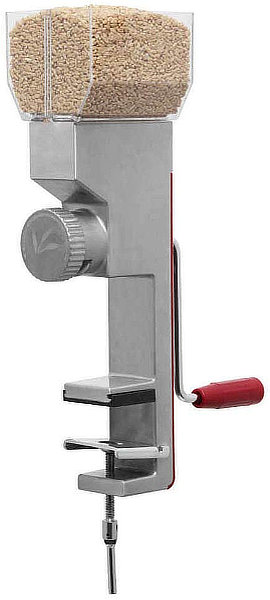 Deluxe Hand Crank Grain Mill
(view on amzn)
It seems that nearly every hand grain mill priced around $50 has generally poor reviews. Personally, I wouldn't bother with any of them. However spending just a little bit more (~ closer to$100), as of this writing, will get you a much better product.
The "Deluxe Hand Grain Mill" (VKP1024) has a decent size hopper, an adjustable knob for coarse-to-fine grind, replaceable milling cone, table clamp, and optional electric motor add-on.
This one is a step above being "entry level". Although I don't own this model, people seem to like it. Probably just fine for occasional use.
Most Popular Heavy Duty Hand Flour Mill
Wonder Junior Deluxe by Wondermill Hand Grain Mill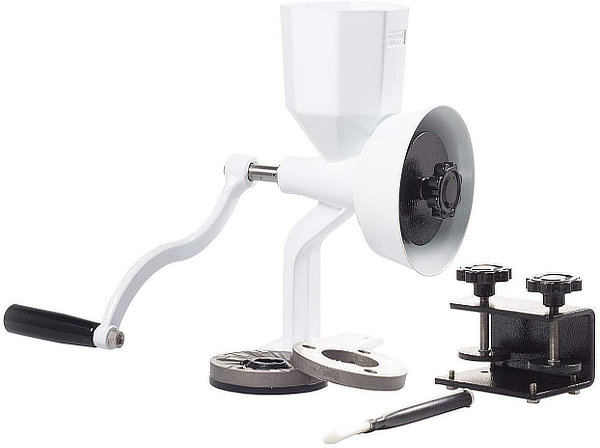 Wonder Junior Deluxe by Wondermill
(view on amzn)
This hand grain mill is a quality choice and is very popular.
It may be the best mix of value for quality and price. This hand flour mill comes with stone heads and stainless steel burr heads to accommodate different conditions. And it will grind fine flour (and everything else) without issue.
It is heavy duty. It will grind "almost all grains, seeds, beans, and nuts". Comes with both the Standard Auger and a Masa/Nut Butter Auger (can you say, "homemade peanut butter"?!
A locking adjustment knob lets you set ultra-fine flour all the way to a super coarse cracked grain setting.
It's pricey though (~ $250), as of this writing. But will no doubt hold up to more heavy use. Fortunately it does have a limited lifetime warranty, should anything go wrong (peace of mind).
One Of The Best Hand Flour Mills
Country Living Hand Grain Flour Mill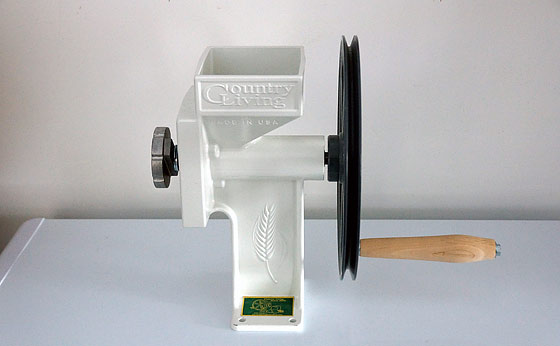 Country Living Hand Grain Flour Mill
(view on amzn)
Among the top-of-the-line hand grain mills on the market is this one, the Country Living Hand Grain Flour Mill.
It will literally last generations and is built with the highest quality. It is very pricey (~ $450), as of this writing. But it's one of the best hand grain mills out there in my opinion… I can personally attest to its durability.
– Made of solid, cast aircraft aluminum – Made entirely in the USA
– FDA Approved Food Grade Powder Coating
– Double Sealed Industrial Grade Ball Bearings
– Cast Iron V-Groove Flywheel / High Carbon Steel Grinding Plates
– Adjustable – From Cracked Grain to Cake Flour – LIFETIME WARRANTY
This is mine. I bought it years ago. Love it: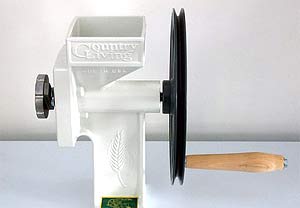 For those who are also interested in an electric grain mill, we have been using this one for years and have been very happy with it:
NutriMill High Speed Grain Mill
Continue Reading: An Electric Flour Mill For Your Own Homemade Breads
Wheat Berries | Varieties: Hard, Red, White, Soft ?
(This post has been updated to reflect current information. There are lots of great comments below.)