Study: How Much Cacao Powder Per Day
A study reveals how much cacao powder per day which may help keep memory loss away.
A report in the journal 'Nature Neuroscience' reveals the following…
A test group of volunteers aged from 50 to 69 consumed a daily cup of cocoa*
(not just any cocoa – details below).
"after three months had the memory of a typical 30- or 40-year-old."
The study revealed that cocoa contains ingredients that (apparently) help reverse age-related memory decline…
But it's not just any cocoa:
Columbia University Medical Center scientists published (2014) results of a dietary experiment (the effects of flavanols extracted from cocoa beans) on the aging human brain (sources below).
The results were remarkable.
900 mg of flavanols
(Equivalent quantity estimate below)
A group of 37 healthy volunteers aged from 50 to 69 were randomly divided in two. Each day for three months, they had a specially-prepared cocoa drink. One group consumed the drink with 900mg of flavanols, and the other with only 10mg of these compounds.
For those who consumed the high-cocoa-flavanol drink, "If a participant had the memory of a typical 60-year-old at the beginning of the study, after three months that person on average had the memory of a typical 30- or 40-year-old," said senior author, Scott Small.
Processing Raw Cocoa, or 'Cacao' vs. The Benefits Of Flavanols
A cocoa flavanol-containing test drink was produced for the study. It was prepared specifically using a proprietary process to extract flavanols from cocoa beans.
Most modern commercial methods of processing cocoa remove many of the beneficial flavanols found in the raw plant. Whereas other specific (cold) processing do not.
One such (cold) pressed 'Cacao powder' with beneficial flavanols intact:
Navitas Organics Cacao Powder
(view on amzn)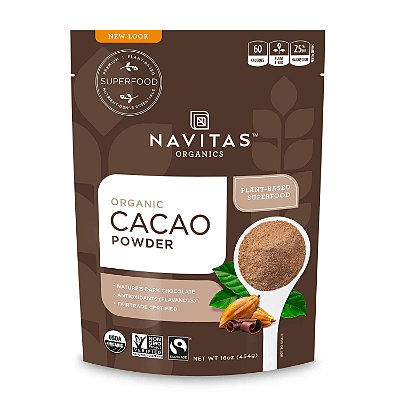 How Much Cacao Powder Per Day
2-Tablespoons of this particular Cacao Powder is apparently equivalent to 900mg flavanoids according to the manufacturer (see data source below). You might do your own research, but this is my estimation…
Chocolate or Cocoa comes from the cacao bean (pronounced, cah-cow). They are the dried seeds of a South American evergreen tree (Theobroma cacao). It is also referred to as the cocoa bean.
Pure organic cocoa powder that has not been roasted or processed at high temperatures have the highest levels of flavanols and ORAC antioxidant power.
Must Be Cold Processed
One major reason why flavanols found in cocoa powder are often removed from commercial cocoa is because they tend to have a bitter taste (people like 'sweet' things). Unfortunately this process removes an apparent major health benefit…
I have been purchasing the following organic raw cocoa for many years… It's not your typical processed 'sweet' cocoa. Instead, it is cold-press processed from the bean rather than a heat process. I've learned to enjoy the unique taste, especially in a few of Mrs.J's recipe drinks.
Cacao Powder Peanut Butter Cup Protein Smoothie Recipe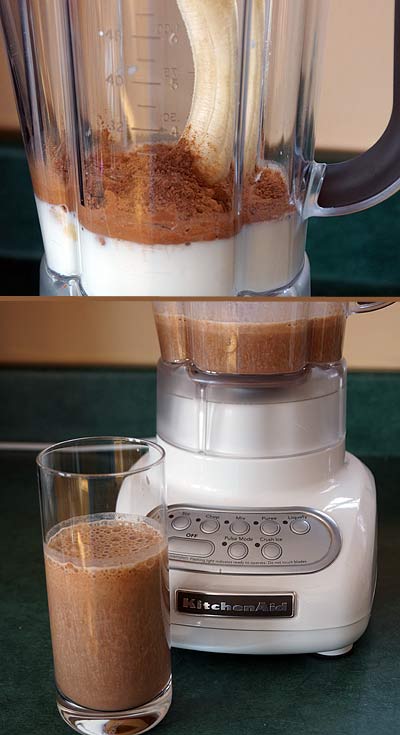 1 cup unsweetened almond milk
1 cup butternut squash (frozen)
Banana (or 1/2 banana)
2 or 4 tablespoons peanut powder (preference to taste)
3 tablespoons unsweetened cacao powder
Mix in blender.
(vary it however you like ;) )
Note: Apparently, to preserve the quality of raw cacao, it should not be heated above 110 degrees. Boiled water should be cooled to that temperature before adding the cacao (for making a 'hot chocolate' for example). This is why I like the cold 'smoothie'…
I asked Navitus Naturals about Flavanoid Levels
UPDATE: I have contacted Navitus Naturals and asked them regarding the flavanoid levels in their cold-pressed cocoa powder. This is their response:
Thank you for contacting us and for your question about flavanols in our Cacao products.

Flavanols are a sub-category of the major antioxidant category of flavonoids. Navitas Naturals uses a third party lab to test for the flavonoid content of our Cacao products.

Cacao Powder: 11% (Serving size of 14g = 1540 mg of flavonoids)

Cacao Beans: 6.8% (Serving size of 28g = 1904 mg of flavonoids)

Cacao Nibs: 3.4% (Serving size of 28g = 952 mg of flavonoids)
The author has no affiliation with Navitus Naturals..
In my estimation how much cacao powder per day = 2 Tablespoons
I have calculated (using my digital scale) the equivalent amount of their Cacao Powder to apparently equate to 900mg of flavanoids (used in the study above) and is as follows:
2 Tablespoons Cacao Powder = 900mg flavanoids
14g = 1540mg (flavanoids)
8.2g = 900mg (flavanoids)
(1 Tablespoon cacao powder weighs 4g)
Cadmium levels in Cocao?
Cacao is grown in Peru where there is a higher level of volcanic ash content in the soil, which makes the product especially nutrient rich and may also cause higher levels of some naturally occurring elements, like Cadmium.
A statement from Navitus Naturals regarding Cadmium:
Cadmium can also result from man-made sources like fertilizers, but fortunately our organic products are not grown with artificial fertilizers.

The amount of cadmium in foods is generally low. In the United States, people typically eat 2.5 micrograms of cadmium per kilogram of their body weight per week.

The EU recommended daily limit is 2.5 micrograms per kg body weight per week which for a 150 pound person translates to 170 micrograms per week or 24 micrograms per day.

One serving of our Organic Cacao Powder was well below the current EU daily limit for an average sized adult.

Many foods have trace levels of cadmium, including meats, grains (especially rice), vegetables (especially leafy greens) and sunflower seeds.

The Children's Food Project report of the Canadian Food Inspection Agency found cadmium in 57% of the foods tested. The highest level of cadmium was found in breakfast cereal at .284 ppm. Ninety-seven percent of the nut-based products contained cadmium with an average of 0.053 ppm. Health Canada did not consider that any of the tested foods represented a concern to human health with respect to the cadmium levels.

If you are concerned about your cadmium levels, ask your health care provider.
 [ Read: Top 100 ORAC Value Antioxidant Foods ]
Sources include:
Dietary flavanols reverse age-related memory decline
Enhancing dentate gyrus function with dietary flavanols improves cognition in older adults