The Estate Sale: A Good Prepping Venue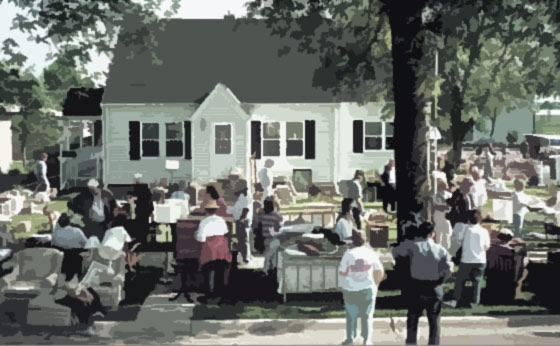 While you go about your prepping, and/or are simply living frugal and on the lookout for tangible value, you will often find treasures at an estate sale.


An estate sale, unlike a garage sale or flea market, is a setting where 'everything must go'.
It is an estate liquidation sale or sometimes auction, to dispose of a substantial portion of the materials on the premises usually due to the death of the property owner.
While the unfortunate reality resulting in the necessity for an estate sale is usually a sad thing (although there are those which result from moving to another location), the fact is that you will be helping the family and putting to good use the items which may have otherwise been discarded.
Usually at a garage sale, people are selling, well, their old junk. Once in a while you can find a bargain, but it's generally the old stuff that's falling apart. At flea markets, again, the bargains are not that popular. After all, at flea markets, the vendors are in it to make some money. It is a way of life for many of these people.
However at an estate sale you are likely to find better items, a wide selection of things, and often some very valuable bargains.
The estate sale is also THE place to get hand-operated tools- drills, meat and grain grinders and other food mills, food processors, steamer-juicers, nut-crackers, axes, saws, canning supplies, and many other high-quality goods – ideal for preppers.
Estate sales will usually have much nicer things for sale at very reasonable prices. And because most of the homeowners were elderly, your chances are pretty high of finding older and antique items – many of which are very practical things that preppers are looking for. Not only that, but you will almost always benefit from buying an older item since it was probably made a LOT better than the most of the stuff that's made today.
Not only will you be able to find quality items at a great price, but you can also walk away with a great prepping idea by something you saw at the sale.
Going to an estate sale is a great way to expand your prepping supplies at reasonable prices…so have fun and explore!

What has been your experience with estate sales?