The Snow On Your Roof Weighs 7 To 20 Pounds Per Cubic Foot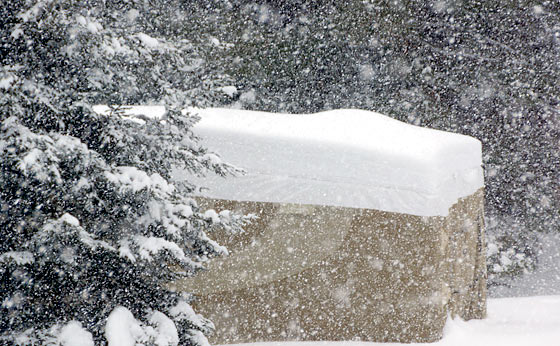 2015 has brought 'tons' of record snow onto the roofs of buildings all across New England. The weight load of the accumulated snow on a roof is astounding, and dangerous.
Today I had the pleasure (sarcasm) of shoveling most of the snow off the roof of my 5th-wheel trailer. I should have shoveled it sooner, but it being parked not so close to the house I wasn't paying it much attention – until yesterday's snowfall – when I suddenly realized the predicament and hoped that this wasn't the 'straw' that's going to 'break its back' (or roof!).
I just calculated how many pounds of snow was probably sitting there…


With the trailer slides in, the roof dimensions are 36 feet by 8 feet (288 square feet). I estimated that about 2.5 feet of snow was on the roof. That amounts to 720 cubic feet of snow. Light fluffy snow weighs about 7 pounds per cubic foot, while heavy wet snow can weigh up to 20 pounds. I'll estimate 7 pounds per square foot in my case. So the total weight up there was about 5000 pounds! or 2.5 tons of snow on the roof! Yikes…
I am very thankful that the roof held up. What may have saved it was the fact that the roof isn't flat, but bowed – which would have been sending some of that weight load down the side frame (compared to a flat roof).
Roofs have been collapsing all around New England this winter, but if you have a camping trailer – be especially aware of the trailer roof because they are not nearly as strong as the roof on your home! Once the roof collapses, your SOL and your camper will be ruined. Don't let it happen ;)
And the snow keeps coming…

The longer you let the snow accumulate on the roof (storm after storm), the more compact it will get – and the heavier it will get (dense – especially near the bottom). I had to leave the bottom 4 to 6 inches alone as it was a mixture of ice and snow.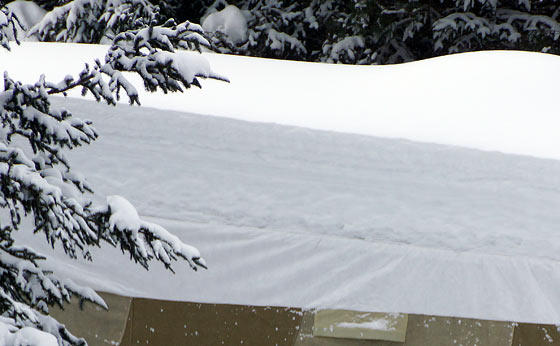 'Yours truly' shoveling in below-zero wind chill today. Thanks to Mrs.J for capturing the images from the warm cozy kitchen window.
As an aside, whenever I'm away from the house out on the property, I always take a portable GMRS 2-way radio for comms back to the house. A word of caution: if it falls into the snow, especially if you don't realize you did it, have fun finding it… I had to go back to the house and get another radio and talk into it while walking around and re-tracing my steps. I finally found it as my voice emanated from deep within a particular snow drift ;)