VITAMIN D Should Be The Public Health Message For Covid
Vitamin D is evidently exceedingly important to one's natural immune system. See the updated article link below regarding its necessity to activate one's T cells (cells that fight infection). Unfortunately the majority of Americans (and others) are woefully deficient of vitamin D in their bodies.
Dr. Ryan Cole is a board-certified dermatopathologist (AP & CP) and the CEO/Medical Director of Cole Diagnostics, one of the largest independent laboratories in the state of Idaho. He has worked as an independent pathologist since 2004.
Ackerman Academy of Dermatopathology (July 2002-June 2003): Dermatopathology Fellowship (Chief Fellow)
Mayo Clinic (July 1997-June 2002): Resident in Anatomic and Clinical Pathology
Chief Fellow, Surgical Pathology Fellowship
Medical College of Virginia (1993-1997): Researched immunology
Served as President of Student Family Practice organization
Coordinated activities and seminars on the practice of family medicine and rural medicine
Earned MD in 1997
Dr. Cole has treated 350,000 patients during his career and has performed 100,000 COVID tests this last year.
Dr. Ryan Cole on the Importance of Vitamin D for Immunity from Covid and Other Disease
Established World Data: "Normal Vitamin D levels decrease COVID system severity and risk for hospitalization by up to 90%."
I just watched the following 28 minute video message of Dr. Ryan Cole briefing a government body about the tremendous value of Vitamin D for all people, especially everyone who live above the 35th parallel.
By the way, he is NOT political about this. Rather, sticking to science and facts.
He speaks about the importance of Vitamin D for Covid, as well as other highly effective treatments. I found it quite interesting and truthful. I hope that you take the time to watch it, and spread this to others who you know.
He also touches upon the following:
That obesity decreases a body's ability to get Vitamin D circulating to stimulate the immune system (vitamin D is fat soluble).
Describes proven outpatient therapies that are being used successfully against COVID all over the world, costing pennies compared to the costs of hospital treatments done in the United States..
Insightful remarks about the development of the COVID vaccines.
He also talks about how safe and very effective Ivermectin is for treating Covid-19 and new viral variants that would arise.
I have seen the video on a few different platforms. Here's a copy from Rumble which I will embed as follows:
[ Update: T Cells Need Plenty Of Vitamin D & C For Good Fighting Immune System ]
This is what I take, daily…
D3, 5000 IU
(amzn)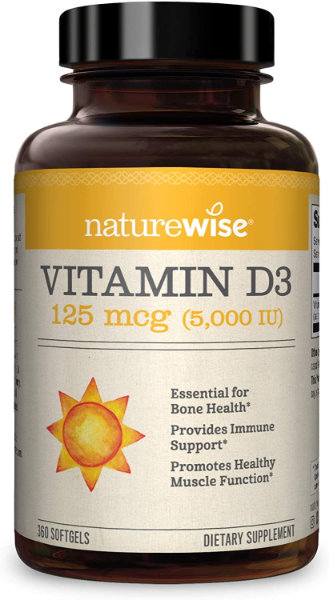 Here's an article in which I write a bit more about Vitamin D deficiency, AND which exact supplement that I take EVERY DAY…
[ Read: Winter Blues & Low Vitamin D ]
[ Read: My Vitamins Supplement List ]