Best Dehumidifier For Gun Safe – Here's What I Use…
Looking for a dehumidifier for your gun safe /cabinet? Or a dehumidifier for your regular safe? Well I can tell you what I have been using for many years, which I believe may be one of the best solutions for this issue.
Best is subjective. I have been using this particular dehumidifier (for gun safe – or any safe) for many years with great success. Here's what I like about it, and why I think it's one of the best for a medium size or larger gun safe (or any safe).
Dehumidifier For Gun Safe, Or Any Safe
Do you store firearms in a gun safe? Do you live in a humid climate? Even if you don't, you need to keep your firearms dry (common sense!).
Do you keep cash in a personal safe? Important documents? Again, you need to keep them dry! If they're sitting in there for a long time, they might get damp, or worse.
Eva-Dry Mini Dehumidifier
It is an incredibly popular 'renewable' dehumidifier. No power required (no cords) while it's in service doing its job. Renew it (dry it out) when it needs it – by simply plugging into a conventional AC outlet for awhile.
"Works for areas up to 333 cubic feet"
This is their latest model, slightly different from my original purchase years ago:
Eva-Dry (E-333)
(view on amzn)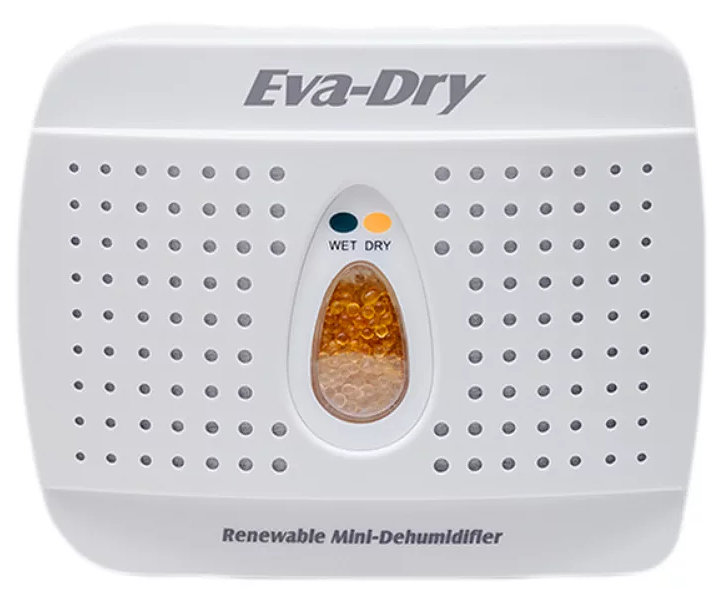 No Cords, No Batteries
You don't have to plug in this dehumidifier while in use.
Simply place the dehumidifier inside your gun safe (or any safe). It has excellent capacity to absorb moisture, and will remain active for a long time before the silica beads become fully absorbed with moisture. After which you renew it (recharge it). I'll explain in a minute…
TIP: You might also include a dial humidity gauge (hygrometer) for an accurate indication of relative humidity in your gun safe. I like the following choice:
Vault Hygrometer
(Lockdown storefront on amzn)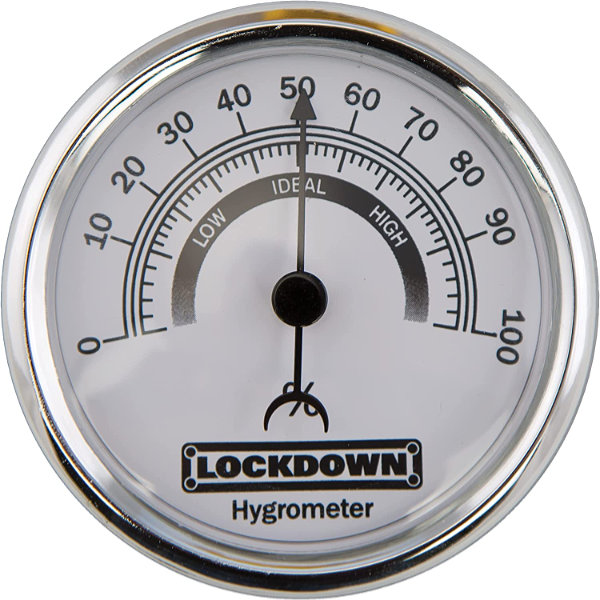 The Eva-Dry mini-Dehumidifier Moisture Gauge
The mini dehumidifier has the capacity to adsorb approximately 4 to 6 ounces of moisture out of the air.
It's super easy to know when it's time to renew the silica beads of this dehumidifier in your gun safe. Simply compare the color of the beads (viewable through a window) to that of the reference color gauge.
All you have to do is look at the color of the silica beads to know whether or not it needs to be renewed.
Eva-Dry has a newer model (pictured above) since my own purchase years ago. The following images below are slightly different from today's product. The view port is different, and the bead colors are different.
Image: Shows color of silica beads in this example they're dry (left), and the unit temporarily plugged-in while renewing (right).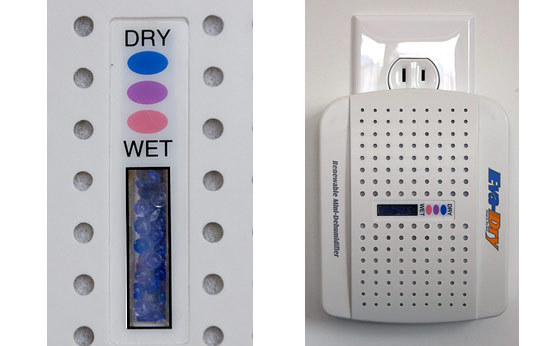 How To Renew the Silica Beads
To renew the silica beads you just plug it in to any 120-volt AC outlet.
It does not need to be plugged in, or powered, during normal operation. Instead, when it's time to renew, that's when you plug it in – to dry out the silica beads. You simply remove it from your gun safe and plug the dehumidifier into an ordinary wall outlet.
When it's plugged in, it heats up internally, which removes the moisture as the silica beads dry out. It takes about 10 hours.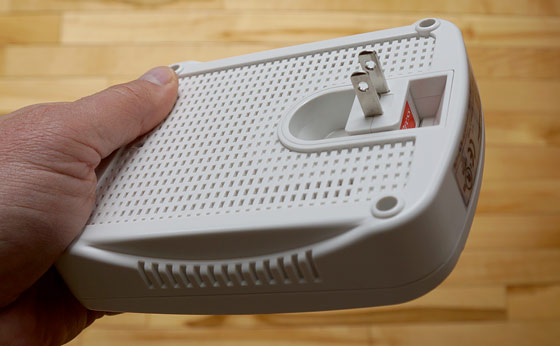 Eva-Dry mini-Dehumidifier Dimensions
The 'Eva-Dry' dehumidifier is referred to as 'mini'.
Latest model dimensions: 9 x 8.25 x 2.88 inches
Cubic Volume Absorption Of Moisture
What size dehumidifier? This dehumidifier is actually designed to work in closet size spaces.
The moisture absorption specification for this dehumidifier indicates 333 cubic feet, which is plenty for any gun safe!
A typical upright gun safe (volume – cubic feet) is much less than that. So this dehumidifier will last a long time in there before needing to be renewed.
For example, if your safe is about 5 feet tall, 2 feet wide, and a foot deep, that's only 10 cubic feet. Even a very large gun safe might only be about 30 cubic feet inside.
Here's their mini-dehumidifier which they rate at 500 cubic feet, and absorption up to 8 oz. of moisture. I don't have this one, but if you're looking for a bit more capacity:
Eva-Dry (E-500)
(amzn)
NOTE: It's common sense to lightly coat the critical surfaces of one's firearms with appropriate oil for long term storage. Taking them out once in awhile and cleaning them will likely avoid issues with humidity. However a dehumidifier provides extra insurance against such issues.