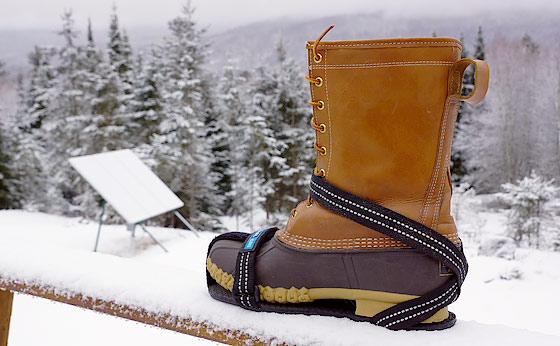 ICE CLEATS (UPDATE 1 YEAR LATER)
I felt compelled to update this "Best Ice Cleats" post 1 year later.
During the past several weeks we've been using our STABILicers quite a bit around here. We've had our annual 'January thaw' whereby some of the snow partially melts into slush and puddles, but then refreezes into a slippery mess.
I can reaffirm that these cleats have been simply, AWESOME!
UPDATE: These Crampons are THE most popular on amzn:
CRAMPONS ICE CLEATS
We've been using them for a few seasons now and they are still performing like the day we bought them! These cleats have held up to some very rigorous duty.
I had hoped that they would hold up well given their higher price compared to the typical 'cheap' ice cleats that are out there. I'm happy to report that there's no doubt these will last for a LONG TIME.
Now back to the original article originally posted JAN-2017:
(with a few updates)
I have finally found the best ice cleats for my boots! The traction provided by ice cleats on slippery ice and snow is paramount to safety and confidence while walking in bad winter weather conditions.
Ice cleats are great for use while:
– shoveling
– snow-blowing
– going out to get the mail
– putting the garbage out
– ice fishing
– taking a walk
Let me tell you something… All it takes is one fall on the ice or snow and you could break a bone, a hip, or even suffer a concussion. This is serious, so you should take it seriously. Get yourself some cleats for your boots!
Over these past winters I have tried several different types of ice cleats for my boots but have always been disappointed for one reason or another (they fall off while walking or the cleats pop off or they just don't fit well…).
Well now I can say that I have found the best ice cleats for my boots which are going to last for many winters to come. And I will wear them more often due to the ease of attaching to my boots.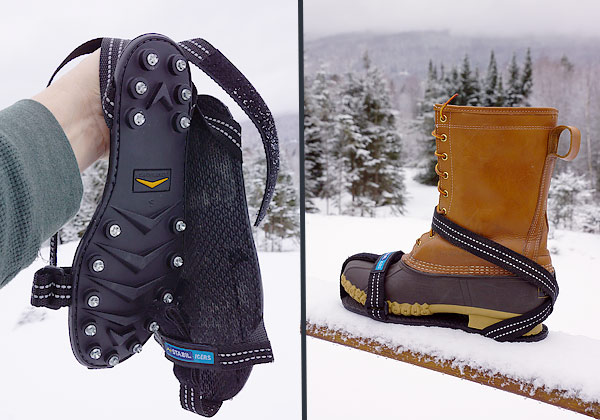 Why these are the best ice cleats
Here are the attributes of these particular cleats that I like:
Easy on, Easy off
Adjustable Velcro straps for the toe and for the heel make it very easy to get these cleats to fit. Some of my issues with other types of ice cleats include a general poor fit (rubber stretching over the boot – but never seemed to fit securely).
Once you've adjusted the Velcro toe strap you can just leave it that way. It will slip on and off your boot with ease.
What I really like is the rear Velcro strap which wraps around the heel of the boot as pictured.
Easy on, Easy off! These cleats are going to stay on the boot and not fall off!
Incredible grip on the ice
The most important job of the cleat is traction, and these cleats are great at it. You can see in the picture how rugged these cleats are, and let me tell you they grip VERY securely as you walk. These cleats do not look like they will wear out anytime soon, that's for sure…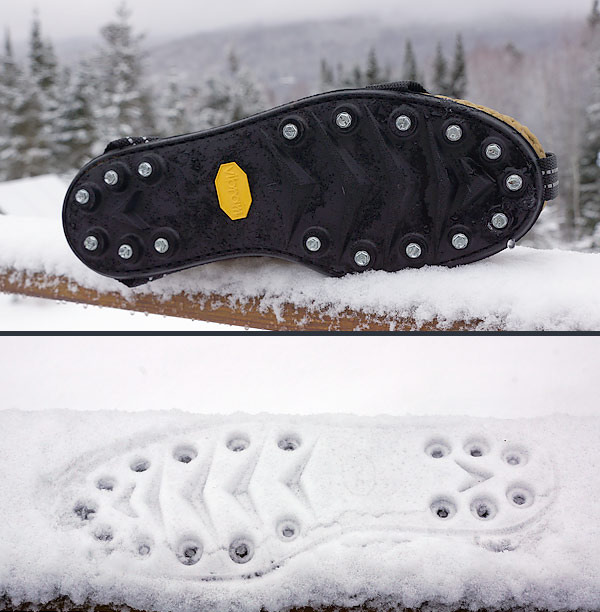 ice cleat tread pattern
Full 'Vibram' soles
Heavy duty full sole supports the boot itself.
These STABILicers use a proprietary 'Vibram' sole design which makes this boot cleat 'solid'. Unlike other ice cleats, these are designed such that the entire sole (with it's unique tread) and attached cleats are doing all the gripping work. Your boots simply are strapped to them.
Best reputation and reviews
When looking for any product it's good to read about what others are saying.

These particular ice cleats have excellent reviews:
TIP: Take ice cleats off if walking on concrete. They tend to slip and cannot gain traction on that type of surface! Common sense: remove while indoors.