Camping Gear List & Checklist of Necessary Things + Nice To Have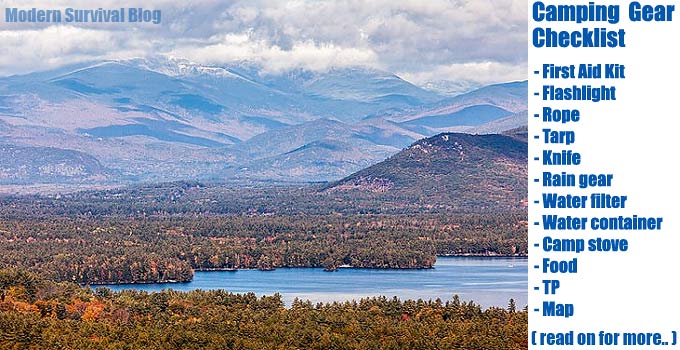 When you go camping, what gear do you take with you?
I know that some of your camping gear list choices will vary depending on what kind of camping you're doing (self contained multi-day hiking excursion vs. 'base camp'). But that's okay.
I'm curious to put together a general camping gear list, including necessary things (and also things that may not be 'necessary' but nice to have!).
Plus, regardless of whether you're tent camping or 'roughing it' in a trailer ;) there are lots of common items to take along.
When all suggestions are in, I'll make a camping gear list checklist of items to consider bringing along on a trip.
I recall Mrs.J and I making a camping gear list when we began getting into it. We ended up with an Excel spreadsheet so that we could easily tweak it. It was always reassuring to review that checklist while packing and before heading out the door!

To get things started, I'll throw out a few random suggestions. Then lets hear from you with your own camping gear suggestions. After that, I'll build a new spreadsheet and put a list together for your consumption. I'll post it in PDF format too for download.
Remember, the gear list isn't limited to just items that you may consider to be 'necessary'. Creature comforts are good too! But lets try not to forget the essentials either…
First Aid Kit
Flashlight
Headlamp
Lantern
Batteries
Rope
Knife
Backpack
Rain gear
Tent
Tent footprint
Tarp
Sleeping bags
Sleeping pads
Folding chair
Water filter
Water container
Water bottles
Camp stove
Fuel bottles, fuel
Cook pots
Plates, bowls
Cups
Spatula
Utensils
Pot scrubber, sponge
Soap
Towels
Trash bags
Lighter, matches
Firestarter / FireSteel rod
Food! (a category itself)
Coffee! (is coffee a food?)
Cooler
Toilet paper
Insect repellent
Toothbrush, toiletry kit
Maps
Compass
GPS receiver
2 way radios
Binoculars
Camera
Fishing gear
Notebook, pen/pencil
Radio
Book to read

Okay, did I whet your appetite of ideas? Let's hear from you: