Dual Use Preps – Preparedness Multipliers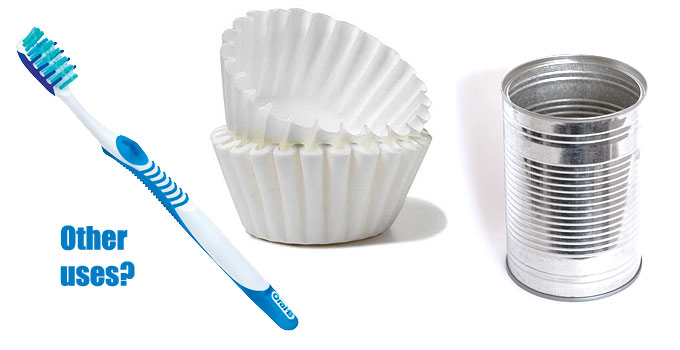 Guest Article by Bogan
The term "Dual Use" is commonly used in international politics and diplomacy to denote technology that has a civilian application but may also be used for military purposes. A crude example for illustrative purposes might be a nuclear power plant that can…oops… also be used to make atom bombs (ayatollah, anyone?). The term can also apply to a technology that can serve more than one purpose.
The concept can also be applied to the preparedness -minded. Items that can are commonly known to be used for more than one purpose. They include vinegar, baking soda and wire clothes hangars. These items have legendary utility as multipurpose commodities.
LESS OBVIOUS DUAL USE ITEMS YOU CAN BUY
However, there are other less obvious items – household items – that can be considered dual (or multi!) purpose for the preparedness minded. But for MSB and other preparedness websites, these would not necessarily be known. Some examples a person can buy for a buck or so for a packet containing multiple items include:
COFFEE FILTERS:
Primary use – filter your coffee in the morning
Dual use – filter (or prefilter) water, oil, anti freeze. Use clothes pegs to clip the filter inside of a funnel and pour slowly away. Double up if need be. Start a fire. Blow your nose.
SCOURING PADS:
Primary use – Wash your dishes
Dual use – Filter – or prefilter – for your 2 cycle gas (petrol) powered appliance
TOOTHBRUSHES:
Primary use – Keep your pearly whites gleaming
Dual use – Use to clean hard to get places in your gun, fishing gear, chainsaw, etc.
"FREE" ITEMS THAT CAN BE DUAL USE
PACKAGING from other goods:
Primary use – get the good or product safely into your house
Dual use – Cardboard can be used to soak up oil spills on your garage floor, provide dry work area to slide under your car, cushion furniture (against scratches) and items in transit (such as propane tanks to avoid a spark)
Dual use – Bubble wrap can be reused multiple times. Also has insulating qualities to cover plants or pipes.
Dual use – Open cell foam insulation can be used as filters for your lawnmower or trimmer. Cut to fit.
Dual use – Polystyrene foam board. This is the white stuff that secured your latest appliance came in. Can be used to patch insulation on your home exterior, or to rejuvenate the flotation in your boat.
TIN CANS:
Primary use – contain food and drink
Dual use – contain hardware such as nails, nuts and bolts. Patch a tailpipe (Hold in place with coathanger wire!). Use to mix paints or other chemical compounds like epoxy, either inside the can or (if for small quantities) flipped over using the shallow bottom.
NEWSPAPERS, PHONE BOOKS:
Primary use – educate and inform (that's the theory at least)
Dual use – Start a fire. Insulate a cold beverage on a long trip, or to buy time for frozen foods when the electricity goes out. Outhouse material, when the TP runs out….

The point is there are countless things that have dual – or even multiple uses. Regulars on this site probably have a treasure trove of dual use tips and tricks, perhaps less obvious and even more useful ones than the examples above.
WHAT DUAL USE "TECHNOLOGIES" DO YOU USE AS PREPAREDNESS MULTIPLIERS?
-Bogan