Loud Whistle For Your Emergency Kit
A VERY LOUD whistle may be one of the most important items to have in your emergency survival kit.
Why? Because with relatively little effort you can whistle for help. The sound of a whistle will travel a LONG WAY.
While it's highly advisable to also include (in your kit) items such as a fire starter, portable water filter, cordage, knife, emergency blanket ('space blanket'), tarp (shelter), container (water, boiling, etc.), compass & area-map, emergency food, headlamp, etc., the fact is that you might be in a situation whereby you cannot get out of yourself – and you may need to be rescued.
– twisted ankle or worse on a hike in the forest
– you get disoriented & lost while going off-trail
– out on the lake and your boat engine dies
– your car goes over the embankment, out of site, you can't get out
– (you get the idea…)
The problem is, how will first responders find you??
Here's a simple but important little prep to add to your emergency kit:
A LOUD WHISTLE !
The Loudest Whistle
(subjective of course, but this one's really loud)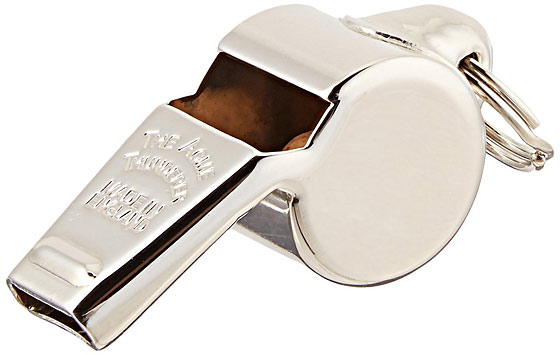 A whistle like this one, ACME Thunderer Official Referee Whistle, is very loud and will give you a significant advantage for being found during a rescue operation.
(It works at very low breath pressures.)
Here's what it sounds like:
ACME 'Thunderer' Whistle Sound

How loud is the ACME Thunderer whistle?
One reviewer said, "I used this whistle while serving as drum major for a college marching band. In a loud stadium with over 90,000 fans, this whistle can still be easily heard across the field or throughout the stands…"
(If you're lost in the woods (or any other scenario), this whistle WILL get noticed.)

Where is the ACME Whistle made?
They are made in Birmingham, UK.

Tip: A whistle on your keychain may also be a good idea! (personal security)
Tip: Especially for the ladies, having a loud whistle while running, jogging, or walking will likely break off a 'typical' attack scenario as attention is drawn toward the situation.
Tip: This whistle (and others) can be so loud that it can hurt your ears! Just saying…
HEAROS XTREME 100 Pair Foam EAR PLUGS
With NRR 32 Noise Canceling Hearing Protection
(also great for shooting hearing protection)
Tip: Good to have on a boat for 'just in case'.
Pea-Less Floating Whistle – Powerful 122 dB Signal
Another popular whistle:
Fox 40 Classic Whistle

Okay, that's it. A public service announcement ;)
Got your whistle?