Loud Whistle For Your Emergency Survival Kit
A VERY LOUD whistle may be one of the most important items to have in your emergency survival kit. What's the loudest? Well lets have a look.
Why is a loud whistle a good idea for an emergency kit? Because with relatively little effort you can whistle for help. The sound of a whistle will travel a LONG WAY compared to a shouting voice.
While it's highly advisable to also include (in your kit) items such as a fire starter, portable water filter, cordage, knife, emergency blanket ('space blanket'), tarp (shelter), container (water, boiling, etc.), compass & area-map, emergency food, headlamp, etc., the fact is that you might be in a situation whereby you cannot get out yourself – and you may need to be rescued.
Examples of when you might need a whistle for help
twisted ankle or worse during a hike in the forest
you get disoriented & lost while going off-trail
out on the lake and your boat engine dies
your boat sinks!
your car goes over the embankment, out of site, you can't get out
(you get the idea…)
The problem is, how will first responders find you??
Here's a simple but important little prep to add to your emergency kit:
A LOUD WHISTLE !
The Loudest Whistle?
It is somewhat subjective of course. There are lots of loud whistles. Some whistle makers do list their specifications in decibels. Here are several to consider.
ACME Thunderer Official Referee Whistle
(amzn)
I have this one. I believe it's the original sports whistle. Bought it some time ago. It is very loud, and will give you a significant advantage at being found during a rescue operation. There are louder one's, but this is one of the originals.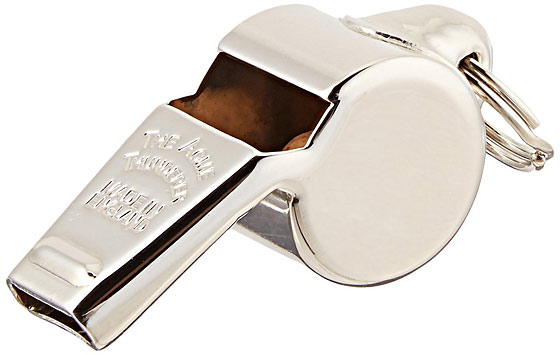 "It is the best whistle I have ever owned. It's worth every penny I paid for it. In the high-school gym it will make all the kids scream and put their hands over their ears, when given a hard blow. Teachers have been told to only blow softly because of this, because it hurts your ears pretty well. It is made from stainless steel and the construction quality and polished finish is Excellent. It is a lifetime item, and would be perfect for survival purposes in a 72 hour kit or preppers bag."

said a reviewer
Here's what it sounds like (careful, it's loud),
ACME 'Thunderer' Whistle Sound
How loud is the ACME Thunderer whistle?
One reviewer said, "I used this whistle while serving as drum major for a college marching band. In a loud stadium with over 90,000 fans, this whistle can still be easily heard across the field or throughout the stands…"
This particular model (ACME Thunderer 60.5) evidently will produce a sound level of 60.5 decibels (dB), one-third mile away.
(If you're lost in the woods (or any other scenario), this whistle WILL get noticed.)
Where is the ACME Whistle made?
They are made in Birmingham, UK.

Tips:
These can be LOUD. Block your ears while whistling for help. Avoid ear damage.
A whistle on your keychain may also be a good idea! (personal security).
Personal Security Whistle. Especially for the ladies, having a loud whistle while running, jogging, or walking will likely break off a 'typical' attack scenario as attention is drawn toward the situation.
"I've seen many examples of women escaping assaults by their being able to draw attention to their dilemma by screaming, blowing a horn, activating a personal siren (once quite popular), as well as using the tried and true "police whistle". All legal in any setting, especially when in distress."

~ said Dennis the LEO on Modern Survival Blog
This whistle (and others) can be so loud that it can hurt your ears! Just saying…
Good to have on a boat for 'just in case'.
Other Loud Whistles
The Fox 40 classic
Another popular whistle. Made in the USA. It's the one they use in the NFL. A 3-chamber pealess design, it produces an amazing 115 dB at the whistle.
Fox 40 Classic Whistle
(amzn)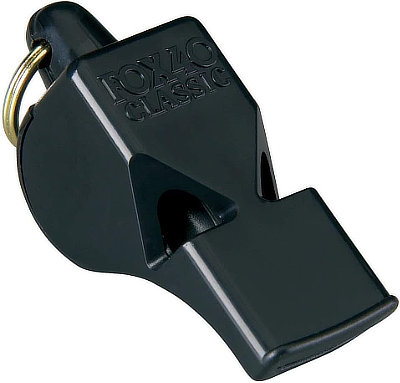 LuxoGear Emergency Whistle with Lanyard
I like this one, purposed as a Safety Whistle. Mrs.J and I have Kayaks, and we go out when we can during the warmer months. This one is perfect for a Kayak life vest jacket and/or lanyard around your neck. Boating. Fishing. Camping. Hiking. Hunting. Rescue Signaling. Lifeguard…
LuxoGear with Lanyard
(amzn)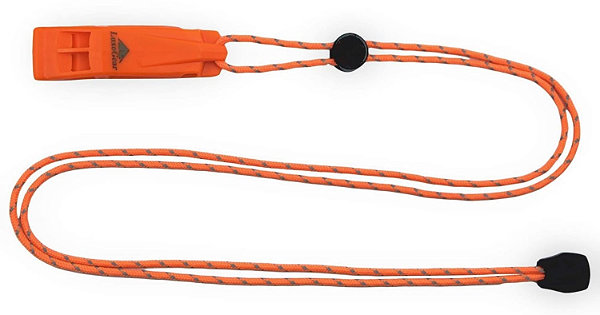 There are a bazillion brands and models. My point is, it's a great add-on for one's emergency survival kit, and has many practical uses.