Propper Tactical Pants Lightweight For Summer – Wear Them All Day
I have been wearing Propper tactical pants for 9 years and counting. Propper is a particular brand which I originally researched years ago which had all of the functionality that I was looking for. I still find them to be one of the best.
For many years I've rarely worn any other type of pants. While others may think I'm boring in this regard, they're perfect so there's no reason to change my style ;)
One of the many reasons that I like them is they have lightweight and heavyweight pants for both summer and winter. I've recently switched over to my summer tactical pants so I thought I would post about why I like them:
Propper Men's Lightweight Tactical Pants, Earth
Propper Tactical Pants: FEATURES THAT I LIKE
– Pockets and their functionality
– Lightweight for summer
– Extra large belt loops (IWB or OWB carry belts)
– 65% polyester / 35% cotton (great combination for comfort)
– Teflon fabric protector (very difficult to stain these pants)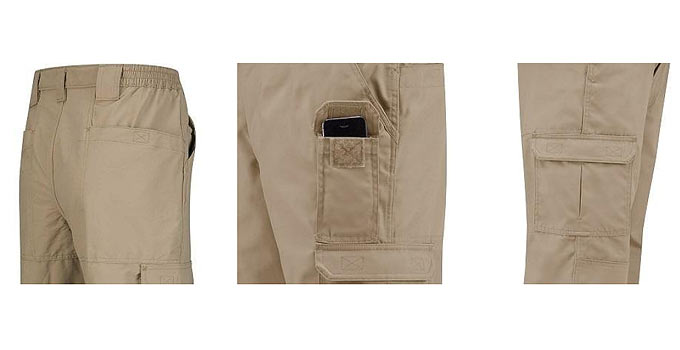 POCKETS
The functionality of their pockets has been perfect for me. This is a big reason that I wear the Propper tactical pants brand.
The left and right leg pockets (above the knees) are perfect. They're deep enough (without being ridiculously deep) and wide enough to keep plenty of 'stuff' inside.
My wallet fits perfectly in one of these pockets. I often keep a small notebook and pen in the other. My keys will drop in too. I can even fit my iPad mini in there with the flap open.
I utilize the Velcro flaps that fold over these pockets in two different ways:
1. Fold over the pocket and the Velcro mesh securely holds contents.
2. Fold the flap inside which exposes the pocket contents for easy quick access.
Note: If you're in a situation where you're concerned about the velcro 'rip' noise when opening, and if you'll be accessing contents under this condition, fold the flap inside so pocket contents remain exposed. Obviously though contents may fall out when sitting – depending on what it is. I personally have not had issues with stuff falling out when I sit.
The pocket above the left leg deep pocket is perfect for my cell phone and/or an extra mag (which may also fit inside a left/right leg pocket).
The primary left & right hand pockets (up at the belt line) are deep enough. The right pocket has a separator down inside which holds my little pocket knife perfectly.
The left & right butt pockets are DEEP. There's an additional flap inside the left butt cheek pocket for a wallet, but I don't like carrying my wallet there (and sitting on it). I can even fit a big old maglight in one of these pockets (with the risk of pants falling down without a good belt!)
Lightweight but Heavy Duty and Comfortable
I really like the stretchy waistband segment. This makes it very comfortable sitting versus standing, etc.. Also the stretchy waistband greatly assists in the wearability of an IWB holster (you might consider getting an extra waist size bigger for this).
Durability. These tactical pants, even the lightweight summer pants, are VERY DURABLE.
Reinforced knee. I don't know how they do it, but the knees hold up well. I've spent a fair amount of time with knees on the ground and they're holding up well.
I don't get too hot in them. They apparently breathe enough and they're 'relaxed' enough (not tight on the legs) that I don't get too hot in the summer.
Other Attributes
– There's a small D-link at the belt line if you want to clip on keys or other tool.
– They don't shrink.
– They are surprisingly wrinkle resistant.

Well there you have it. This is what I wear.
Check it out:
Propper Lightweight Tactical Pants, Earth