A tactical flashlight is one that can be used along with a firearm to assist in low light target identification, allowing aiming and illumination of the target at the same time. Tactical lights can be handheld or mounted to the weapon with the light beam parallel to the bore. Tactical flashlights also serve as a means of non-lethal force, used to temporarily blind or disorient targets, and may include design features for blunt force.
The features associated with tactical flashlights include shock resistance, reliability, lightweight and powerful batteries, and high light intensity. The light is typically activated by a push-button switch which may include momentary contacts and may switch various levels of intensity. Tactical lights may have optional filters to produce colored light. They often come with the ability to attach a lanyard – allowing the light to be secured to the hand holding it; this allows the light to be dropped if the hand is needed (for a magazine change, for example) and quickly retrieved.
Tactical flashlights have become popular for more than just gun enthusiasts. Their compact design and feature set is beneficial in many ways for other applications including camping, backpacking, survival kits, in the car or around the home. They are typically better designed and built than ordinary traditional flashlights.
Lithium batteries are commonly used with tactical lights, because of their long shelf life, high energy, better cold weather performance, and gradual voltage decay over the battery's lifetime. Rechargeable batteries, such as low-self-discharge NiMH, are economical solutions for lights with heavy usage.
Many tactical flashlight bulbs are now the recently developed high-power LEDs which are brighter and more efficient than comparable xenon-filled incandescent lamps used in the past. A very important benefit, LED bulbs are not subject to filament breakage due to the shot recoil of a firearm or from dropping. LEDs also provide maximum battery life due to their energy efficiency.
Weapon mounted lights are most commonly seen on rifles and shotguns, but they are becoming more common on handguns as well. These lights are often a lot more expensive than ordinary handheld lights, since they must withstand the recoil of the firearm, and the dedicated mounting hardware also adds to the price. One downside of the weapon mounted light is that it is always aimed parallel to the bore, so illuminating an object means that it is also targeted. Some tactical light manufacturers make specific lights for specific firearms. Many modern firearms are now incorporating 'Picatinny rail' systems, allowing any appropriately sized Picatinny compatible system to be attached.
On Amazon, the most popular LED tactical flashlight for under $25 is the Nebo Redline Tactical Flashlight. This compact flashlight, 4 3/8 inches long and 1 3/8 inches in diameter, puts out 220 lumens of white light and has 5 modes including 3 choices of light levels. Although the light isn't a true tactical in pure form, it's physical style and some of it's features land it in that category.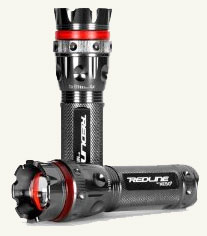 The most popular LED tactical light between $25 and $50 is the Streamlight ProTac 2L Professional Tactical. The best part is the switching system. You switch between modes using just the pushbutton on/off click switch in the tailcap. At 4.68 inches long, 0.90 inch at its largest diameter, it's lightweight and small enough to not be bothersome when carrying and the pouch that is included is well made.

Between $50 and $100 is the most popular UTG 2-in-1 Tactical LED Flashlight with Red Laser. It includes a 16-position adjustable, removable, red laser. The flashlight has a tail push-button momentary switch and end cap twist-on switch, while the laser has an ambidextrous push-button switch. An integrated clamp-on mounting deck fits most tactical pistols and firearms with or without rail slots.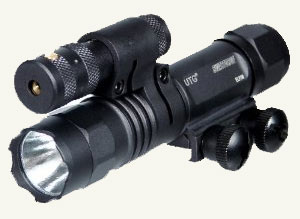 There are hundreds of styles of flashlights to choose from. The tactical flashlight has many useful features for a survival preparedness minded person and will make a great addition to your prep possessions. As a prerequisite, I would definitely be sure that the bulb is LED, and I would use rechargeable NiMH batteries (with a solar battery charger) to ensure usability for an extended period of time, and charge-ability when the power is out.
Search for a tactical flashlight, and reviews on Amazon
Appreciate topics of survival, emergency preparedness – or planning for disaster?
Read our current articles on Modern Survival Blog
twitter: MSurvivalBlog
Facebook